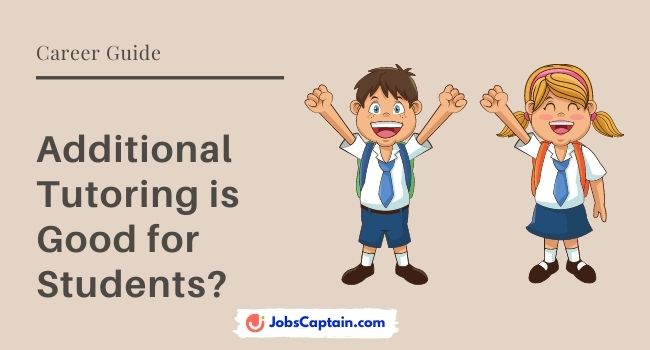 Today we bring with interesting topic: "Is additional tutoring Good for Students?"
Everyone learns at different speeds, and you may feel as you progress through your school, college or university course that certain sections have not been dealt with in enough detail for you, or you are not happy with your grades in particular subjects.
If this is the case then it can be a good idea to look for additional tutoring, which can help support you in those subjects you feel you are falling behind in, and also give a boost to your overall grades and learning skills.
Lets read benefits and additional tutoring is good for students or your child?
Benefits of Additional Tutoring
---
The first place to look for additional support for your studies is with the teachers/lecturers running your courses, as they may already run support classes for students, or may be willing to allocate you some time to go through any queries with you personally.
You may also want to consider a private tutor, and there are many highly qualified professionals offering these services.
Private tutors can be expensive, but the benefits of regular one on one sessions, where the tutor is focused solely on you and your educational needs can make all the difference to your grades and the overall enjoyment of your course.
Must Read – How to Teach Your Kids to Read at Home?
Tutors will help you to work through the course content at your own pace, and make sure you thoroughly understand the main points before moving on to the next topic, and can help you to improve your study skills and give you additional support leading up to exams.
Private tutors are not teachers, and will not be simply giving you all of the answers you need to pass, but instead will support your learning, helping you to use the materials and textbooks available to work towards the answers yourself, and just a few private sessions can really give you a boost and prepare you for success throughout the rest of your education.
Now you can able to take decision on Additional Tutoring is Good for Students? Thank you for reading.
Read Here more your career related articles.
Be Sociable, Share with your friends!