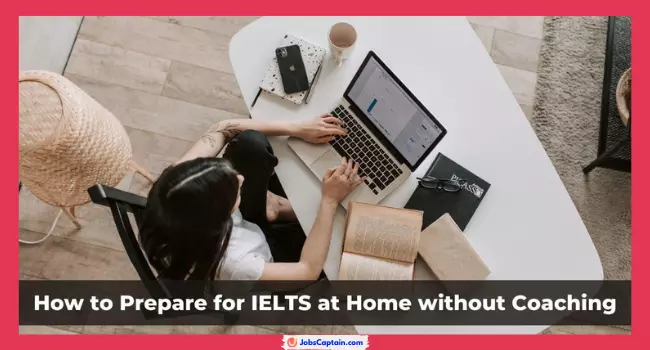 One of the first questions that any student who decides to study for IELTS has is whether they will be able to get their desired band score with self-study or if they would be required to enroll in suitable coaching.
Well, different students have their optimum learning method. Some will rapidly learn when reading texts, while others prefer to listen to the teacher. So, if your schedule is hectic and cannot take IELTS online classes and want to prepare for the exam on your own, the first step is to determine what are your weak areas and in which area you are strong enough.
Theoretically, everyone can manage self-study because learning something is all about the learner putting in the necessary effort to grasp something. So, it is possible to prepare for IELTS without tutoring if you have a systematic approach and a good grasp of the test's structure.
How Long Does It Take To Prepare For The IELTS Exam Without Coaching?
Well, the answer relies on your command of the English language, current understanding of the IELTS format, learning abilities, and commitment to reaching your desired results.
In order to study on your own, it must consist of the following:
Realistic expectations
A study plan
Willingness and commitment to follow through it.
Types of IELTS Exam
Before you begin with your study plan, it is critical that you grasp the differences between the two types of IELTS exams: General Training and Academic
| | |
| --- | --- |
| IELTS Academic |  IELTS General Training |
| Those applying for higher education or professional registration in another country should take the IELTS Academic test | Those who intend to relocate to English-speaking nations such as Canada, Australia, and the United Kingdom should opt for the IELTS General Training exam for work or settlement purposes. |
Steps To Prepare For The IELTS Exam at Home Without Coaching
Step 1: Understand The Test Format
The first step for IELTS preparation at home is to familiarize yourself with the exam structure. The IELTS test comprises four parts: Reading, Listening, Speaking, and Writing, for those who are unfamiliar. Learn about different types of questions and ways to answer them.
Step 2: Purchase a Practice Test Handbook
Carefully select your reference books or study materials after conducting an extensive investigation. Otherwise, you will waste a lot of time and money buying the wrong books, studying them for some time, and then realizing that they are not the right books for you. Hence, we recommend going through various reviews or consulting those who are experienced in this area to know more about reference books or study materials before purchasing them and selecting them carefully since time is of the essence in IELTS preparation. You cannot afford to squander even a few days.
Step 3: Wisely Allocate Your Time Equally on Each Subject
Treat all subjects equally because you must excel in all of them to score high.
Start your preparation with the Writing task. Learn about various types of Writing from Task 1 and Task 2 topics. Look through your practice test guide for the questions and try to answer them. Learn ways to systematically structure your answers and expand your vocabulary to aid your writing.
After learning the writing process, shift your focus to listening. It isn't easy to become a great listener, as you are required to focus on minor to essential details. Thus, watch TED presentations and listen to podcasts and songs to enhance your listening abilities. Pay attention to the words, intonation, and pauses. Moreover, before listening to the audio, rapidly browse through the questions to get an idea of what details demand further attention.
Though many of you might think that reading is a relatively simple task, the catch is that you must read long passages and answer accurately within the time limit. Remember to read the questions first, then the paragraph; this will help you focus on the essential elements. Additionally, highlight all the new words, phrases, and ideas that may seem relevant to you for the questions. Mastering the skimming and scanning process will help you grasp this skill with ease.
The majority of individuals who intend to take the IELTS exam are terrified of speaking. Due to anxiety and overall stress, candidates often make silly mistakes which ultimately hampers their IELTS band score. Thus, create an audio journal and record yourself to become fluent in the Speaking section. Pay attention to the details of what you're saying, such as pronunciation, grammar, and sentence structure. Seek someone knowledgeable for help to evaluate your responses.
Step 4: Develop Time Management Skills
It would be best if you had a clear understanding of the entire framework of the IELTS examination. Keep in mind the exam's time restriction as well as the time constraints for each module. You can lose marks and miss many questions if you are unable to finish your modules within their time limitations.
Step 5: Online Practice Will Help You Enhance Your Skills
Knowledge alone will not help you with the IELTS preparation. So, make sure to get enough practice. Take part in IELTS online classes you can avail for free or at a minimum cost where you can practice exam sets and get guidance without the hassles of a coaching schedule and travel.
Step 6: Staying Self-Motivated
Remember, you are monitored by none. You are your mentor. Ingrain in your mind that it is possible to get the highest possible band score by self-study and that it is feasible for you to do. The secret is to have an unbreakable spirit.
ELTS Score Scale
Finally, you are required to understand different types of scores and the score you should aim to achieve.
Band score 9 means the candidate has complete control and knowledge of the language.
Band score 8 indicates the candidate has a complete operational grasp of the language but makes occasional errors.
Band score 7 shows that the candidate has a good command of the language, but he or she makes mistakes and misunderstands some circumstances.
Band score 6 proves that the candidate knows the language very well and can use complex sentences but makes mistakes.
Band score 5 ascertains that the applicants have a moderate understanding of the language and are likely to make many mistakes.
Band score 4 points that the candidate is conversant with the language but has little knowledge of the language.
Band score 3 implies that the candidate understands the command but is unable to convey the idea properly.
Band score 2 tells that there is difficulty expressing ideas and expressions and cannot hold a logical conversation.
Band score 1 suggests that the person has almost no ability to use the language.
Band score 0 signifies that the individual did not take the exam.
Overall, do not be steered by the idea that you know the questions since you've been doing well on practice exams. Overconfidence might sabotage your efforts. Always strive to improve yourself by learning more. Every day, there is the opportunity of learning something new. Work on your weak spots and aim to finish the test in less time.