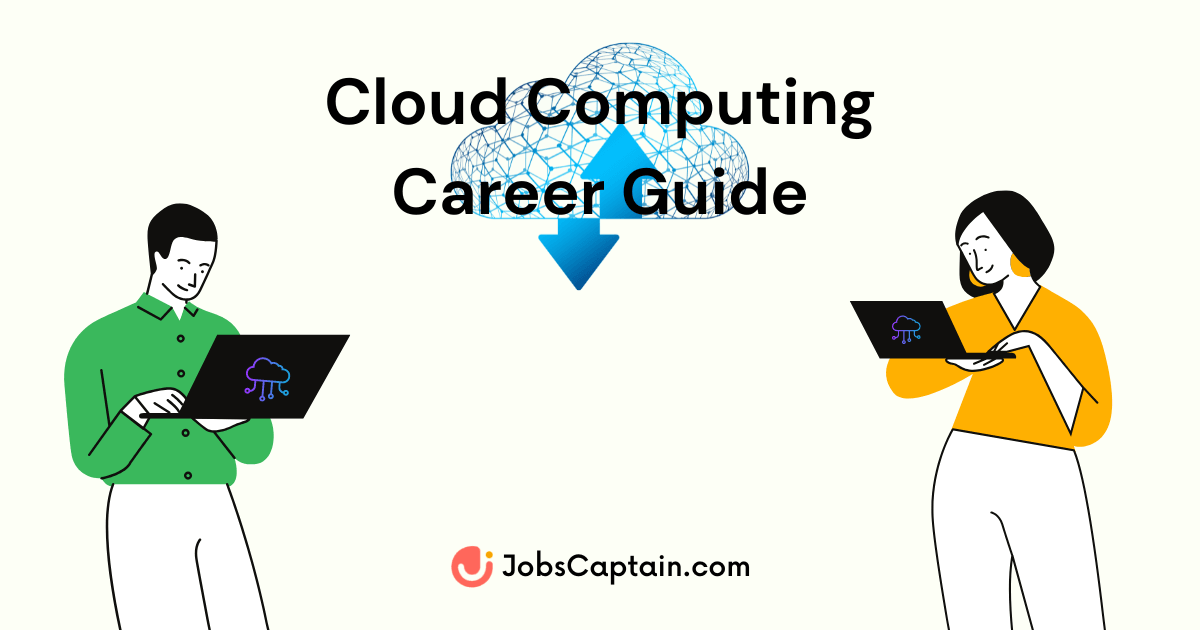 Cloud Computing is vital to present technological solutions. Businesses rapidly embrace digital transformation to become more innovative, dynamic, and productive.
Cloud Computing allows organizations to access secure, adaptable computers and software from anywhere, any time, and in all the sizes they require. Public Cloud services from big corporations such as Microsoft, Google, and Amazon also offer advanced capabilities such as data analytics and Artificial Intelligence at a considerably lower cost and accessibility than before.
This demand for Cloud solutions is fueling a surge in the number of Cloud professionals who can assist in designing, developing, and maintaining these systems. However, pursuing a career in Cloud Computing helps businesses transform their technology and engage in a lifelong learning adventure that will be in demand worldwide for the next several decades.
Why Pursue a Career in Cloud Computing?
Cloud Computing has become more prevalent in recent years. Organizations value cloud technology because it allows them to access software and data remotely when needed, simplifying their complicated processes. Cloud Computing is also adaptable and scalable, allowing organizations to employ it in ways that best suit their needs and ambitions. Many big enterprises use Cloud Computing in their operations, and more than half of these organizations invest in a multi-cloud approach. A growing number of enterprises, both large and small, are poised to capitalize on the possibilities of Cloud Computing in the future years.
Organizations recognize the need for a trained Cloud Computing specialist at this point. With a rise in demand, pursuing a career in Cloud Computing might be advantageous. Companies want expertise to assist them in developing and maintaining Cloud Computing systems and keeping up with the rapid advancement of cloud technology. If you are interested in the industry, you can see your career in Cloud Computing progress over time.
Practice Now: Cloud Computing MCQ Quiz
Necessary Skills to Start a Career in Cloud Computing
To start a career in Cloud Computing, you should learn about the skills required to be a successful Cloud Computing expert. Here are some fundamental Cloud Computing abilities required for a job in Cloud Computing:
To become a Cloud Computing specialist, you need computing principles, HTML expertise, and appropriate programming languages such as Java, NET, SQL, and Python.
You should be familiar with business ideas and terms such as ROI and the fundamentals of marketing tactics.
Computing principles, HTML expertise, and appropriate programming languages such as Java, NET, SQL, and Python are required to become a Cloud Computing specialist.
Data analysis is also an essential component of Cloud Computing. As a result, understanding data processing and database abilities is a crucial requirement. Aspirants should also be familiar with ERP systems.
Cloud Computing includes data security to protect cloud data and applications against attacks. As a result, employers favor applicants having practical experience with network security.
Project management, risk management, interaction with other processes, and service agreements are required for success as a Cloud Computing engineer.
Top Career Options in Cloud Computing
Cloud Architect
Cloud architecture is a framework, and enterprises require a skilled cloud architect to create and implement Cloud Computing solutions that meet their demands. Cloud architects ensure that a solid plan is followed throughout the operation while keeping the company's objectives in mind while working within the plan.
Cloud Engineer
Cloud engineers collaborate with cloud architects to implement a company's cloud plans. Administrative duties and customer management are some additional obligations connected with this profession.
Cloud Security Analyst
Cloud security analysts ensure a company's cloud presence's security and integrity. Their responsibilities include identifying risks and devising ways to protect the cloud from them, avoiding data breaches by closing security vulnerabilities.
Cloud Administrator
A cloud administrator controls the company's cloud infrastructure and presence. They are in charge of developing and enforcing policies that govern how users access and use cloud services. They also assure uptime, develop security policies and protocols, search for technological changes that can benefit the firm, and update regulations.
Cloud Automation Engineer
Cloud automation engineers are critical in developing, implementing, and maintaining automation technologies for enterprises migrating to the cloud. When some assignments and procedures are automated, it relieves human workers' strain of repetitive duties.
Cloud Consultant
With their extensive understanding of cloud technology, cloud consultants assist firms with advice and insights on cloud-based products. Their role is to understand the organization's needs and guide software that fulfills those demands and criteria within their budget constraints. A consultant can also assist with a clever move to the cloud by determining the right platforms and developing migration rules.
Cloud Software Engineer
Cloud software engineers collaborate with computer scientists and programmers to build software that functions in the cloud to meet the company's demands. They also monitor for upgrades and assist in maintaining and fixing the software.
A Comprehensive Guide to Start a Career in Cloud Computing
The following points will help you understand how to start a career in the Cloud Computing industry:
1. Learn About Cloud Technology and Platforms
This is the first and most important task you must do to advance your career as a Cloud Computing professional. You must be familiar with cloud technologies and platforms to continue your education, and it would be best if you grasped what the technology serves and how it meets the needs of the companies. Meanwhile, there are other advantages to using cloud services in your firm, like lower IT expenditures, greater flexibility in remote working habits, and scalability. Furthermore, cloud technology offers a wide range of advanced security capabilities for data processing and administration.
2. Learn the Fundamentals of Cloud Computing
Now it's time to move on to the principles of Cloud Computing. It will assist you in laying the groundwork for your Cloud Computing career path to achieve your professional objectives. You must thoroughly understand several topics, including cloud formation and architecture, deployment models, cloud service models, virtualization, and Cloud Computing. It would help if you also went through the different Cloud Computing services.
3. Work on Other Necessary Skills
Cloud Computing is a broad field, and to understand the Cloud Computing sector, you must also work on various basic abilities. Learn about computer networks to work on centralized computing resources or be proficient with several programming languages such as XML, SQL, R Language, and Python to construct and deploy cloud-based applications. You must also know Web Services & API to develop Cloud architectures.
4. Get Advanced Training
You must go further into the specific sector to get more skilled with the technology. To improve your Cloud Computing abilities, you must study advanced Cloud Computing subjects such as load balancing and cloud scalability, edge computing, and Cloud cryptography. For effective learning and a successful Cloud career, you can choose from various cloud computing courses, online resources, books, and more.
You can learn with industry experts how to effectively design cloud architect solutions. The online courses will help you to design, develop, and manage a robust, secure, and highly accessible cloud-based solution for your organization's necessities. The online courses assist you in refining the concepts and ensure you get hands-on experience in real-time projects.
5. Acquire Relevant Certifications
Indeed, certifications in the Cloud Computing area play an essential role as they provide credibility in the specific professional field, giving you an advantage over others for greater employment chances. Furthermore, you may choose these certificates based on your area of expertise and particular domain in cloud technology. These credentials on your CV will help you get recognized by top firms and acquire a well-paying position in the cloud domain.
6. Carry out Practical Implementation
The simplest way to learn something is to do it. You must use your theoretical knowledge and concepts to get greater exposure and proficiency. You need hands-on experience in cloud operations such as cloud monitoring, server management, and application migration. You can also embark on some small projects to get specialized expertise. It will also assist you in becoming better acquainted with the cloud environment, which will help you advance your career in Cloud Computing.
7. Keep an Eye Out for Job Openings
You can begin by shortlisting firms and then contacting them via their official websites or recruitment marketplaces. Furthermore, before applying for a job or arranging an interview, you must check that you meet the essential eligibility criteria and possess all of the necessary abilities for the job description. Numerous big organizations recruit Cloud Computing experts, such as Oracle, IBM, SAP, and Microsoft, with a good salary package and other benefits.
Conclusion
As the Cloud industry is in great demand and is not slowing down, it is highly recommended that you pursue it as a career path and establish a successful career in the sector. By following the above-mentioned comprehensive guide to starting a career in Cloud Computing, you can swiftly begin your Cloud Computing adventure and reach your career goals. You can check out the best cloud computing programs to upgrade your skill set. It covers various Cloud Computing concepts and real-world project experience, giving you a solid understanding of the subject. Learn at your pace, and have the freedom and flexibility to study whenever it suits you.