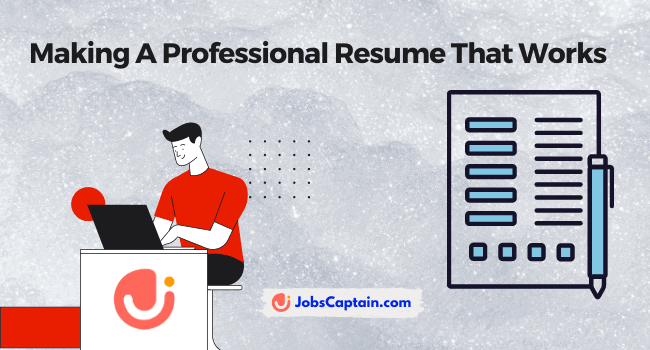 If you want to create a professional resume that works perfectly fine for you, you must make sure that you follow a professional guide.
You would find hundreds of tips and suggestions for resume building on the web, but we would like you to follow only the useful and helpful ones.
Below we have stated a complete guide for the people who want to get the perfect resumes for scoring their desired jobs.
The Perfect Resume Making Guide!
Follow these tips and suggestions!
Choose the right resume format.
The resume is not only about putting your information on a sheet of paper. Rather it is picking up the right format and the right structure. There are dozens of different resume formats, but you should first know about the standard ones.
The first standard resume format is a reverse-chronological one. This resume style is used in traditional cases. This resume format is that it is familiar among 90% of potential hiring managers and employers.
The combination format is another commonly used format. The best thing about this resume style is that it can cater information of experienced applicants. If you want to highlight your transferable skills, then you should use this resume format.
The functional format is the third one on this list. It is mostly used if you want to emphasize skills in the resume.
Add Your contact information & personal details.
Adding your content information and other relevant details is very important for creating a resume. Now you don't have to fill the whole page with personal details rather you only enter the basic & most important information. The necessary contact information that you must add is your:
Name
Phone Number
Email Address
LinkedIn and other social profile links.
Start with the objective statement.
Employers would flip your information just like you flip matches on Tinder. You must know that you should always start your resume with an objective statement. The objective statement would help you in winning the interest of the employers. You must compose a witty and impressive statement so that you can engage the hiring manager with your resume. This objective statement is also known as a summary statement, and in it, you must talk about your brief experience and future objectives.
List of relevant word experiences.
One of the important things that you must add to your resume is relevant to work experience. When a hiring manager is going through many CVs, he/she would always look for people who have relevant experience in their required department. The majority of the hiring managers today would prefer experienced applicants, so it is important to highlight your experiences.
The Important points that you Must consider in your CV
Job title
Company Name
Dates Employed
Responsibilities
Achievements
Keywords
List your education correctly.
You must make sure that you add your education correctly. The education list is an important part of the resume structure. The right resume education structural order is to place your highest educational degree first. Other degrees would be added in reverse chronological order. You can also add the college name, but it is not always necessary. You can also add any relevant courses, certificates, and other extracurricular activities.
Put relevant skills that fit the job.
This is an important tip that the majority of people would not tell you about. When you are applying for a job, you must make sure that you look at the job requirements. You only must add the specific Important skills that suit the requirements if you want to win the hiring manager's interest. The most Important skills that you must add to your resume are:
Communication skills
Technical skills
Critical thinking skills
Leadership
Problem-solving
Organizational skills
Transferable skills
Other important stuff.
You should add your hobbies and interests at the very end of the resume. You must add the volunteer work you have done, the internship experience, and the certification/awards you have got. You can also add the languages in which you are fluent. The projects on which you have worked and the publications.
Now that you know about the structure of the resume and the important stuff that you need to add to it, it is time that you know about the modern way of designing a resume. The best way to make a resume is by using online resume builder tools. Out of many resume builder tools, we have picked the most reliable one for you!
Pro Tip: Resume Builder by SmallSEOTools!
The resume builder by smallseotools is a free and reliable utility. It is one of the three design tools offered by smallseotools.com! You must open the tool on your browser and click on the button that says, 'create your resume now.'
You can create a resume with just three steps with this online resume builder tool. You must choose the category of resumes that suits your position the most. In each category, you would find multiple templates. You must pick one template design and edit it according to your requirements. This free resume builder is best for all sorts of users, so you should try it!
You may also read: 7 Secrets of a Job Winning Resume