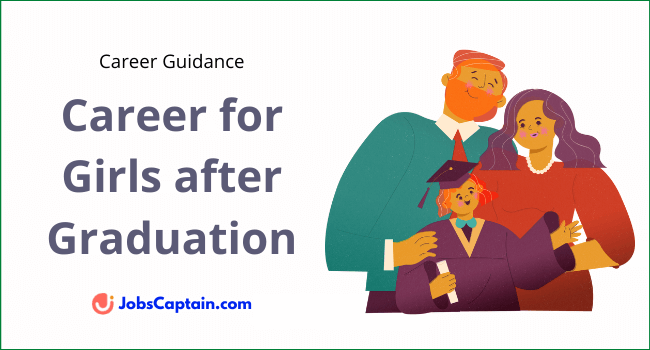 We live in a fast-growing world; something new is coming every day. The changes are inevitable, and it affects our life more than ever. So, according to this change, the demand for different professions is also increasing. Now, what do you think will be the best career for girls after graduation? Well, no one can answer this question because everyone has different thinking.
However, I have listed different career options for girls after graduation to give a clear idea.
Before diving into the after Graduation career option, you can read List Govt Jobs for 12th Pass Female.
This list of careers includes both conventional and non-conventional professions from society. Please read it carefully and pick up your choice according to your interest and capacity.
Banking Sector
Nowadays, the banking sector is booming, and it seems to be more promising. Many of the girls pick up this profession after graduation.
A girl can work as a Customer Support Executive, an Operations Officer, a Fund Transfer Operator, a Relationship Manager or above all, a Banking Service Professional for a good future.
You can learn about credit cards, debit cards, different types of loans and other banking-related things after graduation. Nowadays, so many banks offer lucrative job opportunities to girls.
Web Developing
Nowadays, one of the most demanding professions is web development. Web developing means managing and designing the website using HTML, PHP, JSP, etc.
Girls who have good knowledge of website designing and beautiful thinking can choose this profession.
You may also read:
Public Relation Officer
This is another promising but non-conventional career for girls after graduation. A girl with an attractive personality and good communication skills can proceed in the public relations department.
Apart from this, many public relations firms provide employment opportunities to girls for this profession.
Teaching Profession
The teaching profession is always considered a super-duper profession in the government and private sector. The main reason behind this is its status in society, and everybody wants their child to learn from the best teacher because it affects their future.
UP is the only state with a big demand for government teachers. If you are willing to be a govt teacher in the UP-Government schools, then after graduation, you need to take admission in BTC and then clear the two exams, UPTET and Super Tet, and based on merit, you'll get selection.
Lawyer
Since Law is the order of modern society, Lawyers are always respected by all ranks. A girl with good communication skills and logical thinking can choose this profession to get lucrative career options. Apart from this, you will also be provided with super attractive salary packages.
I hope you liked the top 5 list of Careers options for Girls after Graduation. If you think I have missed something career options, let me know in the comment section. Apart from that, you can read the best career guide.