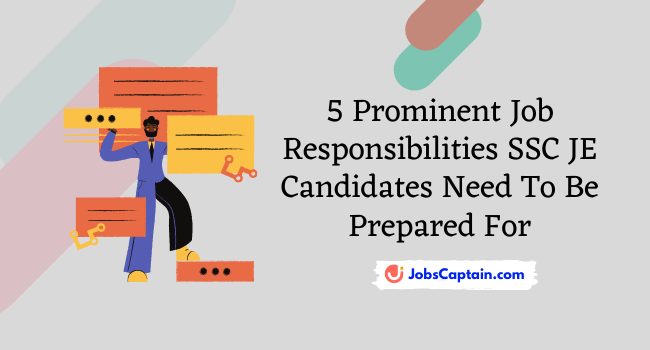 SSC conducts an exam for the Junior Engineer job post regarded as being one of the reputed central government jobs. Talking about the SSC JE category, it comes under Group "B" Non-Gazetted category of the Central Government. If you are hired, you will be posted for different government organizations/departments such as Central Water Commission, Central Public Works Department, Border Road Organization, National Technical Research Organisation (NTRO) following the subject line and department's requirement.
It also indicates that there is no dearth of vacancies looking for eligible candidates. Candidates good at mechanics will be posted in the Mechanical Department coming under Central Government Organizations.
If you are going to apply for this job post, you need to prepare in an ideal manner. First, you should understand SSC JE Syllabus thoroughly. Go with quality study material and keep revising the important topics of your subject covering Civil, Electrical, and Mechanical. Since you are going to make your career being a Junior Engineer, you also need to be aware of your job responsibilities. Here, we have prepared detailed information on it. Let us check it out –
Work Responsibilities of SSC Junior Engineer (JE)
---
When you are hired being a JE, you need to learn everything from scratch and that is why you should take everything seriously. A JE is responsible for the section given charge of in the respective organization. You will be accountable for various job duties including small tasks to major responsibilities. You should not get nervous but confident enough as we are going to mention prominent job responsibilities.
1.Supervision of Work:
In the beginning, candidates are not aware of their job. Supervision of work helps them to get a better understanding of the job responsibilities. Therefore, you should consider every assigned work a bit seriously, since you will be learning a lot about your firm. It gives you a better idea of how work is done indeed.
2.Introducing Scheme and Its Execution:
The government keeps introducing a variety of schemes from time to time. They are needed to be well-executed indeed. Junior Engineers are also responsible for this job duty.
They are accountable to make sure that schemes need to be executed expectedly. Moreover, the needed smooth flow is required to be associated with these schemes. You are also required to prepare a detailed report of how the scheme did work, what profit or loss has been churned out so that future schemes will be made accordingly.
3.Learn Planning From Small Level Tasks :
To make any task happen successfully, one needs to understand how planning is done in a sophisticated manner. You will be assigned to do the planning of repair/renovation oriented work. Do not think anything about why you are given to do a small level of planning.
Take all your given tasks a bit seriously since they will be forming a successful career for you. When you start doing even a small level of planning in an ideal manner, it makes you aware of many things. Your knowledge gets enhanced. You become good at the planning of repair/renovation work. After that, you will also be asked to make exhaustive planning regarding flagship activities.
4.Accounts Related Job Responsibility :
Since you belong to a specific section, you will be needed to cover its accounts related responsibilities too. You will also be responsible to do accounts related things, which add more experience to you. Being a junior engineer, you will be responsible to maintain the stock of his/her section along with passing bills in respect of different work done by the contractor.
5.Assisting Superiors To Maintain Transparency :
A department works well when each section is performing well. Superiors to ensure everything going perfect also inspect a section coming under JE. It means you will be needed to make them aware of an on-going process. As the job profile shows that you will be on a junior post, your job responsibilities also cover to assist superiors.
A junior engineer is regarded as being the boss of his/her section and that is why you will be called for any sort of information from your section. If your section is indulged into dealing with any sort of significant project, you have to keep submitting a report to your seniors regularly.
For SSC Math's Subject Preparation, you may read SSC Maths Book Pdf Download
In The Last
In short, it could be said that candidates need to prepare mentally as you will be having so many job responsibilities. You will be having wide exposure indeed. For a successful career, you will grow as much as you learn.