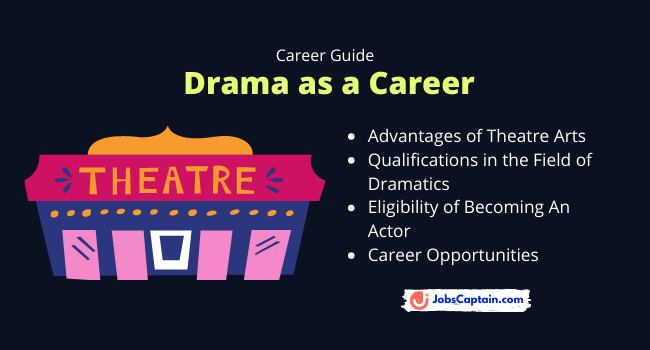 In a fast running world what one really requires is a profession that besides providing financial security provides with a satisfaction of soul. Drama when performed as a profession serves the above two purposes in a perfect manner. With increasing awareness of people regarding subjects of arts as prospective career, the scope of drama has immensely increased.
Drama concentrates on the expression of feelings in such an effective manner that it results in the catharsis of emotions of the viewers. In the modern world, drama or theatre arts is also considered a synonym for acting and film related careers.
Formally speaking, drama is a specific mode of fiction represented in performance.
There are mainly three types of drama – Opera, Pantomime and the Creative Drama.
Opera was an attempt to revive the Greek drama by mingling of both the drama and the music.
Pantomime is a kind of drama that is didactic and provides with some lesson to learn at the end.
Creative drama is meant for children where dramatic activities and games are used mainly to educate children about a particular thing.
Build a splendid career in theatre arts or drama is not easy one, surely you have to done more hard works then other career options.
Advantages of Drama and Play for Career
---
Pursuing drama encourages creative thinking. It involves creation and dramatisation of new scenes and situations every time which increase the creative capabilities of the person involved.
Planning, Organising and presentation are the three crucial steps involved in drama. One can also realize the importance of teamwork while making a drama. There is always a group of people involved in giving a final shape to the scenes which are initially conceived on paper.
Publicity is also crucial for making a drama a success as a drama is useless if there is no audience to appreciate the efforts put in it. Thus a person who is an expert in dramatics also has a chance to become a publicity expert.
Financial benefits which are received when a drama becomes a success are a secondary perquisite of pursuing drama as a career.
Fame and power come along if through dedication and hard work, a theatre arts or drama becomes a success.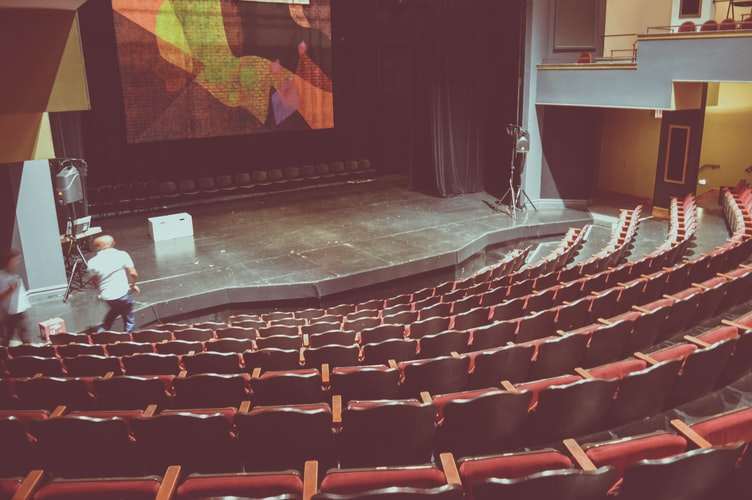 Qualifications in the Field of Dramatics
---
If a person wants to become a community and social worker in his future then a degree or diploma in dramatics can prove useful for him as these occupations require enactment of many situations to make them interesting and didactic.
A first hand knowledge about the essentials of drama and films can easily help a person get a job as a radio presenter.
One can attain self occupation by opening a drama and theatre arts school of his own. In this way one can earn more and it is a very respectful profession.
A person can be employed as a dramatics teacher in schools or colleges. The scope for such job is large and it is also a high paying job.
Eligibility of Becoming An Actor
---
Following are the requirements of getting an admission to an acting or dramatics school in India:
Graduation or an equivalent degree in any course from a reputed institute or college of India or abroad.
Drama courses conducted by various government and private institutes. The students have ample option to choose courses which range from one year and above.
Some basic requirements to get into a reputed acting school are to be emotionally supple, one should be capable to comprehend and learn the obscure scripts provided.
Stage fear or fear of the audience should not be there in the mind of the potential students, if they want to become distinguished actors.
Career Opportunities in Drama
---
As a graduate in drama or in theatre arts, you can get into directly related jobs like:
Actor
Dancer
Theatre Director
Musician
Community arts worker
Producer
You can get into jobs where your degree would be more useful, like:
Script Writer
Choreographer
Stage Manager
Arts Administrator
Broadcast Presenter
Costume Designer
Sound Technician
Set Designer
Props Manager
Wardrobe Technician
Stagehand
Lighting Technician
Special Effects Technician
Alternate Career Options in Drama
Announcer
Radio Jockey
Television Presenter
Interviewer
Video Jockey
Party Anchor
Thank you reading career guidance article on Drama. We hope you will get complete information regarding career in Theatre Arts. Further if you have any question, then please do comment below.