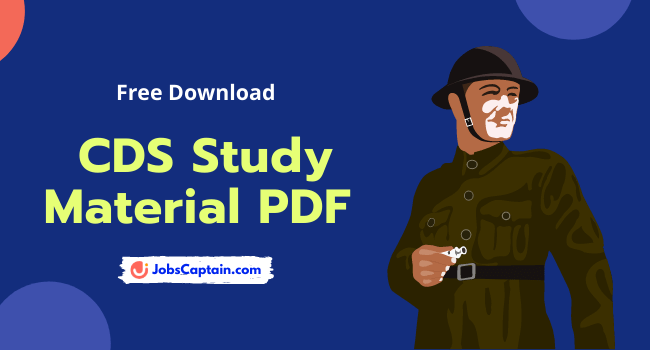 Our CDS exam Study Material extensively covers all the relevant PDF books for the UPSC Combined Defence Services (Prelims & Mains) preparation.
The Combined Defence Services Examination is conducted by the UPSC. By this CDS exam UPSC recruits Commissioned Officers in the following area of service:
Indian Military Academy
Officers Training Academy
Indian Naval Academy and
Indian Air Force Academy
Before downloading CDS Study material let's read the Combined Defence Services Exam Pattern for IMA, INA, AFA:
| Subject | Duration | Marks |
| --- | --- | --- |
| English | 2 Hours | 100 |
| General Knowledge or General Awareness | 2 Hours | 100 |
| Elementary Mathematics | 2 Hours | 100 |
Now let's read online or download free study material for the CDS examination:
English
In this section, English Grammar and Language related questions are asked. Some English topics like Spotting Errors Questions, Sentence Arrangement Questions, Synonyms & Antonyms, Selecting Words, Ordering of Sentence, Comprehension Questions, Ordering of words in a sentence, Fill in the blanks questions Idioms and Phrases, etc.
General Awareness and GK for CDS 2022
Elementary Mathematics
Thank you for downloading CDS Study Material PDF Books for the upcoming examination in the year 2022. We wish best of luck for the CDS 2022 exam.
Further, if you have any questions regarding this exam, then do comment below.