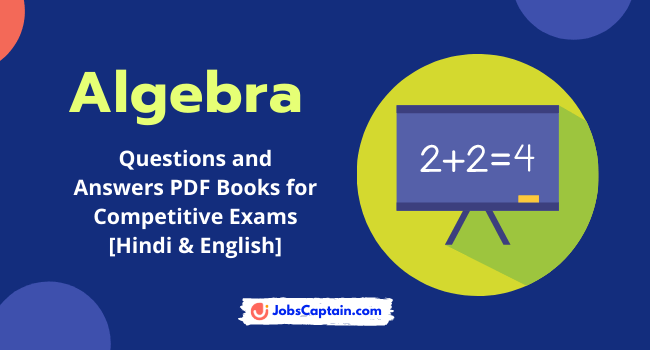 Algebra Questions are asked repeatedly, so you cannot ignore the Algebra section of Quantitative Aptitude.
Common questions of Algebra, which have been put together in most examinations. Algebra Question PDF is very important for SSC, Railway Exam, Banking Examinations, SEBI, and Insurance Exams.
We have put here Objective Question with Answer for Algebra and all previous year's questions of Algebra that are asked in various Govt competitive examination.
Solving the Algebra MCQ Quiz will help you perfect your skills and help you crack this section in a shorter time.
Free Download below PDF Books and practice Algebra Questions-Answers with solutions and explanations.
Algebra Questions with Solutions PDF
We are given Algebra Questions and Answers PDF Books in Hindi (हिन्दी) and English both languages. You simply download it free by clicking on the below links.
78 Important Questions Algebra Tricks in Hindi (हिन्दी) PDF – Download
750+ Algebra Question with Solution Free PDF for SSC, Railway & Banking Exam – Download Free Now
Algebra Questions for SSC CGL Set-3 PDF – Download
Algebra Diagnostic Pre-Test (50 questions – 60 minutes) – Download
[Basic/Elementary] Solve the Algebra Equation Work Sheet with Answers – Download
501 Algebra Questions with Answers – Download
All types of Algebra Questions with Answers – Download
Algebra Review Practice Test with the solution – Download
Basic to advance Math Review Large Print (18 points) Edition Chapter 2 Algebra – Download
Algebra Question Bank for SSC Exams – Download
Matrix Algebra Short questions answer Long questions – Download
Vector Algebra MCQs Questions and Answers – Download
Thank you for visiting our site. Further, if you have any questions regarding algebra equations for competitive examination, then do comment below. Our team will reach out to you soon.