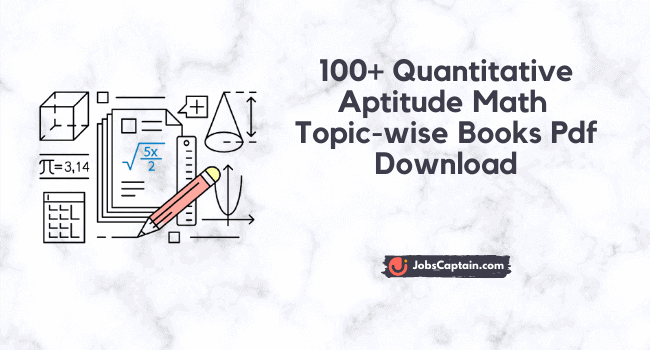 Get here Complete 100+ Quantitative Aptitude Reasoning Topic-wise Books Pdf are useful for IBPS, SBI, RBI, SSC, UPSC, RRB, Railways, CAT, DFCCIL, CGPDTM exams.
Specifically, Mathematical aptitude questions and answers pdf provides shortcut tricks for remembering the Maths formula. However, Quantitative Aptitude Reasoning questions answer study material gives a topic-wise explanation of each question.
List of Quantitative Aptitude Topics Questions PDF
You can download all Quantitative Aptitude Math Topic-wise Books, that are completely in pdf format where each note helps you to get detailed explanation and insights into the reasoning topic.
Aptitude test questions pdf contains test series which is useful for testing yourself for examination. Above all, These aptitude topics notes will give you time-saving shortcut methods for fast calculations.
Reasoning Quiz with Answers
Reasoning and Aptitude Quiz
We hope you found this article useful and it helped in answering your Quantitative Aptitude Math questions. furthermore, If you have any queries, please feel free to write in a comment below!
Disclaimer: All information/materials available on this website or the links provided on the site are for educational and study purposes only. While the content is meant for individual and noncommercial uses only. However, We don't want to violate any copyright law. These Pdf Notes provided for students who are financially troubled but deserving to learn. Thank you!