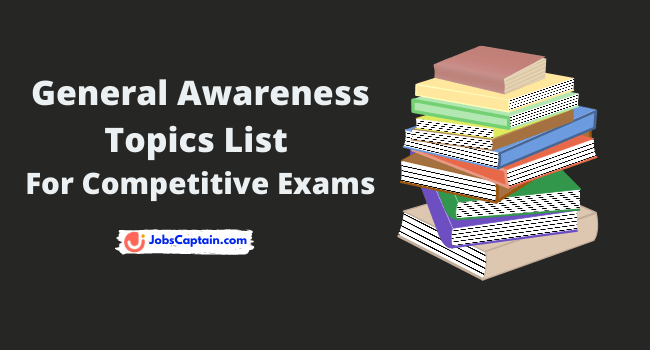 The General Awareness section plays a prominent role in getting success. General Awareness is the most easily scored section in every competitive and government examination.
If you are consistently learning Current Affairs and General Knowledge, then you will surely get good marks in this section.
General Awareness comprises two portions:
Aspirants preparing for competitive exams must be well aware that in almost all the examinations, there is a separate and mandatory section of general awareness or General Knowledge that carries a certain weightage of marks.
General Awareness/GK Topics List
Each and every competitive entrance exam in India contains General Awareness as a syllabus subject. If you are a master in this subject then you are easily able to crack any Competitive Exams, Interviews and Group Discussions (GD).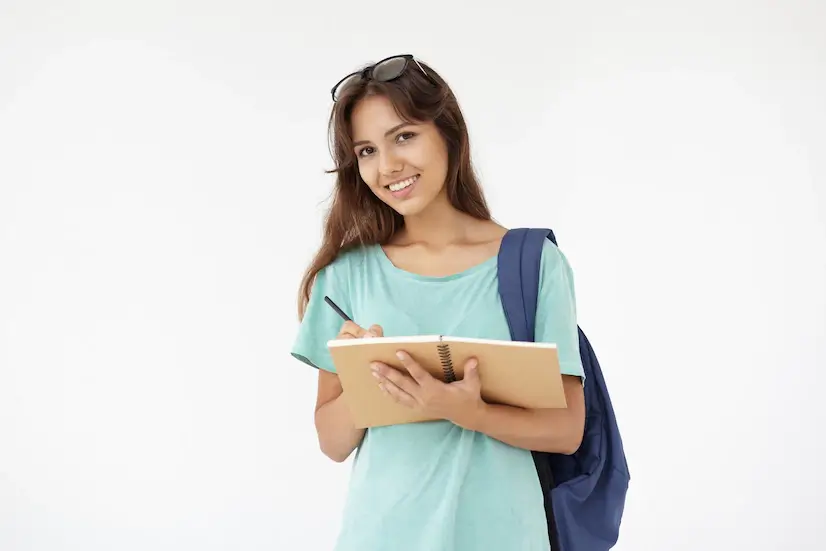 The General Awareness subject for competitive examination is divided into various sections. Let's read it:
1. Indian History
History is an important part of General Awareness. In every exam, 5 to 10 questions are asked from Indin History only. Further, this subject is divided into 3 parts:
Ancient Indian History
Medieval Indian History
Modern History of India
Study Material for Indian History
2. Geography
Indian Geography is a key subject of General Knowledge for various competitive examinations. Practice and Learn more about the Geography of India for getting more marks in General Awareness subject.
Key Topics of Geography
Physical Features
Climate
Soil Vegetation
Drainage System
Economic Geography
Human Geography
Study Material for Indian Geography
3. Art and Culture
Indian Art and Culture is one of the important topics in the General Awareness preparation. Here're some of the main topics of art and culture preparation for competitive exams:
Vedas and Upanishads
Folk Music in India
Architecture like Harappan
Indian Literature (Ancient, Medieval and Modern)
Indian Cinema and Theatre
Books for Indian Art and Culture
4. Indian National Movement
Indian National Movement is most interesting topic in General Awareness. Questions regarding the freedom movement in India (1885 to 1947) asked in most government exams. The topic includes:
Revolution of 1857
Social and Religious Movement
Moderate Groups and Extremist Groups in Congress
Revolutionary Movement in India and Revolutionary Activities Outside India
Partition of Bengal (1905) and the Indigenous Movement
Congress Sessions
Formation of Muslim League (1906)
Morley-Minto Reforms
Home Rule League Movement
Gandhi and His Early Movements
Peasant Movement and Kisan Sabha
Khilafat Movement
Non–Co-operation Movement
Civil Disobedience Movement
Quit India Movement
Study Notes for Indian National Movement
5. General Science
Science subject of General Awareness is unavoidable from most competitive exams. More and more practice on Science questions has been compiled to boost the preparation for several competitive examinations and also enhance knowledge.
Further General Science is divided into 3 parts:
Biology
Physics
Chemistry
Reading Materials for Science Subject
6. Indian Economy
It is crucial to have good knowledge of the Indian economy Economy is one of the most important factors on which a country runs.
Questions on the Indian economy are commonly asked in different competitive exams such as SSC, RRB, Banking and Civil Service examination like UPSC and State PSC.
Must prepare for the following topics of Indian Economy.
An Introduction to Economics
National Income and its Measurement
Economic Planning of India
Main Sectors of Indian Economy
Budget
Fiscal Policy
Stock Exchange
Money and Banking
Liberalisation, Privatisation and Globalisation
Foreign Direct Investment (FDI)
World Bank, WTO, BRICS
Important Study Notes on Indian Economy
7. Computer Knowledge
The computer Awareness section is an integral part of the General Awareness subject. This subject is commonly featured in many competitive exams in India. We all know that this is an easy topic and you will easily get more marks.
Important Topics of Computer for competitive exams:
History of Computer
Computer Fundamental
Operation System
Basic knowledge of Computer Hardware
Internet, WWW and E-mail
MS Office (Word, Excel, PowerPoint)
Computer Network and Security
Reading Study Materials on Computer
8. Indian Polity
Indian Polity & Governance is one of the important parts of General Awareness Subject. This is an extremely important section as far as the administrative competitive exams such as IAS, SSC CGL, CHSL, etc. are concerned.
Important Topics of Indian Polity:
The Constitutional Development of India
Articles and Schedules in the Constitution of India
The Preamble
The Governance System
Fundamental Rights
Fundamental Duties
The Attorney General and C.A.G.
Emergency Provisions
The Finance Commission
The Planning Commission
Panchayati Raj and Community Development
Best Resource for Preparing Indian Polity
9. Current Affairs
According to experts, each and every competitive and govt exam contains 15+ questions related to Current Affairs. Current Affairs are very influential for the Sarkari exam preparation. It is also very dynamic in nature as it is constantly changing. In the end, we all know, Current affairs are the most important section of the Competitive exam preparation.
Books for Preparing Current Affairs
Daily Current Affairs in Hindi (With MCQs and Explanation in Hindi)
10. Sports
Every candidate must have sports game knowledge, who are preparing for competitive exams. Sport is an important part of the general awareness section of competitive exams.
It is very important for you to have a good knowledge of sports, games, sports players and venues for your competitive exams.
List of Sports GK Books
Other Topics of General Awareness
Here we list some General Awareness and General Knowledge Topic List:
We hope you will get details guide on General Awareness Topics List.
Thank you for reading. Furthermore, if you have any questions regarding General Knowledge and General Awareness Topics then do comment below.