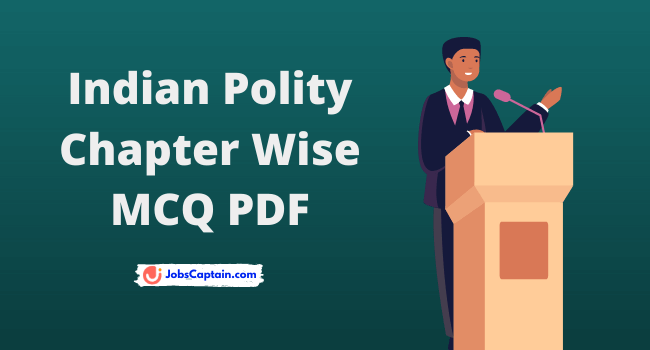 Indian Polity Chapter Wise MCQ PDF Book is very useful for candidates who are preparing for UPSC CSE and State PSC exams.
Why this Indian Polity MCQ PDF is useful? Because if you read a particular chapter after completion of that chapter you may practice some MCQs on that Indian Polity chapter to get better idea of that particular chapter.
MCQs on Indian Polity taken from Laxmikant, DD Basu and NCERT Books are predominant and must read for those who prepare for Competitive Exams.
Let's read basic details and download Indian Polity MCQ PDF:
| | |
| --- | --- |
| Topic Name | Indian Polity MCQ with Answers PDF |
| Useful for | UPSC and All State PSC Examination 2022 |
| Question Type | Objective or Multiple Choice Questions with Answers |
| Language | English |
| Category | Indian Polity PDF |
Indian Polity MCQ PDF
This PDF book contains following chapters and total 1600+ MCQ on Indian Polity:
The Constitutional Development of India
Foreign Impact on the Constitution
Articles and Schedules in the Constitution of India
The Preamble
The Governance System
The National Emblem
States and the Union Territories
The Citizenship
Fundamental Rights
Directive Principles of State Policy
Fundamental Duties
The President
The Vice-President
The Council of Ministers
The Attorney General and C.A.G.
Preference Hierarchy
Lok Sabha
Rajya Sabha
The Parliament
The Supreme Court
The Governor
The State Legislature
The High Court
The Centre-State Relation
Emergency Provisions
The Finance Commission
The Planning Commission
Lokpal and Important Commissions
Temporary Special Provisions
Election Commission
Political Parties
Constitutional Amendment
Official Language
Panchayati Raj and Community Development
Special Provision for Certain Class
Miscellaneous Multiple Choice Questions with Answers
Indian Polity Chapter Wise MCQ PDF – Download
Disha 1000+ MCQs with Explanatory Notes on Polity – Download PDF
This PDF Book covers Chapter wise Indian Polity MCQs and possible objective questions asking on every chapter in UPSC CSE. By reading this PDF Book, aspirants will get some idea about how asking questions on Indian Polity in Civil Services Examination.
Indian Polity Chapter Wise MCQ PDF for UPSC:
Thank you for reading. We will soon add Indian polity MCQ pdf in the Hindi language also. Stay Connected with JobsCaptain.
Also Read:
Furthermore, if you have any questions on this subject then do comment below.