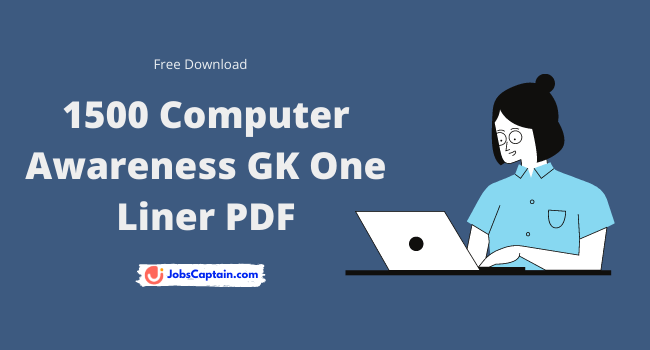 In many exams, a lot more questions are being asked from Computer subject as compared to other sections. Most of the candidates feel difficulty in scoring good marks in Computer.
In this post, we are sharing Computer Awareness and GK PDF book, that contains 1500+ most important one liner questions. Let's read basic information and download 1500 Computer Awareness One Liner questions and answers PDF book.
| | |
| --- | --- |
| Book Name  | 1500 Computer GK One Liner PDF |
| Useful for | SBI & IBPS Bank PO, Clerk, MT Exam, RBI, CTET & Other Govt Competitive Exams |
| Language | English |
| Publication | HRM Publication |
This book covers one-liners questions on the following topics of computer and information technology.
Computer Basic
Operation System
Software
Hardware
Computer Network and Security
MS Office (Word, Excel, PowerPoint)
Internet, WWW and E-mail
Computer Abbreviation and one liner questions on many other computer topics
1500 Computer Awareness GK One Liner Questions with Answers PDF – Download Book
Computer Awareness One Liner Questions
Here we shared the top 10 most asked Computer GK and Awareness One Liner Questions and Answers:
The code for a Web page is written using Hypertext Markup Language.
An error is known as Bug.
The primary purpose of the software is to turn data into information.
Internet is an example of connectivity.
Virtual Memory is memory on the hard disk that the CPU uses as an extended RAM.
Terabyte (TB) is the largest unit of storage.
Spam word is the term for unsolicited e-mail.
UNIX is not owned and licensed by a company.
A compiler translates higher level programs into a machine language program, which is called object code.
E-mail is the transmission of messages and files via a computer network.
Computer Awareness and GK Books
Thank you for visiting our website. Furthermore, if you have questions related to the computer subject for Sarkari and Competitive Exams then comment below.