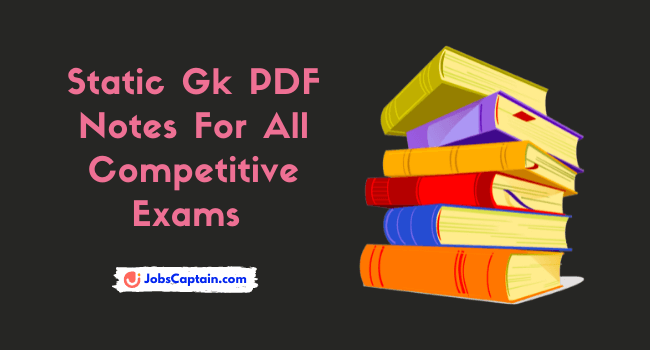 You can easily download this Static GK PDF of general knowledge so that you will not have any problems for preparation in any government exam.
Static Gk is a Subject which is asked in every exam such as SSC, UPSC, Bank, Railway, State PCS, MPPSC, UPPSC, RPPSC, Defense and Army Exams etc.
We already previously shared important Static GK Study Notes PDF in Hindi. In this post, we shared Static GK Study Notes and Objective Questions with Answers in English.
| | |
| --- | --- |
| Topic Name | Static GK PDF Books |
| Language | English |
| Static GK Topics | 30+ Static GK Topic Covered |
| Study Notes Type | Detailed and MCQ Questions with Answers |
Content Index show
Mix Static GK PDF
150 Imp Static GK Questions Asked in Recent Competitive Exams – Download
100 Expected Static GK Questions with Answers PDF – Download
Handbook of Static GK – Download
Static GK Capsule PDF – Download
Static GK Study Material PDF Books for IBPS and All Banking Exams – Download
THE Complete – Static GK Capsule for All Competitive Exams – Download
List of Geographical Indications (GI Tags) in India 2022 – Update Soon
Important Government Schemes for Banking & Insurance Exams 2022 – Update Soon
New Appointments 2022 : National & International – Update Soon
List of Important Days with Themes 2022 – Update Soon
List of Important Books and their Authors 2022 – Update Soon
To learn more, you might also be interested to read
Subject Wise Static GK PDF Books
What is Static GK?
Static GK is a subject where you will try to cover the static GK topics in which the student has a strong foundation. In the static GK category, there will be questions that will have three options from which you need to identify the correct answer.

The subjects covered are static GK related to current affairs, sports, history, geography, polity, Indian economy, politics etc. By Static GK, students will get information about current events, famous personalities, festivals, important dates, famous travels, sports, heritages, symbols, monuments, rivers, canals etc. Static GK questions include questions from national and international events.
How to Improve Static GK knowledge?
1. Read newspapers, books, magazines and other influence sources regularly.
2. Watch news and current affairs programmes on television.
3. Pay attention in classroom discussions.
4. Attend seminars and lectures by local or foreign guest speakers.
5. Watch documentaries and films.
6. Read GK articles in newspapers and magazines.
7. Participate in GK quizzes, GK competitions and puzzles.
All these Static General Knowledge PDF Notes are helpful in the following competitive examinations:
Staff Selection (SSC MTS, CHSL, CGL, GD etc.)
Railway (RRB Group C-D, Clerk, NTPC, JE etc.)
Bank Exams of SBI and IBPS (Clerk, PO, Assistant, Grade A-B officer etc.)
Entrance/Admission Exam like CLAT, JEE, AIIMs etc and
Other Competitive Exams Such as UPSC, CTET, DRDO, CDS, NDA, GATE, AFCAT
Thank you for reading. Furthermore, if you have any questions regarding static GK then do comment below.