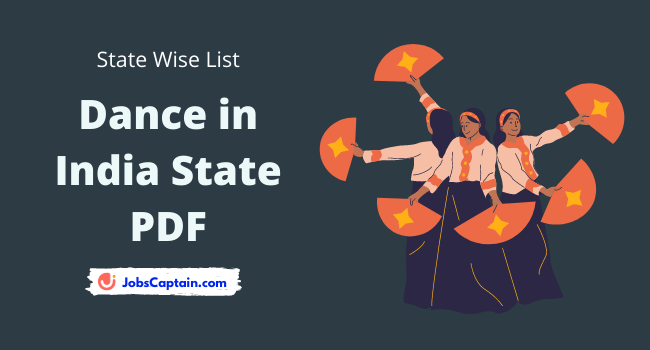 Indian folk and tribal dances are simple dances and are performed to express joy and happiness among themselves.
Folk and tribal dances are performed for every possible occasion, to celebrate the arrival of seasons, the birth of a child, a wedding and festivals.
As you know questions from Folk dances of different states are usually asked in almost every competitive exam.
So keeping the importance of the topic in mind, below is the list of all important folk dances which will be helpful to cover 1-2 marks in Competitive Exams.
List of Folk Dances in India
Here is the List of various State and folk dances that help in various examinations such as UPSC, State PSC, SSC, Bank Exams, Railway & Other Govt. Exams.
| State | Folk Dances |
| --- | --- |
| Andhra Pradesh | Bhamakalpam, Veeranatyam, Dappu, Tappeta Gullu, Kuchipudi, Vilasini Natyam, Andhra Natyam, Lambadi, Dhimsa, Kolattam, Butta Bommalu |
| Arunachal Pradesh | Ponung, Popir, Bardo Chham, Buiya, Chalo, Wancho, Pasi Kongki |
| Assam | Bagurumba, Naga dance, Khel Gopal, Tabal Chongli, Bihu, Bichhua, Natpuja, Maharas, Kaligopal, Canoe, Jhumura Hobjanai |
| Bihar | Panwariya, Sama Chakwa, Bidesia, Jata-Jatin, Bakho-Bakhain |
| Chhattisgarh | Gaur Maria, Panthi, Raut Nacha, Pandwani, Vedamati, Kapalik, Bharthari Charit, Chandaini |
| Goa | Tarangamel, Modni, Samayi nrutya, Jagar, Koli, Dekhni, Fugdi, Shigmo, Ghode, Ranmale, Gonph, Tonnya mell |
| Gujarat | Garba, Dandiya Ras, Tippani Juriun, Bhavai |
| Haryana | Jhumar, Phag, Daph, Dhamyal, Loor, Gugga, Khor, Gagor |
| Himachal Pradesh | Dhaman, Chhapeli, Mahasu, Nati, Dangi, Munzra, Jhora, Jhali, Chharhi |
| Jharkhand | Paika, Phagua,Hunta Dance, Alkap, Karma Munda, Mardana Jhumar, Mundari Dance, Sarhul, Barao, Jhitka, Danga, Domkach, Ghora Naach, Agni, Jhumar, Janani Jhumar, |
| Jammu and Kashmir | Rauf, Hikat, Mandjas, Kud Dandi Nach, Damali |
| Karnataka | Yakshagan, Huttari, Suggi, Kunitha, Karga, Lambi |
| Kerala | Kathakali (Classical), Ottam Thulal, Mohiniattam, Kaikottikali |
| Madhya Pradesh | Selalarki, Selabhadoni, Maanch, Jawara, Matki, Aada, Khada Nach, Phulpati, Grida Dance |
| Maharashtra | Lavani, Nakata, Koli, Lezim, Gafa, Dahikala Dasavtar or Bohada |
| Odisha | Odissi (Classical), Savari, Ghumara, Painka, Munari, Chhau |
| West Bengal | Kathi, Gambhira, Dhali, Jatra, Baul, Marasia, Mahal, Keertan |
| Punjab | Bhangra, Dandass, Giddha, Daff, Dhaman, Bhand, Naqual, Malwai, Ludi |
| Rajasthan | Ghumar, Chakri, Ganagor, Jhulan Leela, Jhuma, Suisini, Ghapal, Kalbeliya |
| Tamil Nadu | Kolattam, Kavadi, Bharatanatyam, Kumi, Theru koothu,Oyilattam |
| Uttar Pradesh | Nautanki, Raslila, Kajri, Jhora, Chappeli, Jaita, Charkula |
| Uttarakhand | Garhwali, Kumayuni, Kajari, Jhora, Raslila, Chholiya |
| Manipur | Pung Cholom, Khamba Thaibi, Nupa Dance, Dol Cholam, Thang Ta, Lai Haraoba, Raslila, Khubak Ishei, Lhou Sha |
| Meghalaya | Ka Shad Suk Mynsiem, Nongkrem, Laho |
| Mizoram | Chawnglaizawn, Zangtalam, Par Lam, Sarlamkai/Solakia, Tlanglam, Cheraw Dance, Khuallam, Chailam, Sawlakin |
| Nagaland | Rangma, Bamboo Dance, Zeliang, Nsuirolians, Gethinglim, Temangnetin, Hetaleulee |
| Tripura | Hojagiri, Lebang Boomani |
| Sikkim | Tashi Yangku Dance, Khukuri Naach, Chu Faat Dance, Sikmari, Singhi Chaam, Yak Chaam, Denzong Gnenha, Chutkey Naach, Maruni Dance |
| Lakshadweep | Lava, Parichakali |
List of Classical Dances in India
Let's read the Classical Dances form of India:
| States Name | Classical Dance Names |
| --- | --- |
| Tamil Nadu | Bharatnatyam |
| Uttar Pradesh | Kathak |
| Andhra Pradesh | Kuchipudi |
| Odisha | Odissi |
| Kerala | Kathakali |
| Assam | Sattriya |
| Manipur | Manipuri |
| Kerala | Mohiniyattam |
Folk and Classical Dance in India PDF Download
Here we shared PDF books of Folk and Classical Dance in India State Wise PDF:
We hope these PDF books are helpful in your upcoming competitive examination. Furthermore, if you have any questions then do comment below.