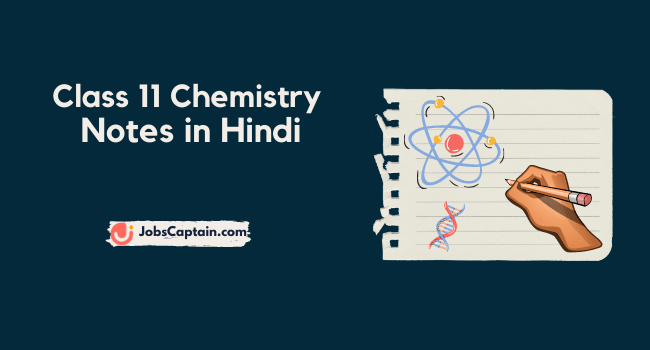 Chemistry is one of the most important subjects for students of Class 11. In order to score well in their exams, it is important for students to have a clear understanding of the concepts. These Class 11 Chemistry notes will help students do just that.
CBSE भारत का एक बड़ा शैक्षिक बोर्ड है और NCERT उसी के लिए पाठ्यक्रम आयोजित करता है। Class 11 chemistry notes शैक्षणिक वर्ष subjects सामग्री और latest syllabus के आधार पर बनाया गया है|
NCERT class 11th रसायन विज्ञान में सभी अध्ययन सामग्री, सभी स्पष्ट रूप से वर्णित और संक्षिप्त तरीके शामिल हैं। Class 11 Chemistry notes in Hindi अनुभवी अध्यापकों द्वारा तैयार किए गए हैं।
Chemistry Notes In Hindi for Class 11
Book Content
Class 11 Chemistry Notes Features
कक्षा 11 वीं के रसायन विज्ञान के Notes हिंदी माध्यम में सभी अध्ययन को क्रमबद्ध तरीके से समझाया गया है जिससे छात्रों को समझने में आसानी होगी।
कक्षा 11 वीं रसायन विज्ञान के Notes हिंदी माध्यम में बड़ आसान भाषा में तैयार किया गया है।
इस नोट्स में रसायन विज्ञान के सभी अध्याय उपलब्ध कराया गया है।
11th Chemistry नोट्स NCERT exam pattern के आधार पर तैयार किए गए हैं।
कक्षा 11 वीं रसायन विज्ञान के नोट्स में अधिकतम चित्रों के द्वारा समझाया गया है जिससे छात्रों को पढ़ने में आसानी होगी।
महत्वपूर्ण प्रश्नों को ध्यान में रखते हुए नोट्स को तैयार किया गया है।
Furthermore, if you want to practise more on chemistry then, you have to visit the following quizzes.