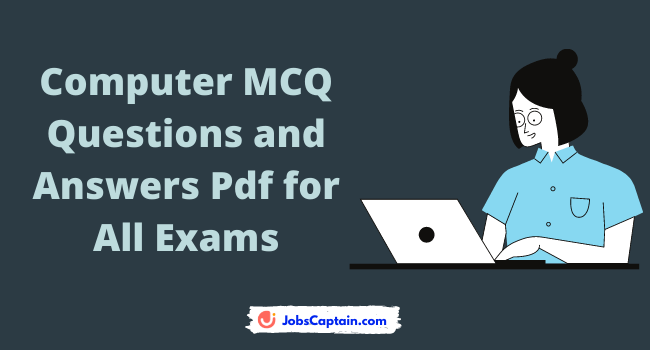 Computer GK and Awareness is one of the most important sections in all the Competitive exams. Here we share MCQ questions for your practice and Computer MCQ PDF books for your reading.
Below all PDF books on computer cover wide subjects related to computer awareness. These Computer MCQ PDF books covered Basic to Advance levels of all computer GK questions with answers.
Basic Computer MCQ Questions And Answers
Let's practice some objective computer questions:
Question 1: The ______ performs simple mathematics for the CPU.
(A) ALU
(B) DIMM
(C) BUS
(D) Register
Question 2: The hardware device commonly referred to as the "brain" of the computer is the _______.
(A) RAM chip
(B) data input
(C) CPU
(D) secondary storage
Question 3: The Internet service that provides a multimedia interface to available resources is called ________.
(A) FTP
(B) World Wide Web
(C) Telnet
(D) Gopher
Question 4: Which device is required for the Internet connection?
(A) Joystick
(B) Modem
(C) CD Drive
(d) NIC Card
Question 5: PARAM is an example of _____________.
(A) Super Computer
(B) PC
(C) Laptop
(D) PDA
Question 6: Who designed the first electronics computer – ENIAC?
(A) Van-Neumann
(B) Joseph M. Jacquard
(C) J. Presper Eckert and John W Mauchly
(D) All of the above
Question 7: The ____________ layer is responsible for resolving access to the shared media or resources.
(A) Physical
(B) Mac sub-layer
(C) Network
(D) Transport
Question 8: Which of the following of the TCP/IP protocols is used for transferring files from one machine to another?
(A) FTP
(B) SMTP
(C) SNMP
D) RPE
If you need more MCQ pdf then download the below PDF books.
Computer MCQ PDF
Free download Computer Awareness and MCQ General Knowledge PDF Books.
Above all, Computer MCQ PDF books are helpful in all competitive exams such as SSC, Railway, Banking and interviews.
Also Read,
Here we shared PDF books on computer knowledge, which contain 500+ MCQ questions with answers. These all PDF books are very helpful in your examination. For example, competitive examinations, your school and college examinations, etc.