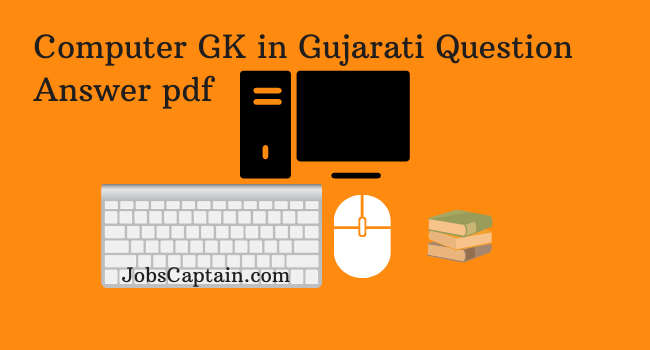 The Computer GK Gujarati Material is the most important subject nowadays for competitive exams. Looking for a computer gk book? then you are in the right place.
For those who need a comprehensive guide to computers, Computer GK Gujarati Questions and Answer PDF is an invaluable resource. It is a great resource for anyone who wants to get a better understanding of computers and their use. The PDF is an excellent source of information for anyone who wants to learn more about computers.
Our team is uploaded here all the important updates regarding the Computer GK. Here we Cover a list of computer gk topics like, Computer fundamentals, shortcut keys, internet gk, ms office, computer hardware, memory, computer abbreviation, operating system, social media gk etc.
You must have basic computer skills and knowledge of computer hardware and software.
Computer Knowledge In Gujarati PDF
ICE Computer Question-Answer Part 1
12th Std Computer Text Book – Download PDF
ICE Computer Question-Answer Part 2
Abhayam Classes Bhavnagar Computer Book PDF – Download Now
Best Computer pdf E-books by Anamika Academy
Computer Theory Question-Answer by Maru Gujarat
World Inbox Computer Knowledge in Gujarati
Computer Knowledge by Madhav Library
Suresh Patadiya 100 Question-Answer on Computer Knowledge
CCC 1000 Question-Answer in Gujarati (Handwritten Notes)
A to Z Computer Full Form List PDF
CCC 300 Question-Answer (Handwritten)
250+ Computer Knowledge Question-Answer PDF
One Liner Question-Answer, Short Cuts by AK Parmar
Full Names is most important in Information Technology
GSSSB Computer Test Practical Paper
Computer MCQ Questions and Answers PDF
Computer GK MCQ question pdf material is useful in various Competitive exams GPSC-UPSC, Gram Sevak, Police Constable, PSI, ASI, TET-TAT-HTAT, DySo exam, Talati, Bin-Sachivlay Clerk, Junior Clerk, GSSSB, Post Office Clerk, SSC & Railway exams for Student who preparing for Competitive Exam.
We covered all Academy Computer Gk material like Ice Rajkot, Angel, liberty, maru Gujarat and many more.
In addition, You can also read the Interview Questions on Computer Skills, Which will be useful to pass computer interview.
Also Read: