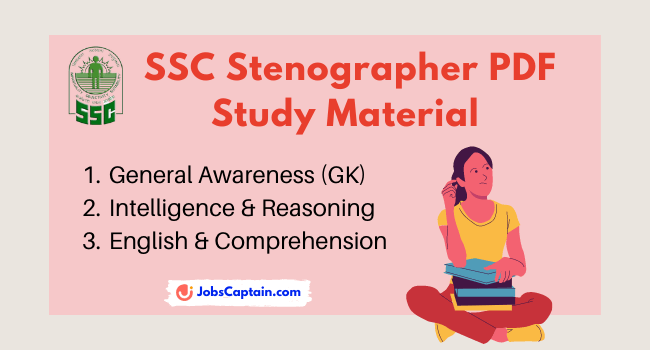 Applied for SSC Stenographer 2021? Here, we provide the Staff Selection Stenographer PDF Books Study Material for the easy preparation of the Examination.
You can also check your Preparation level by attempting quiz or set of test series and mock tests for the Staff Selection Stenographer exam (Grade C & D).
We are going to share the list of best PDF books available for the preparation of SSC Stenographer Exam. SSC Stenographer exam consists of 3 sections, before download study notes, let's read the scheme of examination.
Subjects for SSC Stenographer
Number of Questions
Maximum Marks
General Awareness
50
50
General Intelligence & Reasoning
50
50
English Language & Comprehension
100
100
Total
200
200

Total Duration of Exam – 2 Hours
0.25 marks are deducted for every wrong answer
Download SSC Stenographer exam pattern and skill test syllabus PDF in detail.
SSC Stenographer Study Notes PDF
---
Below given study material PDF Books are the best books for General Awareness which covers topics like sports, polity, current economic reforms, government policies, static gk, international affairs, important days, etc.
Let's download free PDF Study material for SSC Stenographer examination (Grade C & D).
GK & General Awareness
General Awareness and GK PDF books will play a significant role in the preparation for SSC Stenographer examination 2021.
General Intelligence & Reasoning
Download the best PDF Books for the SSC Stenographer exam 2021 of subject General Intelligence and Reasoning.
English Language & Comprehension
Below given PDF books are best for the English Language and Comprehension, where you can go through the many example questions, model papers solved questions.
Thank you. Further, if you need any additional books for this examination, then do comment below book name, which our team will try to provide you.
We will soon add more PDF Books, Model Papers and Previous Year Question Papers with solutions, Mock Test or Test Series for SSC Stenographer.
Stay connected with us.