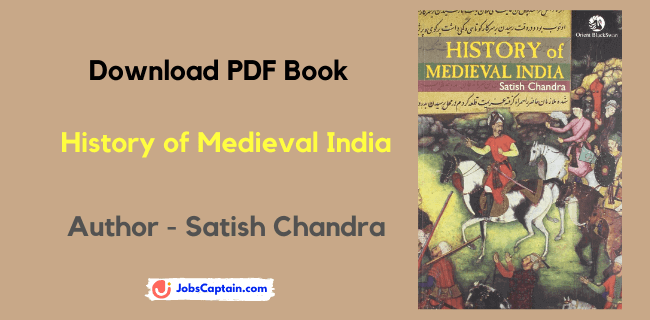 As we know that the History of Medieval India is an important subject for various competitive exams. So today here we are going to share with you the History of Medieval India by Satish Chandra. The history of Medieval India is part of India's History.
Satish Chandra History PDF study notes will be useful in all competitive exams like UPSC, RRB, Bank Exam, SSC and many more exams.
Download Medieval Indian History PDF
This 11th class NCERT old Book of Satish Chandra on History of Medieval India is very much important for most of the competitive exams link UPSC, Civil Services, IAS/IPS.
Let's read the highlight of the book.
| | |
| --- | --- |
| Book Name | History of Medieval India |
| Language | English |
| ISBN-10 | 9788125032267 |
| Pages | 404 |
| Author | Satish Chandra |
| Publisher | Orient BlackSwan |
| Exam | Competitive Exams like UPSC/Civil Services |
| More Description | Buy Now |
Medieval Indian History by Satish Chandra PDF [Old NCERT] – Download Now
Book Content
This Book covers total 17 chapters of the medieval history of India.
Central Asian Politics and the Advance of Babur towards India:
Struggle for Empire in North India
Struggle for Empire in North India
The Establishment of the North Indian Empire-
Consolidation and Expansion of the Empire – Akbar
State and Government under Akbar 131
Akbar's Religious Views,
The Deccan and the Mughals (Upto 1657)
Foreign Policy of the Mughals
India in the First Half of the Seventeenth Century
Aurangzeb – Religious Policies, North India and the Rajputs
Climax and Crisis of the Mughal Empire the Marathas and the Deccan
Society-Structure and Growth
Economic Life Patterns and Prospects
Religion, Fine Arts, Science and Technology
Northern India in the First Half of the Eighteenth Century
The Maratha Bid for Supremacy
To learn more about India Hiosrty, please refer to these books.
Disclaimer: All information/materials available on this website or the links provided on the site are for educational and study purposes only. We provide the links which are already available on the internet. Therefore, the content is meant for individual and noncommercial uses only. We don't want to violate any copyright law. These Pdf Notes are provided for students who are financially troubled but deserve to learn. Thank you!
Thank you for downloading "History of Medieval India by Satish Chandra Pdf". Further, if you need any book for your competitive exams preparation, then do comment below.