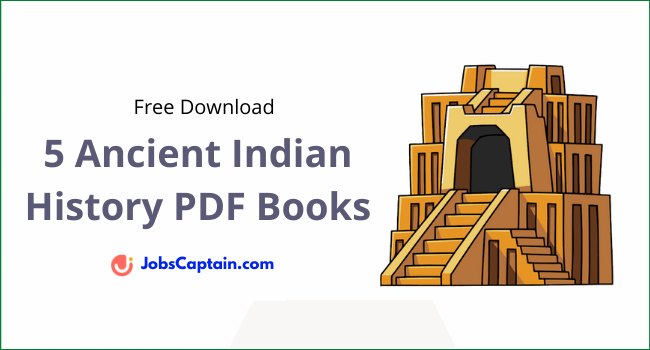 Ancient Indian History is one of the important subjects for competitive examinations such as UPSC IAS-IPS, SSC, RRB, Banking, State PSC and all other competitive exams.
We all know that this section is high scoring of Static General Knowledge/Awareness subject.
Here we covered all important topics related to Ancient Indian History.
| | |
| --- | --- |
| Book Name | Ancient Indian History Books PDF |
| Important for | IAS, IPS UPSC Examination |
| Language | English |
| Total Books | 5+ Important Books |
Download Ancient Indian History PDF
Let's download 5 important books for Ancient Indian History subject.
Book Content
The above 5 books cover following important topics of Ancient History:
Stone Age
Indus Valley Civilization and Culture
Vedic Age
Buddhism
Jain Religion
Shaiva, Bhagavata Religion
6th Century B.C.: Political Condition
Greek Invasion
Maurya Dynasty
Post-Mauryan Period
Gupta and Post-Gupta Period (Gupta to 1200 AD)
Architecture in Ancient India
South India (Chola, Chalukya, Pallava and Sangam Period)
Ancient Literature and Litterateur
Pre-Medieval Period
Sources of Ancient Indian History (From prehistory to 650 AD)
Social & economics History of Ancient India ( UP TO A.D.650)
Trade Routes in Ancient Period
Ancient Indian History & Culture Early medieval India (UP TO 600 AD)
Administration, source of law, interstate relations Mandal theory
Thank you for visiting our site. We hope all the above information regarding Ancient Indian History will helpful to you in upcoming competitive examinations.
Indian History Books:
Furthermore, if you want more study material on this topic then do comment below.