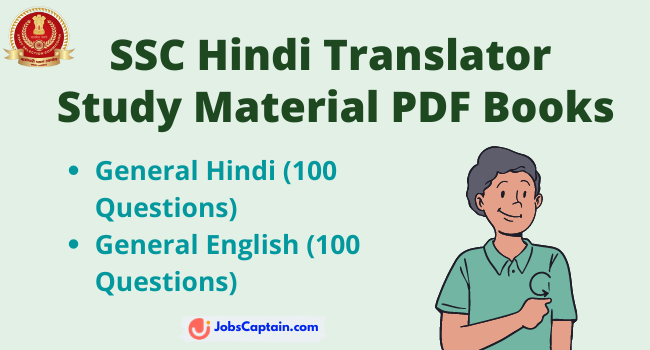 How to Prepare for the SSC Hindi Translator (Jr/Sr) Exam 2020-2021?
Here we have given below the best of the SSC Hindi Translator books to prepare. Candidates must use these books to prepare for their upcoming Staff Selection JHT/SHT examination. By practising MCQ questions with Answers, you can check your Preparation level with quizzes and mock tests.
Let's understand the Staff Selection Hindi Translator scheme of examination 2021.
Subjects for SSC Hindi Translator Exam
Number of Questions
Maximum Marks
General Hindi
100
100
General English
100
100
Total
200
200

Total Duration of Exam – 2 Hours
Computer Based Mode and Objective Type Questions
The examination will consist of two papers. Paper-I is Computer Based Examination and paper-II is conventional type. If you want to know more exam patterns and syllabus then download the JHT/SHT Scheme of Examination.
SSC Translator Study Material (Junior and Senior)
---
These all study material PDF Book very helpful for Combined Recruitment of Junior Hindi Translator, Jr Translator, Senior Hindi Translators and Hindi Pradhyapak Examinations.
General Hindi for JHT/SHT (Hindi Translator)
General English SSC JHT/SHT (Hindi Translator)
Gk and General Awareness
Download General Knowledge and Awareness study material for Junior Hindi Translator (JHT) and Senior Hindi Translator (SHT).
We will soon add more study material for your best reading like JHT Test Series, Coaching Classes Study Note Books in English-Hindi-Gujarati, Rankers Preparation Tips, Govt Yojna SSC for Translator, Sample and Previous Exam Papers, study guide, objective questions, etc.
We hope you found this study material informative and helpful.
Thank you. Further, if you need any ebooks for this exam, then please do comment below.