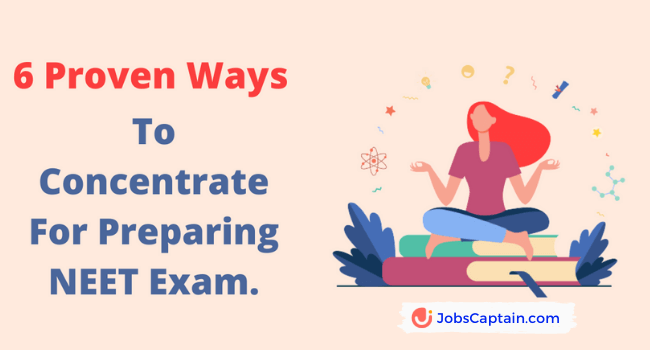 Every NEET aspirant must study for at least 8-10 hours per day. As we are attentive towards the NEET syllabus, complexity, and its vastness, keeping a continuous eye on books can be an exhausting as well as a boring task.
Substantial concentration and focus are what the NEET examination demands now and then. To achieve a good score in NEET, aspirants must shape their mindset first.
For some people studying itself is tough, while in contrast, some aspirants think that 24 hours of time is not sufficient for their studies. They require more time to study, for this, some aspirants decide to minimize their sleep time, while others decide to underestimate their playing time.
However, while studying for an examination like the NEET, aspirants must take a look to maximize their efforts and increase their efficiency in a minimum reduced time(24 hours only).
Some NEET aspirants believe that studying with short breaks is more profitable for retaining knowledge. On the other hand, some think that concentrating for long hours will help them not to waste time.
Whether or not you are reading one of the eight pages of the internet, we will quickly be exploring some tips & tricks that will help you to expand your concentration mode.
Nevertheless, if studying on your own or joining any NEET Coaching Institute, these mentioned tips will help you concentrate for long hours.
Are you ready to study for 8+ hours without getting bored or exhausted?
1. Set Day-to-Day Targets:
Set your tomorrows' schedule/targets for the night before going to bed. After waking up the next day, you will already have your targets to complete and your day will apparently get challenging though useful.
Set practical strategies to complete the concepts or topics which carry maximum weightage or set targets to fill your lags or it can be a doubt clearing day as well.
2. Focused Environment:
It is one of the most important components of studying that has always been neglected so far. The mind needs peace to understand anything and retain it later. For the sake of studying, finding where your mind and body both feel productive, comfortable, and less distracted is possibly the best environment for you.
3. Power Nap:
Continuously concentrating or focusing on something lets your brain feel tired and hence its productivity decreases gradually. At this time, allow yourself to take a power nap. Napping recharges brain cells thereby boosting memory, focus, lifts the mood up, makes you alert, shoots down stress, and improves job performance.
Studies show that grabbing a power nap is great for adults. Make it a habit to grab a power nap daily in the afternoon without worries. It will deliver a positive impact on your results.
4. Far-Off the Electronic Gadgets:
Have you ever kept your phone on General mode besides you while studying? How often do you hear that "Ping" sound? Have you thought, what's the message? Who has sent it? Should I check now?
In this dilemma of one message/notification, you have lost the whole focus. Now, you have to start reading again. Additionally, you have wasted a lot of time.
5. Online Support:
In this computerized era, TechEd has reached sky-high. Social media and the internet is the biggest privilege gifted to this generation. Anyway, if one knows how to utilize the internet for their productivity, they can crack the NEET examination without enrolling in any NEET Coaching institute.
Reading books for a long time is a daunting task that makes you feel sleepy. If you are facing this issue then you can immediately switch to video lectures. Online lectures are interesting where you can download them and watch them many times.
6. Adopt Precision:
The pure purpose of education is to acquire knowledge and gain skills. Aspirants must work on strengthening their basics and skill in their knowledge. Precision is important if you want to achieve something really great in your life.
While Preparing for the NEET examination, learn topics deeply, learn advanced concepts, and draw diagrams with precision. Do not leave anything, it's the NEET, precision is important.
Along with this, don't be a multitasker. The above tips will definitely help you to stay concentrated for the long run but along with it, meditate daily for at least 20 minutes, listen to soothing study music to calm your brain, train your mind to handle the pressure, and work productively. If sometimes you feel bored, get up and go for a walk.
In addition to it, exercise, a healthy diet and an adequate amount of sleep are mandatory to keep you balanced physically and mentally as well. Hope these tips will help you to stay concentrated for the NEET examination.