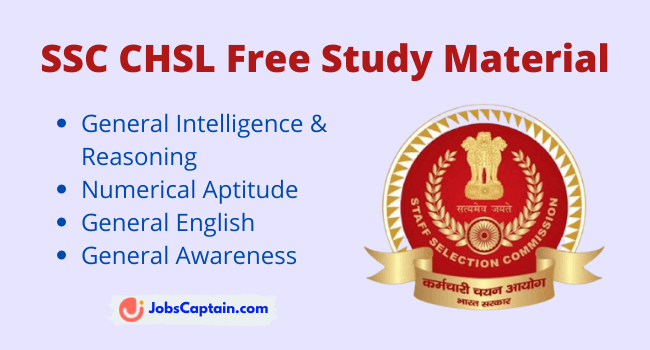 Are you looking for SSC CHSL examination Study Material 2021? If yes, then you are in the right place.
You will find here best study material books for SSC CHSL tier 1 exam 2021. We provided study notes for SSC CHSL in Hindi and English languages.
Before free downloading SSC CHSL study notes questions with answers, keep in mind you need to prepare for exam as per the syllabus. Let's read the scheme of examination.
Subjects for Tier 1 Exam
Number of Questions
Maximum Marks
General Intelligence & Reasoning
25
25
Numerical Aptitude
25
25
General English
50
50
General Awareness
50
50
Total
150
150

Total Duration of Exam – 1 Hour
This examination tier will consist of Objective Type – Multiple choice questions only.
There will be negative marking of 0.50 marks for each wrong answer.
Download Scheme of SSC CHSL and Syllabus PDF
SSC CHSL Free Study Material Books
We divided ssc chsl study material list into 4 parts as per the exam pattern.
General Intelligence & Reasoning
General Awareness and General Knowledge
Free download SSC CHSL exam study material for general awareness and GK.
Numerical Aptitude
General English
We soon publish SSC Yojana, Model and Previous exam question papers with solutions. Stay Connected with us and join our JobsCaptain Telegram Channel.
Thank you. Keep share above very helpful free study material of SSC CHSL 2021 with your friends.