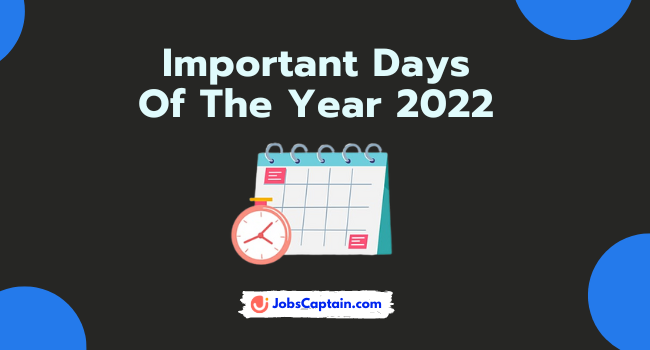 Every month has some important days and dates to commemorate and honour the things which happened. Here is the month-wise list of important national and international days and dates for preparing for your Competitive Exams like UPSC, SSC, SCC CGL, RRB and BANK PO. The list of important days in 2022 will help candidates in attempting such questions with full accuracy which might be helpful in clearing the exam.
List of Important Days Of The Year 2022
Here we will share Important Days and dates Of The Year 2022 one by one month-wise list below:
Important Days of January 2022
Here are all the important days in January month below :
Important Days of January 
Remarks
01 January
New Year's Day, Global Family Day
Global Family Day grew out of the United Nations Millennium celebration, "One Day In Peace"
04 January
World Braille Day
Braille's gift to the world has brightened the lives of millions of people around the world who are blind or visually impaired, and they benefit from his work every day.
06 January
World War Orphans Day
Because of the coronavirus pandemic, the day has taken on even more relevance this year. Global disasters, such as a pandemic, are sure to have the greatest impact on orphan children
08 January
African National Congress Foundation Day
Walter Rubusana in Bloemfontein as the South African Native National Congress (SANNC), its primary mission was to bring all Africans together as one people, to defend their rights and freedoms.
09 January
NRI Day (Pravasi Bhartiya Diwas)
The day commemorates the return of Mahatma Gandhi from South Africa to Mumbai on 9 January 1915.
10 January
World Hindi Day
Let us tell you that in 2006, for the promotion of Hindi, former Prime Minister Dr. Manmohan Singh had announced to celebrate Hindi Diwas on 10 January every year. World Hindi Day is celebrated in Indian embassies around the world.
11 January
National Human Trafficking Awareness Day, National Road Safety Week starts, Death Anniversary of Lal Bahadur Shastri
In recognition of this important day, and throughout the month of January, Blue Campaign hosts several special events and educational activities.
12 January
National Youth Day
birthday of Swami Vivekananda.
14 January
Makar Sankranti, Lohri Day, Pongal
 Lohri: As per experts, the festival marks the onset of the spring season and the harvest season of wheat crops that is sown right before the beginning of winter in Punjab.
15 January
Indian Army Day
Army Day is celebrated on 15 January every year in India, in recognition of Field Marshal Kodandera M. Cariappa's taking over as the first Commander-in-Chief of the Indian Army from General Francis Roy Bucher, the last British Commander-in-Chief of India, on 15 January 1949.
18 January
National Immunization Day (Polio Day)
11 states and union territories (UTs), the first Sub-National Immunization Day for 2022 for administering Polio vaccine drops will be conducted.
23 January
Netaji Subhash Chandra Bose's Birthday
Born on January 23, 1897, Netaji played a crucial role in India's freedom movement. Subhash Chandra Bose had also established the 

Azad Hind Fauj

.
24 January
National Girl Child Day
it was initiated in 2008 by the Ministry of Women and Child Development and the government of India, to spread public awareness about inequities that girls face in Indian society.
25 January
National Tourism Day, National Voters Day
In order to encourage more young voters to take part in the political process, the Government of India has decided to celebrate January 25 every year as "National Voters' Day".
26 January
Republic Day of India, International Customs Day
The International Customs Day (ICD) is observed on 26 January every year. The day is celebrated to recognise the role of customs officials and agencies and focus on the working conditions and challenges that customs officers face in their jobs.
27 January
International Holocaust Day, International Day of Commemoration
The International Holocaust Remembrance Day, or the International Day in Memory of the Victims of the Holocaust, is an international memorial day.
28 January
Birth Anniversary of Lala Lajpat Rai, Data Protection Day
Birth Day of Lala Lajpat Rai
30 January
World Leprosy Eradication Day, Mahatma Gandhi's Martyrdom Day (Martyr's Day)
23 March is also observed as Martyr's Day to pay tribute to three revolutionaries of India namely Bhagat Singh, Shivaram Rajguru, and Sukhdev Thapar.
To know more about January read the Important Days in January.
---
Important Days of February 2022
Here are all the important days in February month below :
Important Days of February
Remarks
01 February
Indian Coast Guard Day
The Indian Coast Guard (ICG) is the maritime law enforcement and search and rescue agency of India with jurisdiction over its territorial waters including its contiguous zone and exclusive economic zone. The Indian Coast Guard was formally established on 1 February 1977 by the Coast Guard Act, 1978 of the Parliament of India.
02 February
World Wetlands Day
World Wetlands Day is an environmentally-related celebration which dates back to the year 1971 when several environmentalists gathered to reaffirm the protection and love for wetlands.
04 February
World Cancer Day, National Day of Sri Lanka
The International Day of Women and Girls in Science is an annual observance adopted by the United Nations General Assembly to promote the full and equal access and participation of females in Science, Technology, Engineering and Mathematics fields.
06 February
International Day of Zero Tolerance to Female Genital Mutilation
International Day of Zero Tolerance for Female Genital Mutilation is a United Nations-sponsored annual awareness day that takes place on February 6 as part of the UN's efforts to eradicate female genital mutilation. It was first introduced in 2003.
08 February
Safer Internet Day (second day of the second week of February)
Together for a better internet
10 February
National De-worming Day

When is National Deworming Day? National Deworming Day will be observed annually on 10th February every year.

Second Sunday of February
World Marriage Day
World Marriage Day is an observance sponsored by American organization Worldwide Marriage Encounter, associated with the Catholic Marriage Encounter movement and observed on second Sunday of February each year.
12 February
National Productivity Day, Darwin Day, Abraham Lincoln's Birthday
Every year on 12th February, National Productivity Day is commemorated to promote India's productivity culture. The National Productivity Council (NPC) celebrates it with a theme.
13 February
World Radio Day, National Women's Day (Sarojini Naidu's Birth Anniversary)
World Radio Day is an international day celebrated on 13 February each year. The Day was decided by UNESCO on 3 November 2011 during its 36th conference.
14 February
Valentine's Day
Valentine's Day, also called Saint Valentine's Day or the Feast of Saint Valentine, is celebrated annually on February 14.
20 February
World Day of Social Justice
World Day of Social Justice is an international day recognizing the need to promote social justice, which includes efforts to tackle issues such as poverty, exclusion, gender inequality, unemployment, human rights, and social protections.
21 February
International Mother Language Day
International Mother Language Day is a worldwide annual observance held on 21 February to promote awareness of linguistic and cultural diversity and to promote multilingualism.
24 February
Central Excise Day
Central Excise Day of India is celebrated every year on February 24. The day is being celebrated to honour the service of the Central Board of Excise and Custom (CBEC) to the country.
27 February
World NGO Day, World Sustainable Energy Day
World NGO Day is an international day dedicated to recognize, celebrate and honour all non-governmental and nonprofit organizations, and the people behind them that contribute to society all year around.
28 February
National Science Day
National Science Day is celebrated in India on 28 February each year to mark the discovery of the Raman effect by Indian physicist Sir C. V. Raman on 28 February 1928. For his discovery, Sir C.V. Raman was awarded the Nobel Prize in Physics in 1930.
28 or 29 February
Rare Disease Day
Rare Disease Day is an observance held on the last day of February to raise awareness for rare diseases and improve access to treatment and medical representation for individuals with rare diseases and their families.
February Important Days in Hindi
---
Important Days of March 2022
Here are all the important days in March month below: Important days in march for bank exams
Important Days of January 
Remarks
01 March
Zero Discrimination Day, World Civil Defence Day
Zero Discrimination Day is an annual day celebrated on 1 March each year by the United Nations and other international organisations. The day aims to promote equality before the law and in practice throughout all of the member countries of the UN.
03 March
World Wildlife Day, World Hearing Day
On 20 December 2013, at its 68th session, the United Nations General Assembly, in its resolution UN 68/205, decided to proclaim 3 March.
04 March
National Security Day
National Security Day or Rashtriya Suraksha Diwas is celebrated on 4th March every year. The day is celebrated to honour the security forces of India and to commemorate the establishment of the National Safety Council (NSC).
08 March
International Women's Day
International Women's Day is a global holiday celebrated annually on March 8 to commemorate the cultural, political, and socioeconomic achievements of women.
09 March
No Smoking Day (Second Wednesday of March)

No Smoking Day is celebrated on every second Wednesday of March, this year, 9th of March, 2022. The global event strives to raise awareness about the ill effects of smoking, thereby reinforcing the benefits of quitting smoking. The 2022 theme for No Smoking Day is "quitting smoking doesn't have to be stressful"

10 March
CISF Raising Day
The headquarter is located in New Delhi. In the year 1969, the CISF was set up on March 10 and three battalions were formed under the CISF act 1968, which was passed by the Parliament of India. Since then, the day is celebrated as CISF Raising Day every year.
10 March (Second Thursday of March)
World Kidney Day
World Kidney Day is a global health awareness campaign focusing on the importance of the kidneys and reducing the frequency and impact of kidney disease and its associated health problems worldwide. World Kidney Day is observed annually on the 2nd Thursday in March.
14 March
International Day of Action for Rivers, Pi Day
Pi Day is an annual celebration of the mathematical constant π. Pi Day is observed on March 14 since 3, 1, and 4 are the first three significant figures of π. It was founded in 1988 by Larry Shaw, an employee of the Exploratorium. Celebrations often involve eating pie or holding pi recitation competitions.
15 March
World Consumer Rights Day

The consumer movement marks 15th March with World Consumer Rights Day every year, as a means of raising global awareness about consumer rights and needs.

16 March
National Vaccination Day
India has made remarkable progress in scaling up routine immunization through intensified vaccination drives.
18 March
Ordnance Factories Day (India)
Ordnance Factory Board (OFB), consisting of the Indian Ordnance Factories, now known as Directorate of Ordnance (Coordination & Services) was an organisation, under the Department of Defence Production (DDP) of Ministry of Defence (MoD), Government of India.
20 March
International Day of Happiness, World Sparrow Day
World Sparrow Day is a day designated to raise awareness of the house sparrow and then other common birds to urban environments, and of threats to their populations, observed on 20 March.
21 March
World Forestry Day, World Down Syndrome Day, World Poetry Day
In December 2011, the General Assembly declared 21 March as World Down Syndrome Day (A/RES/66/149). The General Assembly decided, with effect from 2012, to observe World Down Syndrome Day on 21 March each year.
22 March
World Water Day, Bihar Day
The day is used to advocate for the sustainable management of freshwater resources.
23 March
World Meteorological Day
 This organization announces a slogan for World Meteorology Day every year, and this day is celebrated in all member countries.
24 March
World Tuberculosis (TB) Day
In 2018, 10 million people fell ill with TB, and 1.5 million died from the disease, mostly in low and middle-income countries.
27 March
World Theatre Day
World Theatre Day is an international observance celebrated on 27 March. It was initiated in 1961 by the International Theatre Institute.
---
Important Days of April 2022
Here are all the important days in April month below :
Important Days of January 
Remarks
01 April
Orissa Day, Prevention of Blindness week
Every year the Government of India observes "Prevention of Blindness Week" from the 1st to the 7th of April to raise awareness against the causes of blindness and the ways to prevent them.
02 April
World Autism Awareness Day
It was designated by the United Nations General Assembly resolution.
04 April
International Day for Mine Awareness
"Safe Home" is about restoring the personal security of individuals and communities in post-conflict settings. There is no place like home, and it is difficult to feel at home without security and community.
05 April
National Maritime Day
In 1933, Congress declared National Maritime Day to commemorate the American steamship Savannah's voyage from the United States to England, marking the first successful crossing of the Atlantic Ocean with steam propulsion.
07 April
World Health Day
the WHO held the First World Health Assembly.
10 April
World Homeopathy Day
The day is observed on the occasion of the birth anniversary of German physician Dr 

Christian Friedrich Samuel Hahnemann

, the founder of homoeopathy.
11 April
National Safe Motherhood Day, National Pet Day
Every year, 11 April is celebrated as National Safe Motherhood Day.
13 April
Jallianwala Bagh Massacre (1919)
The Jallianwala Bagh massacre, also known as the Amritsar massacre, took place on 13 April 1919. A large peaceful crowd had gathered at the Jallianwala Bagh in Amritsar, Punjab to protest against the arrest of pro-Indian independence leaders Dr Saifuddin Kitchlew and Dr Satya Pal.
17 April
World Haemophilia Day
Engaging your government, integrating inherited bleeding disorders into national policy". By raising awareness and bringing haemophilia and other inherited bleeding disorders to the attention of policymakers, we can increase sustainable and equitable access to care and treatment.
18 April
World Heritage Day
The International Day for Monuments and Sites also known as World Heritage Day is an international observance held on 18 April each year around the world with different types of activities, including visits to monuments and heritage sites, conferences, round tables and newspapers articles.
19 April
World Liver Day
World Hepatitis Day, observed on July 28 every year, aims to raise global awareness of hepatitis — a group of infectious diseases known as hepatitis A, B, C, D, and E — and encourage prevention, diagnosis and treatment.
21 April
Secretaries' Day, National Civil Service Day
The Government of India celebrates April 21 every year as 'Civil Services day' as an occasion for the civil servants to rededicate themselves to the cause of citizen and renew their commitments to public service and excellence in work.
22 April
World Earth Day
it now includes a wide range of events coordinated globally by EarthDay.org including 1 billion people in more than 193 countries. The official theme for 2022 is Invest In Our Planet.
23 April
World Book and Copyright Day
World Book Day, also known as World Book and Copyright Day or International Day of the Book, is an annual event organized by the United Nations Educational, Scientific and Cultural Organization to promote reading, publishing, and copyright.
24 April
National Panchayati Day
 Then-Prime Minister of India Manmohan Singh declared the first National Panchayati Raj Day on 24 April 2010.
25 April
World Malaria Day
Globally, 3.3 billion people in 106 countries are at risk of malaria. In 2012, malaria caused an estimated 627,000 deaths, mostly among African children.
26 April
World Intellectual Property Day
The event was established by the World Intellectual Property Organization in 2000 to "raise awareness of how patents, copyright, trademarks
28 April
World Day for Safety and Health at Work
The annual World Day for Safety and Health at Work on 28 April promotes the prevention of occupational accidents and diseases globally.
29 April
International Dance Day
The event takes place every year on 29 April, which is the anniversary of the birth of Jean-Georges Noverre, the creator of modern ballet.
30 April
Ayushman Bharat Diwas
Ayushman Bharat Diwas is celebrated on 30th April of every year across the country as a part of gram Swaraj Abhiyan.
---
Important Days of May 2022
Here are all the important days in May month below :
Important Days of January 
Remarks
01 May
International Labour Day, Maharashtra Day
a celebration of labourers and the working classes that is promoted by the international labour movement and occurs every year on May Day.
03 May
Press Freedom Day
raise awareness of the importance of freedom of the press and remind governments of their duty to respect and uphold the right to freedom of expression enshrined under Article 19 of the 1948 Universal Declaration of Human Rights and mark the anniversary of the Windhoek Declaration, a statement of free press principles put together by African newspaper journalists in Windhoek in 1991.
04 May
Coal miner's day, International Firefighters Day
Coal Miners Day 2022: Coal Miners Day is observed on 4th May.
1st Sunday of May
World Laughter Day
World Laughter Day was established in 1998 and the first celebration was on 10 May 1998, in Mumbai, India, arranged by Dr. Madan Kataria, founder of the worldwide Laughter Yoga movement.
1st Tuesday of May
World Asthma Day
World Asthma Day takes place on May 3. The theme of 2021's event was "Uncovering Asthma Misconceptions," and for 2022, "Closing Gaps in Asthma Care."
2nd Sunday of May
Mother's Day
It is celebrated on different days in many parts of the world, most commonly in the months of March or May.
07 May
World Athletics Day
World athletics day is celebrated on the 7th of May every year. Even though it is important to memorize the date of such an international event, it is also important to gather information regarding the importance of such an event.
08 May
World Red Cross Day, World Thalassaemia Day
World Thalassaemia Day 2022: It is observed on May 8 to spread awareness about thalassaemia disease, its preventive measures and to avoid transmission among people throughout the world.
11 May
National Technology Day
National Technology day celebrates not only scientists and engineers, but anyone who is involved with ideating, innovating, and promoting the dissemination of knowledge and also ensuring that its benefits reach the grassroots level.
12 May
International Nurses Day
International Nurses Day is an international day observed around the world on 12 May each year, to mark the contributions that nurses make to society.
14 May
World Migratory Day
World Migratory Bird Day is marked twice a year since its inauguration in 2006. International Migratory Bird Day will be celebrated on 14 May and 8 October 2022. The day is celebrated with an aim to safeguard migratory birds' breeding, non-breeding as well as stopover habitats while preserving a healthy bird population.
15 May
International Day of the Family
The Day was proclaimed by the UN General Assembly in 1993 with resolution A/RES/47/237 and reflects the importance the international community attaches to families.
17 May
World Telecommunication Day, World Hypertension Day

Every year, World Hypertension Day is observed on May 17 to raise awareness about the condition of hypertension in patients.

18 May
World AIDS Vaccine Day, International Museum Day
World AIDS Vaccine Day is observed on May 18 each year. It is also known as HIV Vaccine Awareness Day.
21 May
National Anti-terrorism Day
It was on this day in 1991 that the seventh Prime Minister of India Rajiv Gandhi was assassinated by LTTE terrorists while campaigning for the Congress party in Tamil Nadu.
22 May
International Day for Biological Diversity
The International Day for Biological Diversity falls within the scope of the UN Post-2015 Development Agenda's Sustainable Development Goals.
24 May
Commonwealth Day
Commonwealth Day is the annual celebration of the Commonwealth of Nations since 1977 often held on the second Monday in March.
31 May
Anti-Tobacco Day
World No Tobacco Day is observed around the world every year on 31 May. The yearly celebration informs the public about the dangers of using tobacco, and the business practices of tobacco companies.
---
Important Days of June 2022
Here are all the important days in June month below :
Important Days of June
Remarks
01 June
World Milk Day
World Milk Day is an international day established by the Food and Agriculture Organization of the United Nations to recognize the importance of milk as a global food. It has been observed on June 1 each year since 2001.
03 June
World Bicycle Day
In April 2018, the United Nations General Assembly declared June 3 as International World Bicycle Day.
04 June
International Day of Innocent Children Victims of Aggression
International Day of Innocent Children Victims of Aggression is a United Nations observance held on June 4 every year. It was established on 19 August 1982.
05 June
World Environment Day
World Environment Day is celebrated annually on 5 June and is the United Nations' principal vehicle for encouraging awareness and action for the protection of the environment.
07 June
World Food Safety Day
World Food Safety Day on 7 June 2022 will draw attention and mobilize action to prevent, detect and manage foodborne risks and improve human health.
08 June
World Ocean Day, World Brain Tumour Day
The "Deutsche Hirntumorhilfe e.V." (German Brain Tumor Association) started this international commemoration day in the year 2000 as a tribute to all brain tumour patients and their families. It is celebrated annually on 8 June.
12 June
Anti-Child Labor Day
The World Day Against Child Labour is an International Labour Organization-sanctioned holiday first launched in 2002 aiming to raise awareness and activism to prevent child labour.
13 June
International Albinism Awareness Day
International Albinism Awareness Day is celebrated annually on June 13 to celebrate the human rights of persons with albinism worldwide.
14 June
World Blood Donor Day
World Blood Donor Day is held on June 14 each year. The event was organised for the first time in 2005, by a joint initiative of the World Health Organization.
15 June
World Wind Day
Global Wind Day or World Wind Day is a worldwide event that is held on June 15 around the world. It is organised by WindEurope and GWEC.
20 June
World Refugee day
World Refugee Day is an international day organised every year on 20 June by the United Nations. It is designed to celebrate and honour refugees from around the world.
21 June
International day of yoga, World Music Day, World Hydrography Day
The date chosen for World Hydrography Day is June 21, which is the anniversary of the founding of the International Hydrographic Organization.
3rd Sunday of June
Father's Day
In the United States, Father's Day was founded by Sonora Smart Dodd, and celebrated on the third Sunday of June for the first time in 1910.
23 June
United Nation's public service day
The UN Public Service Day was designated by the United Nations General Assembly's resolution A/RES/57/277 of 2003, to "celebrate the value and virtue of public service to the community".
23 June
United Nations Public Service Day, International Olympic Day
The UN Public Service Day was designated by the United Nations General Assembly's resolution A/RES/57/277 of 2003, to "celebrate the value and virtue of public service to the community".
26 June
International Day against Drug abuse & Illicit Trafficking
The International Day Against Drug Abuse and Illicit Trafficking is a United Nations International Day against drug abuse and the illegal drug trade. It is observed annually on 26 June, since 1989.
---
Important Days of July 2022
Here are all the important days in July month below :
Important Days of July
Remarks
01 July
National Doctor's Day, Canada Day, Chartered Accountants' Day

National Doctors Day and National Chartered Accountants Day both fall on July 1.

02 July
World UFO Day
World UFO Day is an awareness day for people to gather together and watch the skies for unidentified flying objects. The day is celebrated by some on June 24, and others on July 2.
04 July
Independence Day of USA
Independence Day is a federal holiday in the United States commemorating the Declaration of Independence, which was ratified by the Second Continental Congress on July 4, 1776, establishing the United States of America.
06 July
World Zoonoses Day
 The One Health approach is particularly relevant includes the control of zoonoses (diseases that can spread between animals and humans, such as avian flu, rabies and Rift Valley Fever)
11 July
World Population Day
The event was established by the Governing Council of the United Nations Development Programme in 1989.
12 July
World Malala day, National Simplicity Day
Every year on July 12th, the world celebrates the birthday of Malala Yousafzai.
18 July
International Nelson Mandela Day
Nelson Mandela International Day is an annual international day in honour of Nelson Mandela, celebrated each year on 18 July, Mandela's birthday. The day was officially declared by the United Nations in November 2009, with the first UN Mandela Day held on 18 July 2010.
28 July
World Nature Conservation Day, World Hepatitis Day

World Hepatitis Day is commemorated each year on 28 July to enhance awareness of viral hepatitis, an inflammation of the liver that causes a range of health problems, including liver cancer.

29 July
International Tiger Day
Global Tiger Day, often called International Tiger Day, is an annual celebration to raise awareness for tiger conservation, held annually on 29 July. It was created in 2010 at the Saint Petersburg Tiger Summit in Russia.
---
Important Days of August 2022
Here are all the important days in August month below :
Important Days of August
Remarks
01 August
World Wide Web Day
August 1 is World Wide Web Day, marking the invention by Tim Berners-Lee of an internet-based communication system that changed the world.
06 August
Hiroshima Day
The two bombings killed between 129,000 and 226,000 people, most of whom were civilians, and remain the only use of nuclear weapons in armed conflict.
07 August
International Friendship Day (first Sunday), National Handloom Day
Friendships come in many forms, and we begin developing them when we're very young. Throughout our lives, friendships and their meanings evolve. Our classmates and neighborhood pals explored the world with us.
09 August
International Day of World's Indigenous People, Nagasaki Day, Quit India Day
Indigenous women are the backbone of indigenous peoples' communities and play a crucial role in the preservation and transmission of traditional ancestral knowledge.
12 August
International Youth Day, World Elephant Day
World Elephant Day: History Since then, the day is being observed every year on 12 August.
14 August
Independence Day of Pakistan
It commemorates the day when Pakistan achieved independence and was declared a sovereign state following the end of the British Raj in 1947.
15 August
Independence Day of India
Independence Day is celebrated annually on 15 August as a national holiday in India commemorating the nation's independence from the United Kingdom on 15 August 1947.
19 August
World Photography Day
World Photography Day is an annual, worldwide celebration of the art, craft, science and history of photography. The next World Photography Day will take place on Friday, August 19th, 2022.
20 August
Sadbhavna Diwas, World Mosquito Day
World Mosquito Day is observed every year on 20 August. It is observed to acknowledge and honour Sir Ronald Ross, a British doctor who discovered that female mosquitoes were responsible for the transmission of malaria. He made this discovery in 1897.
23 August
International Day for the Remembrance of Slave Trade and Abolition
The International Day for the Remembrance of the Slave Trade and its Abolition is an international day celebrated August 23 of each year, the day designated by UNESCO to memorialize the transatlantic slave trade.
26 August
International Dog Day
As International Dog Day is being celebrated on August 26, here we bring to you its history, significance, quotes and how you can celebrate the day with your furry creature.
29 August
National Sports Day, Telugu Language Day
Celebrating the birth anniversary of the Hockey legend Dhyan Chand Singh, the school principal Parankusam Kumar conducted sports meet and the president of the Nidamanuri Educational Trust, Nidamanuri Nageswara Rao distributed prizes to the winners in various fields.
30 August
Small Industry Day
National Small Industry Day is observed every year on August 30, to recognise the value of small businesses existing in India.
---
Important Days of September 2022
Here are all the important days in September month below :
Important Days of September
Remarks
02 September
Coconut Day
It is held on the full-moon day of the Hindu month of Shravan which falls around July or August.
05 September
Teachers' Day
Teachers' Day is a special day for the appreciation of teachers, and may include celebrations to honor them for their special contributions in a particular field area, or the community in general.
08 September
International Literacy Day
that was declared by UNESCO on 26 October 1966 at the 14th session of UNESCO's General Conference. It was celebrated for the first time in 1967.
14 September
Hindi day
Hindi Day is celebrated in India to commemorate the date 14 September 1949 on which a compromise was reached—during the drafting of the Constitution of India—on the languages that were to have official status in the Republic of India.
15 September
Engineers' Day, International Day of Democracy
In 2007 the 

United Nations General Assembly

 resolved to observe 15 September as the International Day of Democracy—with the purpose of promoting and upholding the principles of democracy—and invited all member states and organizations to commemorate.
16 September
World Ozone Day, International Day for Preservation
This designation had been made on December 19, 2000, in commemoration of the date, in 1987, on which nations signed the Montreal Protocol on Substances that Deplete the Ozone Layer.
21 September
Alzheimer's Day; Day for Peace & Non-violence (UN)
Each year the International Day of Peace is observed around the world on 21 September. The UN General Assembly has declared this as a day devoted to strengthening the ideals of peace, through observing 24 hours of non-violence and cease-fire.
22 September
Rose Day (Welfare of Cancer patients)
World Rose Day is observed on September 22 every year to spread hope and cheer in the lives of cancer patients. The day is for the welfare of cancer patients. The day is celebrated in the memory of 12-year-old Melinda Rose from Canada who was diagnosed with Askin's Tumour, a rare form of blood cancer.
23 September
International Day of Sign Languages
The choice of 23 September is the same date that the World Federation of the Deaf was established in 1951.
26 September
Day of the Deaf, World Contraception Day
World Contraception Day takes place on September 26th every year.
27 September
World Tourism Day, World Maritime Day
The United Nations (UN), via the International Maritime Organization (IMO), created World Maritime Day to celebrate the international maritime industry's contribution towards the world's economy, especially in shipping.
30 September
International Translation Day
International Translation Day is an international day recognising translation professionals. It is on 30 September, which is the day of the feast of St. Jerome, the Bible translator who is considered the patron saint of translators.
Fourth Sunday of September
World Rivers Day
World Rivers Day is celebrated on the fourth Sunday of September every year to increase public awareness about rivers and to encourage their conservation. The day celebrates Earth's waterways, in which over 60 countries participate every year.
September Important Days in Hindi
---
Important Days of October 2022
Here are all the important days in October month below :
Important Days of October
Remarks
01 October
International Day for the Elderly
The International Day of Older People is observed on October 1 each year. On December 14, 1990 the United Nations General Assembly voted to establish October 1 as the International Day of Older People as recorded in Resolution 45/106. The holiday was observed for the first time on October 1, 1991.
02 October
Gandhi Jayanthi, International Day of Non-Violence
The International Day of Non-Violence is observed on 2 October, the birthday of Mahatma Gandhi, leader of the Indian independence movement and pioneer of the philosophy and strategy of non-violence.
03 October
World Habitat Day (First Monday)
In 1985 the United Nations designated the first Monday of October every year as World Habitat Day. The idea is to reflect on the state of our towns and cities and the basic right of all to adequate shelter. It is also intended to remind the world of its collective responsibility for the future of the human habitat.
04 October
World Animal Welfare Day
The World Animal Day movement is supported and endorsed by a number of celebrities, such as Anneka Svenska, Brian Blessed and Melanie C.
08 October
Indian Air Force Day

Indian Air Force Day is celebrated on October 8 every year. Every year, the Air Force Day is celebrated at Hindon base in presence of IAF chief and senior officials of the three armed forces. These celebrations include an air display where the most crucial and vintage aircraft put up a magnificent show.

09 October
World Post Office day
The UPU was the start of the global communications revolution, introducing the ability to write letter to others all over the world.
10 October
National Post Day, World Mental Health Day
World Mental Health Day, on October 10, is an international day for global mental health education, awareness and advocacy against social stigma.
11 October
International Girl Child Day
International Day of the Girl Child is an international observance day declared by the United Nations; it is also called the Day of Girls and the International Day of the Girl. October 11, 2012, was the first Day of the Girl Child.
12 October
World Arthritis Day
World Arthritis Day, referred to as WAD, is a global awareness day held every year on 12 October. WAD aims to help raise awareness in all audiences across the world of the existence and impact of rheumatic and musculoskeletal diseases, often referred to as RMDs.
13 October
UN International Day for Natural Disaster Reduction
The International Day for Disaster Reduction is an international day that encourages every citizen and government to take part in building more disaster-resilient communities and nations.
14 October
World Standards Day
World Standards Day is an international day celebrated internationally each year on 14 October.
15 October
World White Cane Day (guiding the Blind), World Students Day
The day aims to recognise the active participation of blind people in society and celebrate their achievements.
16 October
World Food Day
World Food Day is an international day celebrated every year worldwide on 16 October to commemorate the date of the founding of the United Nations Food and Agriculture Organization in 1945.
20 October
World Statistics Day
Created by the United Nations Statistical Commission, it was first celebrated on 20 October 2010. The day is celebrated every five years.
24 October
UN Day, World Development Information Day
The Assembly decided that the date for the Day should coincide with United Nations Day, 24 October, which was also the date of the adoption, in 1970, of the International Development Strategy for the Second United Nations Development Decade.
30 October
World Thrift Day
The Italian Professor Filippo Ravizza declared this day the "International Saving Day" on the last day of the congress.
31 October
National Unity Day
The day is celebrated to mark the birth anniversary of Sardar Patel who had a major role in the political integration of India.
---
Important Days of November 2022
Here are all the important days in November month below :
Important Days of November
Remarks
01 November
World Vegan Day
The benefits of veganism for humans and the natural environment are celebrated through activities such as setting up stalls, hosting potlucks, and planting memorial trees.
05 November
World Tsunami Day
In 2021, World Tsunami Awareness Day promotthe es "Sendai Seven Campaign," target , which aims to 'substantially enhance international cooperation to developing countries through adequate and sustainable support to complement their national actions for implementation of the present Framework by 2030.'
07 November
Infant Protection Day, National Cancer Awareness Day
ICCD is a global collaborative campaign to raise awareness about childhood cancer and to express support for children and adolescents with cancer, the survivors and their families.
09 November
Legal Services Day
National Legal Services Day is observed every year on 9th November to commemorate the commencement of the Legal Services Authorities Act, 1987 which came into force on 9th November 1995.
10 November
Transport Day
the ITF (International Transport Workers' Federation) will be marking campaigns around the world that are strengthening and improving public transport for everyone, as part of the federation's Our Public Transport programme. Public transport affects everyone.
14 November
Children's Day (Jawaharlal Nehru's birthday), Diabetes Day
The other important event is of great significance to India, for we are considered the world capital for that… the day is also observed as World Diabetes Day.
17 November
National Epilepsy Day
Epilepsy is a chronic disorder of brain characterized by recurrent 'seizures' or 'fits'. The seizures are caused as a result of sudden, excessive electrical discharges in the neurons (brain cells). The condition can affect people at any age and each age group has unique concerns and problems.
18 November
World Adult Day
World Adult Day is celebrated on 18 November. It is organised by the World Health Organization. It is celebrated to tackle the growing aging problem. It is an initiative to urge adults to live with their old parents and help them.
19 November
World Citizen Day
The celebration took place for the first time in 1991. The day is intended to increase awareness of the factors and issues that affect older adults, such as health deterioration and elder abuse. It is also a day to recognize and acknowledge the contributions of older people to society.
20 November
Africa Industrialization Day
Industrial development is of critical importance for sustained and inclusive economic growth in African countries. Industry can enhance productivity, increase the capabilities of the workforce, and generate employment, by introducing new equipment and new techniques.
21 November
World Television Day
In December 1996 the United Nations proclaimed 21 November as World Television Day commemorating the date on which the first World Television Forum was held in 1996.
29 November
International Day of Solidarity with Palestinian People
Events are held at the United Nations headquarters in New York, as well as at the United Nations offices at Geneva, Vienna and Nairobi.
---
Important Days of December 2022
Here are all the important days in December month below :
Important Days of December
Remarks
01 December
World Aids Day
World AIDS Day, designated on 1 December every year since 1988, is an international day dedicated to raising awareness of the AIDS pandemic caused by the spread of HIV infection and mourning those who have died of the disease.
02 December
World Computer Literacy Day, International day of abolition of slavery, National Pollution Control Day
National Pollution Control Day 2021 is observed annually on December 2 to remember the people who lost lives during 1984 Bhopal Gas Tragedy. It is also the day to raise awareness about the hazards of air pollution.
03 December
International Day of Disabled People
International Day of Persons with Disabilities is an international observance promoted by the United Nations since 1992. It has been observed with varying degrees of success around the planet.
04 December
Navy Day
4 December was chosen as on that day in 1971, during Operation Trident, the Indian Navy sank four Pakistani vessels including PNS Khaibar, killing hundreds of Pakistani Navy personnel.
07 December
Indian Armed Forces Flag Day, International Civil Aviation Day
International Civil Aviation Day 2021: The day is observed on December 7 to increase awareness about the role and importance of the International Civil Aviation Organization (ICAO) for international air transport.
09 December
International day against corruption
International Anti-Corruption Day has been observed annually, on 9 December, since the passage of the United Nations Convention Against Corruption on 31 October 2003 to raise public awareness for anti-corruption.
10 December
Human Right Day
The date was chosen to honor the United Nations General Assembly's adoption and proclamation.
11 December
International Mountain day
Sustainable tourism in mountains can contribute to creating additional and alternative livelihood options and promoting poverty alleviation, social inclusion, as well as landscape and biodiversity conservation.
14 December
World Energy Conservation Day
World Energy Conservation Day 2021 is observed on December 14 every year. It focuses on making people aware of global warming and climate change and promoting efforts toward saving energy resources.
18 December
Minorities Rights Day (India), International Migrants Day
Minorities Rights Day 2021: Every year, December 18 is observed as Minorities Rights Day to uphold the right to freedom and equal opportunities for the ethnic minorities in India and create awareness about the respect and dignity of the minorities
19 December
Goa's Liberation Day
The Goa Liberation Day is a celebration of the day Indian armed forces freed Goa from Portuguese rule on December 19, 1961.
22 December
National Mathematics Day
December 22 is celebrated as National Mathematics Day in India in honour of mathematical genius Srinivasa Ramanujan (1887-1920). The celebrations were announced by then Prime Minister Manmohan Singh at Madras University in 2012.
23 December
Kisan Divas
Kisan Diwas or National Farmers' Day is celebrated across the nation on December 23 to commemorate the birth anniversary of the fifth Prime Minister of India, Chaudhary Charan Singh. He held the post between 1979 and 1980.
Also Read,
Thank you for visiting our site. Furthermore, if you have any questions related to Important Days Of The Year and any types of competitive exams then please do comment below.