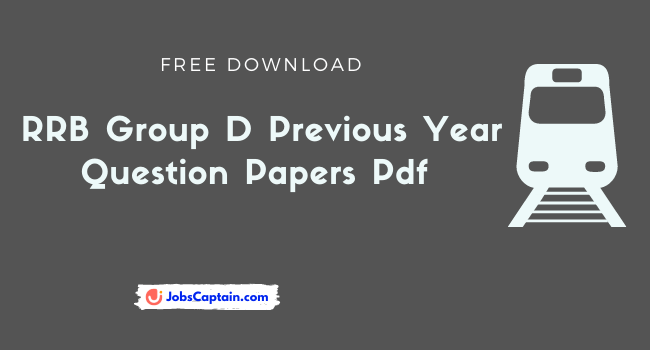 In this article, we have compiled the Previous Year Papers for the Group D Posts of the Railway Recruitment Board. You can download the RRB Group D Previous Year Question Papers Pdf for free here.
The best way to prepare for RRB Group D Exam is by reading and reflecting upon the question papers of the previous year. You should also try your hand at solving various sample questions to develop hunches on how to solve specific types of questions that you may come across in your exam.
Let's Take Notes of important details of the Railway Group D Exam which are given in below table:
RRB Group D Previous Year Question Papers PDF
Dear candidates, If you start preparing for Railway Group D Exam you must solve the previous question papers to know the Pattern of question papers and practice more previous papers to check your performance.
We provide the last Year's Question papers for RRB Group D to the Candidates for their preparation to achieve their goals. By practising the previous railway Question papers, Candidates get the ability to assume the model of the questions and they can answer the question in a simple manner. Here we provide the RRB  Previous year question papers with solutions and hope that candidates are happy with my work and get a good score in their Examinations.
RRB Group D 2013 to 2014 Exam Paper
RRB Group D 2018 to 2014 Question Paper
We hope the detailed article on RRB Group D Previous Year Question Papers Pdf is helpful. If you have any queries regarding RRB Group D Previous Year Papers, drop them in the comment section below and we will get back to you at the earliest.
Also Check Railway Exam Related Post:
Hope that the provided information regarding RRB Group D Previous Question Papers is helpful to your preparation. For more latest employment news stay in touch with our page @https://jobscaptain.com/