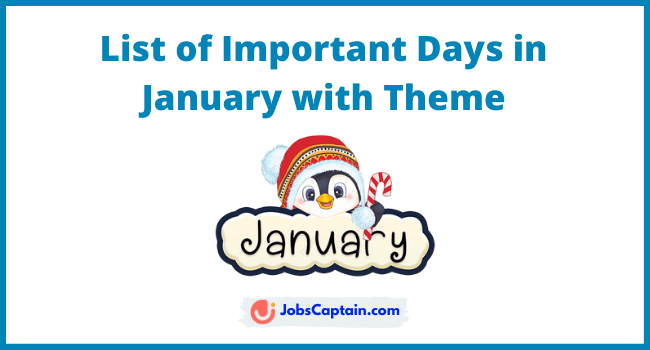 Here is the January 2022 month list of important national and international days and dates for the upcoming competitive examinations such as SSC, RRB, Banking, State Exams and Other Exams.
The list of important days and dates with the theme of January 2022 is compiled on the basis of events and festivals in India and across the world. At last, we also share PDF of the Days and Theme of this month.
Important Days in January 2022
Date of January 2022
Day
Theme
January 4
World Braille Day
to mark the birth anniversary of Louis Braille, the inventor of Braille
January 6

Journalist Day Observed in  Maharashtra

in memory of 'The Father of

Marathi Journalism', Balshastri Jambhekar

January 9

Pravasi Bharatiya Divas/Non-Resident Indian Day

2022 marks 17th Pravasi Bhartiya Divas
January 10
World Hindi Day
Make Hindi a part of public opinion
January 12
National Youth Day
Theme 2022: YUVAAH – Utsah

Naye Bharat Ka' (Youth- Excitement of New India)

January 14
Armed Forces Veterans Day
2022 marks the 6th Armed Forces Veterans Day
January 15
Indian Army Day
2022 marks the 74th Indian Army Day
19 January 2022

NDRF celebrates its 17th Raising Day

Not announced any theme
January 24
National Girl Child Day
Not announced any theme
January 24

International Day of Education

Theme 2022: Changing Course, Transforming Education
January 25
National Voters' Day
Theme 2022: Making Elections Inclusive, Accessible and Participative
January 25
National Tourism Day
Rural and Community Centric Tourism
January 26
Republic Day
2022 marks the 73rd Republic Day of India. Constitution of India came into effect on 26 January 1950
January 26
International Customs Day
Theme 2022: Customs Digital Transformation by Embracing a Data Culture and Building a Data Ecosystem.
January 27

International Day of Commemoration in memory of the victims of the Holocaust

Theme 2022: Memory, Dignity and Justice
January 30
World Neglected Tropical Diseases Day
Theme 2022: Achieving health equity to end the neglect of poverty-related diseases Slogan 2022: From neglect to care.
Last Sunday of January (January 30, 2022)
World Leprosy Day
Theme 2022: United for Dignity
We all know that in the previous few years, it has been noticed that questions from important days have been asked in the General Awareness section of various competitive exams such as UPSC, RRB NTPC, Group D, SSC CGL, SSC CHSL, State PCS, etc.
Also Read,
Thank you for visiting JobsCaptain.com.