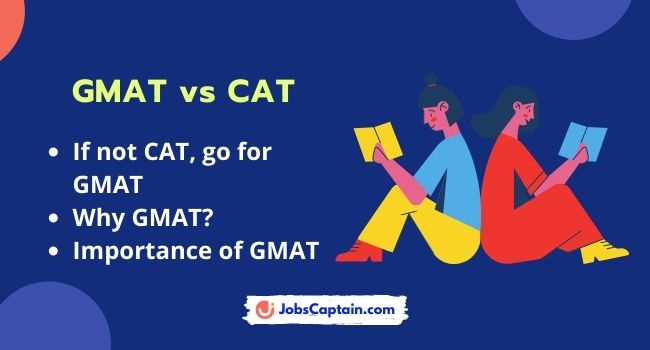 It is wise to say- If not CAT, go for GMAT.  But Why?
Let's try to find an answer-
Those aspiring to be hotshot managers in near future are bewildered. They find it hard to make a choice between the common management tests. The CAT or the Common Aptitude test is one entrance test which is one of the most prestigious but hard to crack entrance exams in the field of management. It is a prerequisite to crack it if you want admission in the prominent IIMs and various other top-notch management institutes.
The GMAT or the Graduate Management Admission Test is an entrance test which makes you able to pursue management studies outside of India. While both of these entrance tests are highly esteemed and globally honoured, the question arises which one to choose if you are a management student. Let's compare the both of them to reach to a rational conclusion.

GMAT vs CAT
---
Let's read some important things and comparison between CAT and GMAT.
| | | |
| --- | --- | --- |
| Topic | GMAT | CAT |
| Eligibility Criteria | bachelor's degree in any stream or equivalent from a recognized university | bachelor's degree in any stream with minimum of 50% marks or equivalent from a recognized university |
| Conducted By | Graduate Management Admission Council |  Indian Institute of Management |
| Frequency | Aspirant can re-take the exam five times within 12 months. | CAT is conducted only once a year. |
| Exam Pattern |  GMAT question paper consists MCQs | The CAT question paper consists of MCQs and a few key-in answer type questions. |
| Exam Syllabus | Verbal Reasoning, Quantitative Reasoning, and Integrated Reasoning and the Analytical Writing Assessment (Check in details CAT Syllabus 2021) | Quantitative Aptitude, Data Interpretation & Logical Reasoning, and Verbal Ability and Reading Comprehension |
| Exam Duration | GMAT is held for 187 minutes. | CAT is held for 180 minutes. |
| Difficulty Level | GMAT is the toughest MBA entrance exam. Not only due to the tough questions asked but also due to a peculiar marking scheme. | CAT is known as a tough MBA exam. The difficulty level of the questions remain on the higher side year on year. |
| Exam Fee | GMAT exam fee is USD 250 for all countries. | CAT exam fee is Rs. 1900/- for General and NC-OBC candidates and Rs. 950/- for SC, ST and Physically Disabled candidates. |
| Acceptance of Score Card | GMAT score is accepted by more than 2100 management institutes across the globe. | CAT score is accepted by all the 20 IIMs and over 1500 management institutes in India. |
| Validity of Score Card | GMAT score is valid for admission for up to 5 years. | CAT score is valid for admission for only one year. |
Now read in detail about GMAT vs CAT entrance exam.
Frequency of Exam
CAT is one test which can just be given once in a year. So, if somehow you were not well on the day of the exam and it didn't go well, then there is no further chance for you to improve it in the same year.
On the other hand the GMAT test can be attempted five times in a year with the gap of one month in each exam. This leads to the scope of improvement and also provides encouragement to perform better. There is also a scope for shifting or rescheduling the GMAT exam if you are not comfortable with the date that was earlier fixed. Thus, as compared to the CAT, the GMAT is far more flexible.

Validity of Score Card
The Validity of the CAT scores is just for one year. On this ground also, the GMAT wins. The GMAT scores are valid for a period of five years. This means that if you gave the exam in 2020, your score will be valid till 2024. That's a pretty long time for a student to make up a state of mind. This is one of the factors that makes one decide, if not CAT, go for GMAT.
Where To Get Admission?
After clearing the CAT, one is eligible for admission in the IIMs and other affiliated business schools. They are very few in number and some of them even create more hurdles after CAT. In case of GMAT, once cleared it opens up gates of the most renowned Business Schools of the world. So the choice of institutes is much wider for those who choose the GMAT.
Easy Process in GMAT vs CAT
The admission procedure after cracking the test is much complex for those who choose the CAT. One has to go through many obstacles such as the group discussions, personal interviews, essay writing and what not. Every step is guarded by the 'cut-off' system. It is not enough to just crack the CAT because there are many other factors to be considered such as your percentage in class Matriculation, Intermediate and Graduation.
As far as GMAT is concerned, the foreign institutions are least concerned with the history of your marks. They are only concerned about what kind of a person are you and if you could make a successful manager or not.
This comparison could easily imply that to make a wise decision – if not CAT, go for GMAT. We hope you will understand the difference between GMAT vs CAT.
We recommend you to read this article also -> How Important The CAT Exam Is?
We hope above information help you to understand the question "If not CAT, go for GMAT.  But Why?". You will read above importance of GMAT exam also.
If this article GMAT vs CAT helpful you, then please share with your colleagues. Further if you have still any questions, please do comment below.