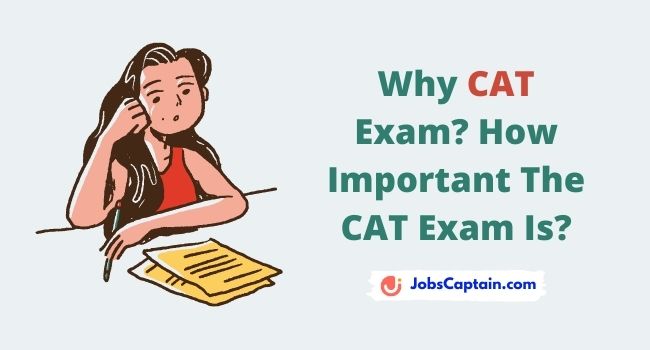 Most of the students come out of their intermediate level without a sound plan for the future. That is the reason that they get confused about making the choice of the graduate level course.
In today's scenario, it can be safely asserted that the CAT is one of the most alluring and one of the most prestigious entrance tests. Also, if cracked, it assures an ever growing future full of challenges and growth.
So, the question arises like what is CAT? Why CAT exam and how important the CAT exam is?
Let's get answers of all above questions.
What is CAT?
---
The Common Aptitude Test or CAT is an entrance test for admission to management programs in India. This test is conducted one every year on National level and a large number of students give this test every year.
Almost all the young students understand that CAT is one of the most important management entrance tests of India. Its importance arises out of the fact that the most prestigious business schools of India consider the CAT scores for providing admissions to their programs.
The test is basically conducted by the IIMs (Indian Institute of Management) for admission to their various management courses.
How Important The CAT Exam Is?
---
There are many reasons why the CAT is so important. This test can only be given once every year.
This term differs from various other management entrance tests and thus makes the CAT more crucial. One has to give hundred percent dedications to this one shot otherwise he will lose one year's time.
The IIMs are the greatest benchmark of management studies. Every management graduate aspires to head to the IIMS. But it is not easy to reach the IIMs. Cracking the code for the CAT is a must for entry to these prestigious institutes.
Not only the IIMs, various other top Indian Management and Business schools allow entry only to those candidates who have scored well on the parameters of the CAT.  This is another reason that increases the importance of CAT exam.

Institute Names, Seats, Fee and Salary
---
Here we are provided data of Indian Institute of Technology, if you get good marks in CAT then below tabular data will help you to choose best institutes for study.
| | | | |
| --- | --- | --- | --- |
| Institute Name | Seats | Fee | Average Salary (Annual) |
| IIT Madras | 68 | 8 Lakh | 12.44 Lakh |
| IIT Kharagpur | 140 | 10.51 Lakh | 17.42 Lakh |
| IIT Bombay (Mumbai) | 120 | 8.73 Lakh | 20.80 Lakh |
| IIT Delhi | 115 | 9.6 Lakh | 18.47 Lakh |
| IIT Kanpur | 78 | 4.14 Lakh | 11.20 Lakh |
| IIT Roorkee | 95 | 8 Lakh | 9.18 Lakh |
| IIT Dhanbad | 62 | 3.4 Lakh | 8 Lakh |
Important Thing About CAT 2021 Exam
---
There is no limit of the aspirants who apply for the CAT every year. There is no dearth of students who consider the IIMs as their management destination.
This creates a lot of competition for this exam and thus one has to work even harder to get admission to the IIMs. This is what makes your one attempt at CAT even more important.
Moreover, the syllabus and pattern of the paper of CAT is all inclusive and no aspect of your personality is uncovered in the test. Data interpretation, Reasoning, Quantitative aptitude, reading comprehension and what not, there is a long line of subjects that form part of this test.
So, preparing for the CAT also prepares you in handling all these subjects well and that is what makes this test all the more important.
CAT is without a doubt the most important management entrance test of India. CAT scores are given the topmost priority when it comes to admissions to the most well known Business schools of the country.
This is the reason why every city has a dime a dozen institutes that provide guidance and assistance in preparing for the CAT.
All the above factors can help the student to decide the importance of CAT exam.
[Also Read ->
How To Choose Best CAT Preparation Institutes?
]
Thank you for reading about Why CAT Exam 2021 and it's important. If you have still any questions in mind, then please do comment below our team will reply you soon.