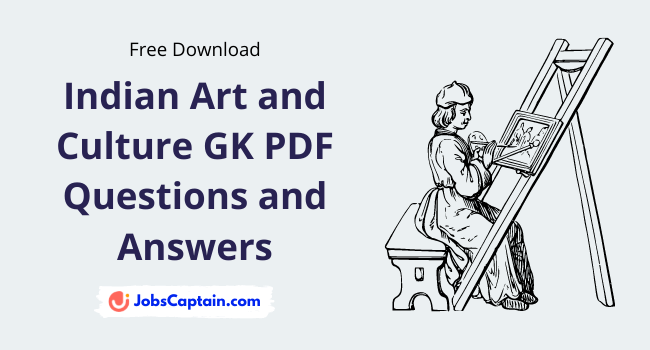 All important General Knowledge Questions are related to the Art and Culture of India which is useful for all types of competitive exams like SSC, IBPS Clerk, IBPS PO, RBI, TET, etc.
In this post, we have given questions and answers PDF on Indian culture and heritage, Indian tradition, Indian culture and western culture. These all pdf books in Hindi and English language can prove to be very helpful in upcoming competitive exams.
| | |
| --- | --- |
| Topic Name | Indian Art and  Culture PDF books |
| Total Books | 10+ PDF books |
| Language | Hindi and English |
Indian Art & Culture Questions PDF
Let's download collection of important general knowledge questions related to the art and culture of all states of India.
Many of these questions given in the above PDF books have been asked so many times in competitive exams.
Indian Culture MCQ Questions
Let's attempt few objective questions on Indian Art and Culture:
Question 1: Which of the following folk dances is associated with Jammu and Kashmir? (निम्नलिखित में से कौन सा लोक नृत्य जम्मू और कश्मीर से संबंधित है?)
(A) Jhora
(B) Veedhi
(C) Rauf
(D) Suisini
Question 2: Papeti is the festival of which religion? (पपेटी किस धर्म का त्योहार है?)
(A) Parsis
(B) Jains
(C) Sikhs
(D) Buddhists
Question 3: Kalamkari painting is from which State? (कलमकारी पेंटिंग किस राज्य की है?)
(A) Andhra Pradesh
(B) West Bengal
(C) Manipur
(D) Maharashtra
Question 4: Tripitaka is the scripture of ____________ . (त्रिपिटक किसका ग्रंथ है?)
(A) Jain religion
(B) Hindu religion
(C) Buddhishtha religion
(D) Muslim religion
Question 5: Hindi is written in ………… script. (हिन्दी ………… लिपि में लिखी जाती है।)
(A) Devanagri
(B) Roman
(C) Persian
(D) Pali
Thank you for reading and downloading the questions and answers PDF on Indian Art and Culture. Further, if you need any additional books then do comment below.