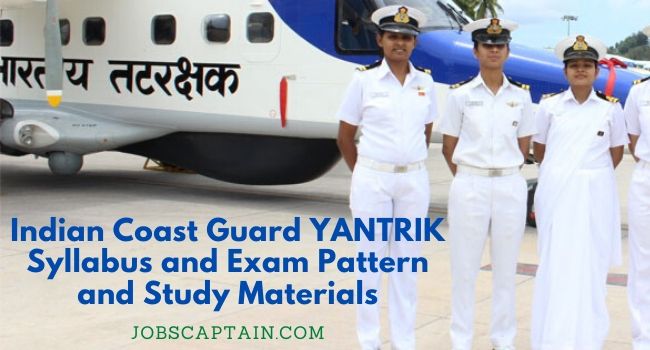 Hello Candidate! Today we are providing Indian Coast Guard Yantrik Syllabus, Exam Pattern and important Study materials for this competitive exams.
Indian Coast Guard provide excellent opportunity for diploma holders to join as Yantrik 02/2020 batch, (course commencing in august 2020) application will be accepted 'online' from 16 mar to 22 mar 2020.
Especially Selection in Indian coast Guard is fair and on merit basis.
Truly, by joining Indian Coast Guard as a Yantrik, you will get more Respect and pretty good salary. Lets read eligibility criteria, Syllabus and Study materials for "Yantrik" post in Indian Coast Guard.
Eligibility Criteria
| | |
| --- | --- |
| Educational Qualification | Matriculation or equivalent and Diploma in Electrical /Mechanical/Electronics and Telecommunication (Radio/Power) Engineering |
| Age | Minimum 18 years and maximum 22 years (born between 01 Aug 1998 to 31 Jul 2002) |
Written Exam Syllabus and Exam Pattern pdf
Finally here we provided official syllabus and exam pattern for the Yantrik Post in Indian Coast Guard.
| | |
| --- | --- |
| Subject | Details |
| Questions from their respective branch | Mechanical/Electrical/Electronics & Telecommunication |
| General Knowledge | Indian History, Geography of India, Indian Economy, Static GK, Indian Constitution, General Study, Social Science, General Science, World GK, Sports GK, Environment GK, Art & Culture of India, Indian Polity. |
| Reasoning | Verbal and Non-Verbal, General Intelligence |
| Aptitude & English | This subject cover Maths and English Grammar Topics |
Physical Fitness Test
Those who qualify written test will undergo Physical Fitness Test (PFT) and initial Medical Examination.
Physical Fitness Test (PFT) will be conducted for all those who qualify in the written test.
Although qualifying PFT as per the standards given below is compulsory. The PFT will include following:
1.6 Km run to be completed in 7 minutes
20 squat ups (Uthak Baithak)
10 Push ups
Medical Standards
Furthermore Medical examination will be conducted by authorised military doctors as per medical standard prescribed in current regulations applicable to Enrolled Personnel on entry.
Height
Minimum height 157 cms. Reduction in height for candidates from hilly
areas and tribal areas will be in accordance with the Central Govt. orders.
Chest
Should be well proportioned. Minimum expansion 5 cms.
Weight
Proportionate to height and age +10% acceptable.
Hearing
Normal
Fitness Level
 No Cardio-vascular disease, surgical deformities like knock knee, flat feet etc. infection of ears, no history of fits or psychiatric ailment, varicose vein, under gone corrective surgery for eye sight etc. are not eligible.
Visual Standards
6/24 without glasses and 6/9 & 6/12 with glasses for Better Eye and Worse Eye respectively.
Tattoo
Permanent body tattoos are not permitted on any part of the body.
Study Materials for Yantrik
Specifically Indian Coast Guard "Yantrik" exam is one of the hardest exam to crack. We are providing best sets of study materials which is useful for you in this exam.
---
Mechanical
---
Electrical
---
Electronics
---
General Knowledge
---
Reasoning and Aptitude
---
English
English Mcq Questions with Answers
---
Training
Accordingly the basic training will commence in August 2020 at INS Chilka followed by sea training and professional training.
Thank you for reading, If you need any help related this post, please do comment below, our team soon reply your query.