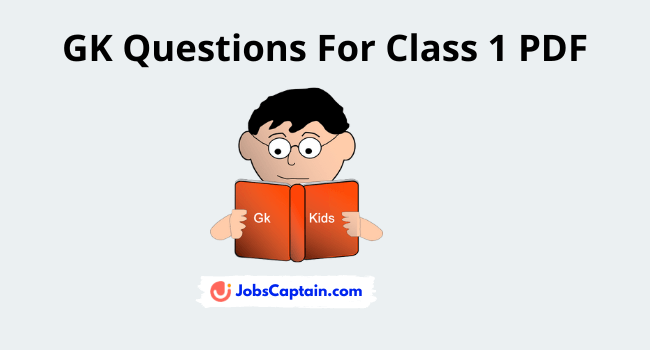 This is a great place for kids where you can get all essential general knowledge GK questions for class 1 with answers. This is a crucial stage of childhood.
So every parent should pay special attention to their children. Here we have provided some essential gk questions with answers for class 1 students. Anyone can download it and share it with his friends and relatives.
You can download the GK Questions For Class 1 PDF with Answers from the below link.
| | |
| --- | --- |
| Subject Name  | General knowledge |
| Useful for | Class 1 |
| Language | English |
Now let's read the Basic gk questions for kids between the age of 4 to 12 years!
Question 1. What is the shape of the sun?
(A) Round
(B) Triangle
(C) Square
(D) None of above
Question 2. Which number comes between 3 and 5? 
(A) 3
(B) 2
(C) 4
(D) 6
Question 3. Arun had 3 mangoes. Ravi took 2 mangoes from him. How many mangoes are Arun left with?
(A) 3
(B) 5
(C) 2
(D) 1
Question 4.  On which part of a plant do bees and butterflies sit on?
(A) Flower
(B) Tree
(C) Leaf
(D) None of above
Question 5. What does a cow give us?
(A) Grass
(B) Milk
(C) dung
(D) None of above
Question 6. Which among the following is the first letter of the English alphabet?
(A) X
(B) D
(C) B
(D) A
Question 7. What is the name of our country?
(A) North Korea
(B) South Africa
(C) India
(D) Srilanka
Question 8. Which among the following animals eat meat?
(A) Tiger
(B) Goat
(C) Cow
(D) Deer
Question 9. A dog has ________ legs.
(A) 5
(B) 4
(C) 8
(D) 6
Question 10. Which among the following animals can live in water?
(A) Rat
(B) Fish
(C) Zebra
(D) Ass
Question 11. Which animal is the largest among the following animals?
(A) Elephant
(B) Dog
(C) Fox
(D) Goat
Question 12. Which is the smallest animal among the following?
(A) Zebra
(B) Tiger
(C) Rat
(D) Horse
Question 13. Which animal runs fast among the following?
(A) Horse
(B) Ass
(C) Dog
(D) Fox
Question 14. The colour of the water is ___
(A) White
(B) Blue
(C) Orange
(D) Water has no colour
Question 15. Which is the biggest number among the following numbers?
(A) 99
(B) 56
(C) 80
(D) 10
---
---
Hope you have got GK Questions For Class 1 in this post.
For more practice on GK check the given link
Thank you for visiting our website, hope you have got the necessary information. Furthermore, if you have any doubts then you can tell us by commenting in the comment section so that we can solve your doubts.