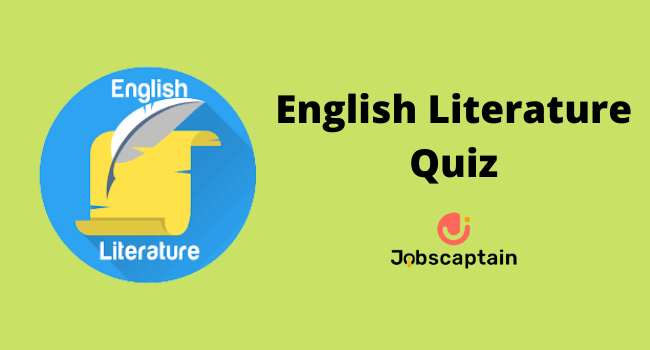 Question 1. The main idea of The Dunciad was taken from ___________. 
(A) The Hind and the Panther
(B) Religio Laici
(C) Mac Flecknoe
(D) The Medal
Question 2. The character of the leech gatherer appears in__________.
(A) The Recluse
(B) The Prelude Book I
(C) Laodamia
(D) Resolution and Independence
Question 3. Table Talk is a collection of essays by ___________.
(A) Lamb
(B) Hunt
(C) Hazlitt
(D) De Quincey
Question 4. Carlyle's Sartor Resartus was written under the influence of ___________. 
(A) Italian romance
(B) German romance
(C) French romance
(D) British romance
Question 5. The image of Neptune taming the sea horse appears in ____________.
(A) Abt Vogler
(B) Prospice
(C) Andrea del Sarto
(D) My Last Duchess
Question 6. T S Eliot's The Waste Land is dedicated to Il miglior fabro ("The better Craftsman") which refers to ____________.
(A) Ezra Pound
(B) Baudelaire
(C) G M Hopkins
(D) Dante
Question 7. The locale of Riders to the Sea is___________.
(A) Dublin
(B) Aran Island
(C) Galway
(D) Belfast
Question 8. The "Bog" poems are associated with___________.
(A) Ted Hughes
(B) Elizabeth Jennings
(C) Tony Harrison
(D) Seamus Heaney
Question 9. Edward Bond's Bingo deals with the life of ____________.
(A) Dryden
(B) Shakespeare
(C) Ben Jonson
(D) Marlowe
Question 10. Arthur Millers The Death of a Salesman is mainly about _____________.
(A) American dream
(B) American imperialism
(C) American pragmatism
(D) American transcendentalism
Question 11. The patient in Michael Ondaatje's The English Patient is ___________.
(A) Almasy
(B) Caravaggio
(C) Kripal Singh
(D) Hana
Question 12. Mimetic criticism views literary work as ___________. 
(A) Iersonalisation
(B) Depersonalisation
(C) Imitation
(D) interpretation
Question 13. The concept of "arche writing" is developed by ___________. 
(A) Fish
(B) Foucault
(C) Derrida
(D) Paul de Man
Question 14. A figure of speech in which two terms opposite in meaning are placed side by side in one phrase is known as  ____________.
(A) Paradox
(B) Oxymoron
(C) Sarcasm
(D) Antithesis
Question 15. A stanza of eight iambic pentametres on the pattern of ab, ab, ab, cc is known as ___________. 
(A) Rhyme royal
(B) Ottava rima
(C) Tennysonian stanza
(D) Spenserian stanza
Question 16. Which one of the following author – book pair is correctly matched? 
(A) J.M. Coetzee – Shame
(B) Saul Bellro – Herzog
(C) Salman Rushdie – Disgrace
(D) Elfriede Jelinek – The Pianist
Question 17. Which novel has a nameless narrator?
(A) Invisible Man
(B) The Grapes of Wrath
(C) Moby Dick
(D) Anna Karenina
Question 18. Samuel Beckett wrote ___________. 
(A) Endgame
(B) Volpone
(C) Mother Courage and Her Children
(D) A Doll's House
Question 19. Willy Loman is a character in _____________.
(A) A Doll's House
(B) The Cherry Orchard
(C) Waiting for Godot
(D) The Death of a Salesman
Question 20. The Plough and the Stars was written by ____________. 
(A) G.B. Shaw
(B) J.M. Synge
(C) Sean O'casey
(D) Lady Gregory
Question 21. The subtitle of Dryden's Absalom and Achitophel is ____________.
(A) There was no subtitle
(B) A satire
(C) A satire on the True Blue Protestant Poets
(D) A poem
Question 22. Who of the following is not a periodical essayist?
(A) Jonathan Swif
(B) Joseph Addison
(C) Richard Steele
(D) Lancelot Andrews
Question 23. John Evelyn and Samuel Pepys were the famous writers of ___________.
(A) essays
(B) editorials
(C) letters
(D) diaries
Question 24. Samuel Butlers Hudibras is modeled upon ___________.
(A) "Annus Mirabilis"
(B) Endymion
(C) Don Quixote
(D) Pilgrim's Progress
Question 25. Who was the last of the Christian Humanists?
(A) Oliver Cromowel
(B) John Milton
(C) John Bunyan
(D) Richard Crashaw