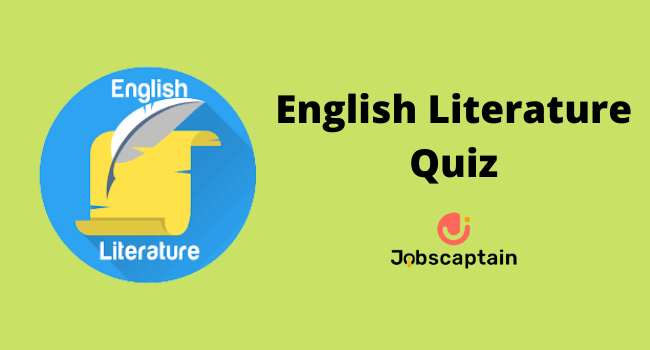 Question 1. Martha Quest was written by ____________.
(A)  Jean Rhys
(B)  Doris Lessing
(C)  Iris Murdoch
(D)  Nadine Gordimer
Question 2. The term "Stream of Consciousness" was taken from the book ___________.
(A) The Human Mind
(B)  The Principles of Psychology
(C)  The Mind of Man
(D)  Modes of Human Behaviour
Question 3. G S Fraser's The Golden Bough focuses on ___________.
(A) Images
(B) Metaphors
(C) Symbols
(D) Archetypes
Question 4. Arthur Miller's Death of a Salesman relies for its tragic seriousness on the fate of __________.
(A) Willy Loman
(B)  Estragon
(C) Vladimir
(D)  Lucky
Question 5. The character Leopald Bloom makes an appearance in the novel ___________.
(A) The Sound and the Fury
(B) Ulysses
(C) To the Lighthouse
(D) The Europeans
Question 6. Who of the following authors represents the Sri Lankan diaspora?
(A) Cyril Dabydeen
(B) Michael Ondaatje
(C)  Arnold H Itwaru
(D) M G Gassanji
Question 7. Australian aborigines receive a sympathetic treatment in ___________.
(A) Les Murray
(B) Gwen Harwood
(C) Judith Wright
(D) A D Hope
Question 8. V S Naipaul's latest book is ____________.
(A) The Mystic Masseur
(B) A Bend in the River
(C) Among the Believers
(D) Half a Life
Question 9. Which of the following books by Salman Rushdie refers to the 15th century Spain as a starting point?
(A) Haroun and the Sea of Stories
(B) The Moor's Last Sigh
(C) Shame
(D) Grimus
Question 10. Who's Afraid of Virginia Woolf is writtn by ___________.
(A) Arthur Miller
(B) Eugene O Neil
(C) Edward Albee
(D) Tennessee Williams
Question 11. Imamu Amiri Baraka is ___________.
(A) A Carribean writer
(B) An American writer
(C) An Arab writer
(D) A Sri Lankan writer
Question 12. The Miscellany was published from ___________.
(A) Sahitya Akademi
(B) The Writers Workshop
(C) PEN
(D) Dhwanyalok
Question 13. Who of the following writers recreates the life of the Yoruba/Ibo Community?
(A) Derek Walcott
(B) Wole Soyinka
(C) Chinua Achebe
(D) Okot
Question 14. Who of the following White female authors are sympathetic to the cause of the Blacks?
(A) Margaret Drabble
(B) Nadine Gordimer
(C) Muriel Spark
(D) Jean Rhys
Question 15. New Criticism considers text as a ___________.
(A) Cultural construct
(B) Historical construct
(C) Linguistic construct
(D) Autotelic
Question 16. Mythologies was written by ____________.
(A) Roland Barthes
(B) Jacques Derrida
(C) Homi K Bhabha
(D) Ernest Dowson
Question 17. The word "Catharsis" signifies ____________.
(A) Pontification
(B) Personification
(C) Purgation
(D) Publication
Question 18. The rejection of "Universalism" is a mark of ___________. 
(A) Deconstruction
(B) New Historicism
(C) Structuralism
(D) Post Colonial Criticism
Question 19. Eliot's theory of "objective correlative" appeared in his essay entitled ___________.
(A) Three Voices of Poetry
(B) Tradition and Individual Talent
(C) The Metaphysical Poets
(D) Hamlet
Question 20. Sprung Rhythm is an example of ___________.
(A) Verse
(B) Syllable
(C) Stress
(D) Meter
Question 21. "More is thy due than more than all can pay" is an example of _________.
(A) Weak – ending
(B) Inversion
(C) Alexandrine
(D) Extra Syllable
Question 22. Unrhymed metrical composition consisting of five iambic measures in each line is called _________.
(A) Rhyme royal
(B) Run-on-lines
(C) Blank verse
(D) Spenserian stanza
Question 23. Verse stories dealing with chivalry, Knight, errantry, enchantments and love are known as _________.
(A) The epic
(B) The ballad
(C) The ode
(D) The metrical romances
Question 24. "He is a citizen of no mean city" is an example of ___________.
(A) Periphrasis
(B) Tautology
(C) Prolepsis
(D) Litotes