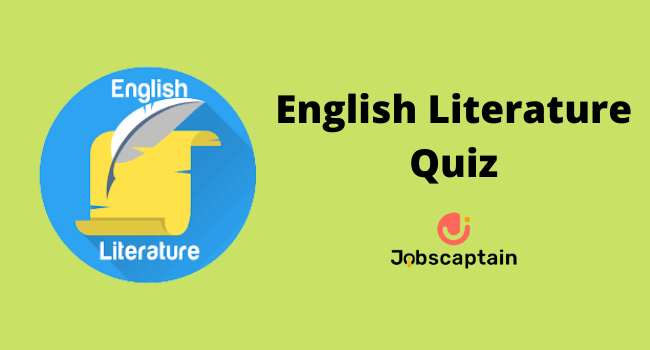 Are you looking for the UGC Net MCQs or Quiz for class 6, 8 , 10? If yes then you are at the right place for the content. Here we have provided you the English Literature Quiz with the answer key so you can boost your preparations for the exam.
Question 1. The renaissance started in _______.
(A) Italy
(B) France
(C) England
(D) Germany
Question 2. The line 'The paths of glory lead but to the grave' occurs in ___________.
(A) Shakespeare
(B) Herbert
(C) Pope
(D) Gray
Question 3. By 'character' Aristotle means __________.
(A) Personages in drama
(B) Cause of action
(C) Combination of incidents in drama
(D) Particular nature of drama
Question 4. 'Amor Vincit Omnia' in Chaucer's The Prologue means ___________.
(A) Love conquers nothing
(B) Love conquers all
(C) Love is blind
(D) Love is fatal
Question 5. The sonnet form was introduced in England by _________.
(A) Shakespeare
(B) Philip Sidney
(C) Wyatt
(D) John Skelton
Question 6. Which one of the following novels of Dickens is based on his own life? 
(A) Nicholas Nickleby
(B) Great Expectations
(C) Hard Times
(D) David Copperfield
Question 7. Dryden in 'Essay of Dramatic Poesy' rejects 'tragi-comedy' because _________.
(A) It is an innovative form
(B) It violates the unity of tone
(C) It is a poor imitation of French drama
(D) ) It was practiced only by the Ancients
Question 8. What is the sub-title of  The Prelude"?
(A) An autobiography
(B) A preface to my life
(C) Growth of a poet's mind
(D) A poet's story
Question 9. The line 'Love is not Time's fool' occurs in a sonnet by _________.
(A) John Keats
(B) Philip Sidney
(C) John Donne
(D) William Shakespeare
Question 10. The Renaissance is written by __________.
(A) Walter Pater
(B) Mathew Arnold
(C) I A Richards
(D) George Saintsbury
Question 11. In Shakespeare, Dr. Johnson says ___________.
(A) The good is always encouraged
(B) The good is not particularly encouraged nor evil disapproved
(C) The evil is often triumphant
(D) There is no moral purpose
Question 12. The mistakes of a night is the sub-title of ___________.
(A) Clarissa Harlowe
(B) She Stoops to Conquer
(C) Joseph Andrews
(D) The Way of the World
Question 13. The Romantic Age in England is distinguished for its __________.
(A) Verse drama
(B) Political prose
(C) Horror novels
(D) Lyrical poetry
Question 14. Who among the following was not a member of the 'pre-Raphaelite Brotherhood'?
(A) Oscar Wilde
(B) William Holman Hunt
(C) John Everett Millais
(D) Dante Gabriel Rossetti
Question 15. Eliot's 'Objective correlative' signifies the writer's ability to ___________.
(A) Relatively delineate his objectives
(B) Relate different objects
(C) Correlate objects and events
(D) Objectify the desired states of mind
Question 16. Which one of the following is a Cavalier poet?
(A) Herbert
(B) Donne
(C) Herrick
(D) Marvell
Question 17. Adonais is an elegy written on the death of ___________.
(A) W.B Yeats
(B) John Keats
(C) P.B Shelly
(D) Wordsworth
Question 18. Which one of the following is not a Lake Poet?
(A) Wordsworth
(B) Coleridge
(C) Southey
(D) Shelley
Question 19. 'Negative Capability' is __________.
(A) The ability to overcome unpleasant experience
(B) A passive subordination to experience
(C) A subjective response to experience
(D) Depersonalized empathy with experience
Question 20. "Plurality", according to John Stuart Mill, is necessary for the ___________.
(A) cultivation of the genius
(B) success of democracy
(C) intellectual enrichment of the society
(D) evolution of State
Question 21. "A little learning is a dangerous thing is taken from __________.
(A) Alexander Pope
(B) John Dryden
(C) William Shakespeare
(D) Jonathan Swift
Question 22. Apologia Pro Vista Sua by Newman is ___________.
(A) An attack on Catholicism
(B) Denunciation of Protestantism
(C) A defence of the author's stand
(D) A defence of religious values
Question 23. Who is the author of 'Journal of the Plague Year'? 
(A) Richard Steele
(B) Daniel Defoe
(C) Joseph Addison
(D) Samuel Pepys
Question 24. The Chartist Movement sought __________.
(A) Recognition of chartered trading companies
(B) Political rights for women
(C) Protection of the political rights of the middle class
(D) Extension of the political rights to the working class
Question 25. Confessions of an English Opium Eater is written by ____________.
(A) William Hazlitt
(B) S.T Coleridge
(C) Charles Lamb
(D) De Quincey