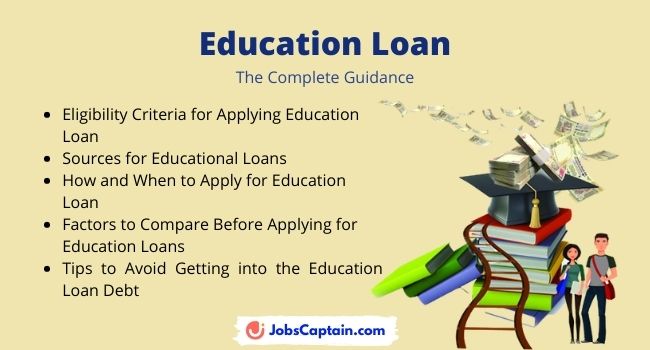 Today we are going to share about Education Loan in India, different criteria for applying an education loan, Sources for Loan, Factors keep in mind while applying for loan and Tips for avoid getting into the Education Loan Debt.
Let's read an introduction to Education Loan and its various aspects.
The importance and value of Education are known to all of us. It is the actual wealth of a person. However, at times, we encounter a situation where there is a willingness to study more and get higher degrees, but due to our limited financial sources, it gets a bit difficult. It is under this situation Education Loans prove as a boon.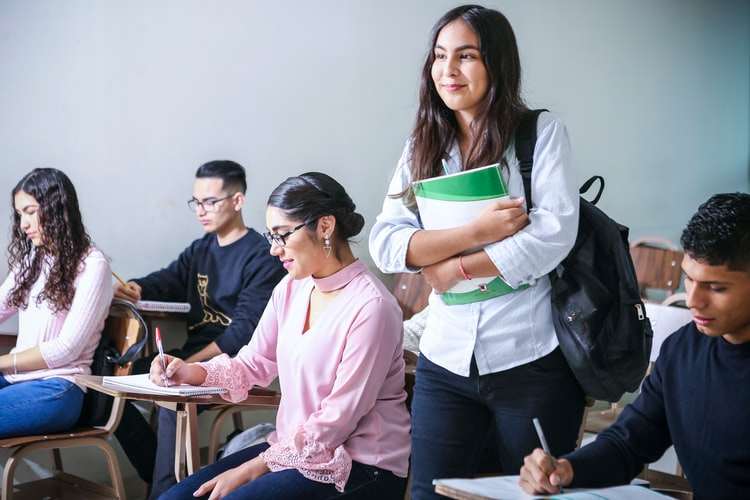 A student can look forward to a number of financial supports like loans, scholarship grants to name a few. However, here we will have a brief explanation about different aspects, types and requirements of education loans which are highly famous among students and parents as well.
Different Types of Education Loans in India
---
Education loans can be basically categorized into three categories:
The Government Loan
The Parent Loan
The Private Student Loan
The Government Education/Student Loan:
Often education loans come from Government loans. These loans can further be divided into two:
The Federal Family Education Loans: Private lenders like credit unions or financial institutions provide these loans.
The Federal Direct Student Loans: These types of loans are offered by the direct lending of schools.
All these federal loans must be paid back but the payments can be rescheduled for at the time of completion of your graduation. These loans have fixed limits of loan.
The Parent Loans
As the name suggests, parents apply for these types of loans for further education of their children or to get them higher professional degrees. These types of loan allow the parents to afford the education of their kids that they otherwise cannot afford. There is no fixed limit to these loans.
However, one has to get their credit report well to apply for these loans and these loans are provided by private lenders such as banks and financial institutions.
Since you might find the interest rate on these loans high, you better try to get the best possible interest rate. These loans can be reimbursed within the time period of 10 years.
Private or Alternative Education Loans:
The purpose of these loans is often taken to fill the gap between the amount of loan you have been granted via the Government loans and the actual amount you need. The status and condition of your credit report is the very basis of this type of loan. This loan not only has a better paycheck but also a better interest rate.
In case of the absence of a good credit report of a student, he is required to take the help of a parent to co-sign the application form with you. The amount allowed is according to the credit score and your need.
[If you are planning to study abroad then our
Expert Study Abroad Guide 2021
]

Eligibility Criteria for Applying Education Loan
---
Though the eligibility criteria can vary from different loan providing institutions; however, the basic requirement for applying education loan in India include:
The Applicant should be an Indian Citizen
He must have enrolled himself on the professional or technical course in India or abroad via Entrance Test or appropriate Merit-based selection procedure.
The age of the applicant should be between 15 and 30 years for study in India
The age limit for applying education loans for studies in abroad is 18 to 35 years.
The Education Loan Assistance Program
---
Above all, you need to fill up a form for education loans. Keep in mind to fulfil all the requirements needed to be eligible for applying the loan.
You must mention at least six schools where you intend to seek admission. Thus, you will be able to have a number of award letters.
These forms can be had from the secondary level education school or financial assistance office in the college. Also, you can ask for these application forms at public libraries too.
Often the time is taken in the processing of the education loan form takes is six weeks. Thereafter, you will be offered with Student Aid Report. In this report, all the details regarding your education loan are mentioned. It includes the amount you will be getting as financial aid and also Expected Family Contribution. A copy of this document will also be sent to the schools you have mentioned in the application form.
Check thoroughly all the details and in case of any of the error, make it sure to correct it immediately.
While accepting reward letters from different schools you have applied to; make sure that you are opting for the best option where you get maximum benefits.
[Also Read ->
Differences and Similarities between College and University
]

Sources for Educational Loans
---
If you think you really need an education loan to take your studies further, then it is not as such hard to look for the sources for education loans after you have to decide upon the type of education loans in India. You will find that there are numerous sources where you can apply for these loans. All you need to do is to research these sources so that you get the best financial support program.
Financial Institutions
Here you can have flexible and competitively prices loans to meet diverse educational needs. Even some financial institutions offer customized education loan type considering the need of the applicant.
The interest rate on these loans is comparatively low and you have a long reimbursement option. In addition to this, in certain cases, you will be provided with the choice of repaying the loan after graduation. Thus, you can do your studies more attentively instead of concentrating on your debts.
Banks for Education Loan
Almost all of the banks these days have the facility of education loans in India. In fact, banks are offering special packages to meet the needs of students where you can postpone the repayment of the loan until you finish your studies.
Other than this, students can facilitate other banking services too which are designed specifically for students only such as student credit cards or personal lines of credit to name a few so that you are able to arrange certain emergency loans while getting your degree.
Colleges and Universities
You can also seek financial support from colleges and universities too. For this purpose, you will need to consult the financial aid office of the college or university you intend to attend.
After beginning attending the educational institution, the first thing you need to do is to consult the financial aid office on the campus. Almost all of the colleges and universities have the option of offering bursaries, grants and scholarships to students studying there.
The funding forms vary in nature as some of these forms are need-based while others are not and are not required to be repaid. Contrary to the loan, you can use this amount but never have to pay it back. At times, colleges or universities will bear all of your education expenses and without your need to pay that back.
On research, you will find colleges or universities that will allow you to pay off your education fees over a period of time. If you are working for part-time and attending school at the same time then you have the option of choosing a monthly payment program.
Even larger educational institutions will aid you in finding the right type of education loan from an appropriate source too.
In addition to this, you will be offered help in budgeting your loan amount in the best possible manner so that you get the most out of every single dollar that you borrowed for education purpose.
How and When to Apply for Education Loan
---
With the advancement of technology, you can apply for education loans in India while sitting at home and thus saving time too. You can apply for these loans online after doing some research over the various options available online these days and comparing them.
After finding the appropriate source, look for the best education type as per your specific need. To apply for a loan you will need at least two personal referral names. Additionally, you also require full details, name and address. It is advised as well as recommended that you perform a detailed survey of various other companies providing online education loans.
However, you can also visit brick and mortar financial institution to get financial aid for your education. These days, loans can be had easily compared to earlier times when one has to indulge in heavy paperwork.
The right time to apply for an education loan in India is three to four years prior to the planning of joining some college.
It is best if you appear for the Preliminary Scholastic Aptitude Test (PSAT/NMSQT) and if you are able to secure good marks then you will be eligible for getting a National Merit Scholarship.
It is always better to consult a financial advisor before you apply for education loans so that you are aware of the different options available to you.
Factors to Compare Before Applying for Education Loans
---
It does not matter which financial institution or banks you are choosing for having education loans, one this is for sure that all the banks including the private and Government sector are lined up to offer education loan. No doubt, innovative programs with minimal conditions are being offered in a very short time.
Still, there are certain factors that you need to bear in mind while applying for an education loan in India. These include:
Education Loan Interest Rates
It is the most important component to consider as it is the primary factor that gets these financial institutions or banks money. You must know whether the interest rate being charged is fixed or floating. Normally, the value of the fixed interest rate is higher compared to the floating one. So, going for the latter option is better.
Method of Charging the Interest Rate
Though the banks may be lenient in reimbursement, but interest on the amount you borrowed begin to apply as soon as the loan is disbursed. So, how it will be charged is a must to know. Enquire about the method of charging interest rate whether it is charged on a daily reducing basis or a quarterly basis. Keep in mind, that it is an interest rate that increases the burden of loan repayment. If you have the option of paying the interest rate immediately, better go for the option immediately.
The Waiver Period for Repayment
Most of the times, banks do not expect the repayment of the loan until you have completed your studies and gain employment. So, look out for this option carefully, whether this option is available to you. The purpose is to be comfortable before you are asked for the repayment of the loan and so, you are able to concentrate on your studies.
Considering Fees and Extra Costs
Consider all the fees and additional costs such as processing fees, administrative fees or other documentation costs. Consider those with minimal charges.
Collateral or Security
In India, if your loan amount exceeds four lacs, then there is a collateral clause. The loan amount can vary from bank to bank but this clause is applicable in all. So, you better ask the bank about the collateral requirement before the loan is disbursed so that you can arrange it.
The Down Payment
It is also to be noted here you will have to make a certain down payment while opting for an education loan. It can be range from 5% to 20% of the loan amount you have applied for and it has to be paid upfront.
[Read:
What to do after 12th?
]

Tips to Avoid Getting into the Education Loan Debt
---
It is common these days to take education loan in India for higher studies. But you need to consider certain facts to so that you end up muddling with education loan debt which you find harder to pay.
According to experts, the possibilities of getting into heavy debts begin right from the application time. So, here are certain tips which can make education loan affordable to you. These are:
Research for a wide range of option available and give preference to less expensive kinds of education loans. Students who opt for a part of education loan find it easy to repay the loan compared to those who have the entire school via loans.
Search for the least expensive ways for schooling. For example, the first lookout for free sources like grants and scholarships. Thereafter, prefer need-based Government education loans as you will save a good amount on interest rates.
Look for less expensive Schooling Choices like public colleges or online distance education which is less expensive compared to education in private colleges.
Conclusion
In the end, though Education Loans are a great aid for achieving the desired, education always bears in mind that loans are debts and you should be careful about all the terms and conditions associated with them.
Thank you for reading about Education Loans in India, Eligibility Criteria for Applying Education Loan, Sources, How and When to Apply and Factors to Compare Before Applying for Education Loans.