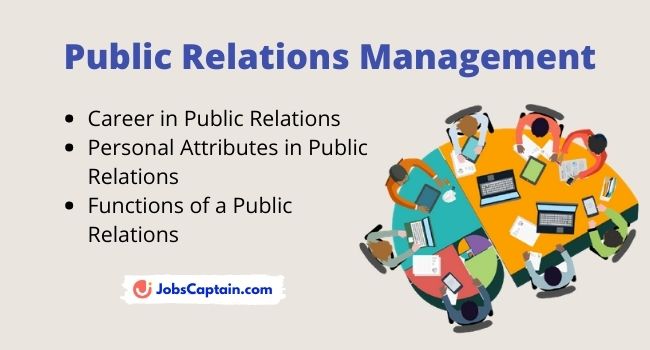 Public Relations these days is counted among one of the prominent career options and a huge number of graduates are pursuing this career.
This career came into existence when the need to publicize the products and services as well as to establish channels of communication between the provider and receiver was felt by private and government organizations/institutions and even prominent personalities.
What is Public Relations Management?
---
Public relations is the department in which a PRO (Public Relations Officer) keeps watch over public attitudes and also takes relevant steps to maintain mutual relations as well as understanding between the organization and public.
In simple words, we can say that public relations is all about getting along with all those people one needs to come in contact on regular basis. Since it is not possible for an organization to meet all of these needs by itself, PROs are appointed for this purpose. By 'public' we mean the shareholders, government, employees and media.
A career in Public Relations
---
You must be a graduate in any discipline; however, social sciences and humanities are preferred.
You can opt for a one-year diploma or a post-graduate level diploma in Public Relations. Besides the diploma courses, you can also take admission in short-term certificate courses. You may be asked to clear an admission test by some institutes, but most institutes take admission on a merit basis.
Personal Attributes in Public Relations Management
---
You must have excellent communication skills because it is the very basis of Public Relations. You must be able to express your opinions in a very clear but simple manner.
You must be polite in dealing with people. Also, you must be able to stay calm even in stressful situations.
You must be excellent in organization as organizing press conferences, lectures and events is also a part of a Public Relations.
Ability to understand human psychology is also very important. Also, you must be capable of taking an independent decisions, according to the situation.
You must be self-confident and have far-sightedness.
Analytical skills are needed to conduct researches and plan activities.

Functions of a Public Relations Officer (PRO)
---
As a PRO, you will be required to work both inside and outside the organization. Your job is to conduct employee and management meetings, informing organization policies to employees etc.
Outside the organization, your job will be to contact government offices, press or media etc. You will also have to manage complaints from employees, customers etc, other than organizing events.
Future Career Prospects
---
After completing your diploma or certificate course in Public Relations, you can seek a job in the corporate sector, public sector, government departments, travel agencies and in various financial institutions.
These days, many prominent personalities from media or political fields also have their own PROs. Here the job profile will involve to arranging interviews and getting their profiles or pictures published in various modes of media and thus, helping them in maintaining their image in public.
In the upshot, Public Relation is undoubted, a promising career choice today, provided you are an extrovert person by nature and excellent in social handling, in addition to superb communication and organization skills.
Also, Check our Expert Career Guide and Course Guide 2021.
Thank you for reading about Public Relations Management. We hope you will get complete information regarding a career in public relations, various PR functions and roles.