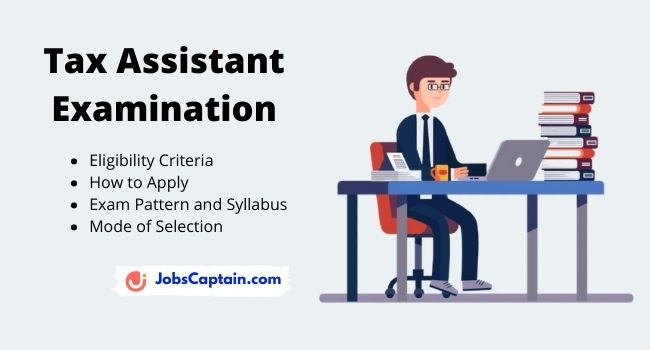 The Tax Assistant Examination is held every year by the Staff Selection Commission (SSC). This is an open competition held for the recruitment for various posts of Tax Assistants.
The recruitment is conducted for the positions of Tax Assistants in various government bodies. This is an ideal career for aspiring candidates who are interested in a government job and a job in the taxation field.
The Tax Assistant examination is held for vacancies in government bodies like the Central Board of Direct Taxes and Central Board of Excise and Customs across India.
You can check here top 5 Posts for SSC CGL.
Eligibility Criteria For SSC Tax Assistant
---
First, let's read the some basic highlights
| | |
| --- | --- |
| Age Limit | 20-27 years |
| Education Qualification | Graduation |
| Fee | Rs. 100/- |
A candidate who wants to appear for the examination should be a citizen of India of a subject of Bhutan or Nepal or Tibetan refugee settled in India before January 1st 1962.
Persons of Indian origin from select other countries are also eligible to appear for the exam.
The age limit of the candidates should be 20 to 27 years as on 30th October of the year of application.
It is mandatory that the candidates should submit relevant documents pertaining to his caste (Scheduled Caste/Scheduled Tribe/ Other Backward Caste) to be eligible for the reservations for these sectors and citizenship in case the aspiring candidate is not a citizen of India.
Graduation in any discipline from any recognized University.
 Should possess Data Entry Speed of 8,000 key Depressions per hour on Computer.
Application Forms
---
The call for applications for the tax Assistant examination is announced every year in the Employment news or Rozgar Samachar and other leading news papers.
A fee of Rs.100 is to be submitted towards the application form. This is payable only by the Central Recruitment fee stamp which is available in all post offices.
Women candidates, scheduled caste, scheduled tribe, physically handicapped and Ex-service men are exempt from paying the fee. The application forms should be duly filled and sent along with all necessary documents and proofs to the commission.
You can apply online for Tax Assistant Examination through this link – Click Here (Login -> Select examination and go for Apply online)
Exam Pattern and Syllabus of Tax Assistant
---
The examination will be conducted in two parts:
Part I : Written Examination: 300 marks
and Part II : Skill Test
Part I: Written Examination of Tax Assistant (SSC)
The Tax Assistant examination is conducted in two parts, Part I which is the written examination of 300 marks and Part II which is the skill test. The written exam comprises of 2 two sections, questions on General English which are primarily multiple type questions that check the candidates knowledge of English language.
Paper I – (Objective Type):
Both Parts Exam Duration 2 Hours Combined.
The written exam comprises of 2 two sections, questions on General English which are primarily multiple type questions that check the candidates knowledge of English language.
General English: Questions in this component will be designed to test the candidate's understanding and knowledge of English Language and will be based on error recognition, fill in the blanks (using verbs, preposition, articles etc), Vocabulary, Spellings, Grammar, Sentence Structure, Synonyms, Antonyms, Sentence Completion, Phrases and Idiomatic use of Words, etc.
There will be a question on passages and comprehension of passages also. The standard of the questions will be only of 10+2 level.
The second section comprised of the general awareness test, with questions on current affairs and history, geography, politics, sports, fundamentals of computers and general knowledge.
General Awareness: Questions in this component will be aimed at testing the candidate's General Awareness of the environment around him and its application to society.
Questions will also be designed to test knowledge of current events and of such matters of everyday observation and experience in their scientific aspect as may be expected of an educated person.
Here we recommend you to read our previous article on How to Prepare Current Affairs for SSC CGL.
The test will also include questions pertaining to History, Culture, Geography, Economic Scene, General Polity, Indian Constitution, Sports, Literature, Scientific Research, Basics/fundamentals of Computer, etc. These questions will be such that they do not require a special study of any discipline.
Paper-II -(Conventional)
This paper will be evaluated in respect of only those candidates who qualify in Paper I at the minimum standard which may be decided by the Commission at its discretion.
Part II of the written exam comprises of questions on Arithmetic, which tests the knowledge of the candidate on problems relating to the number system.
The written examination is for a total of 300marks and for duration of 4 hours.
Part III: Skill Test
The skill test check's the skill of the aspiring candidate in data Entry. The candidate is checked for the speed of 8000 key strokes per hour on the computer and only the correct entries will be considered.
The candidates must secure the minimum pass percentage in the written test to be eligible for the skill test.
Mode of Selection
---
The final shortlist of candidates who have passed all the qualifying tests is released on an all-India basis in order of merit and preference as per the aggregate marks. These students are appointment by the commission in the unreserved vacancies.
The reserved vacancies are filled up separately with the top performing candidates from the scheduled caste, scheduled tribe and other backward communities.
These appointed candidates will be on probation for a period of two years and on successful completion of the probation period, the candidates are confirmed to their posts.
Thank you for reading Tax Assistant's eligibility criteria, exam pattern & syllabus 2021 and mode of selection. If you have still any questions or want study materials for SSC Tax Assistant exam, than do comment below.