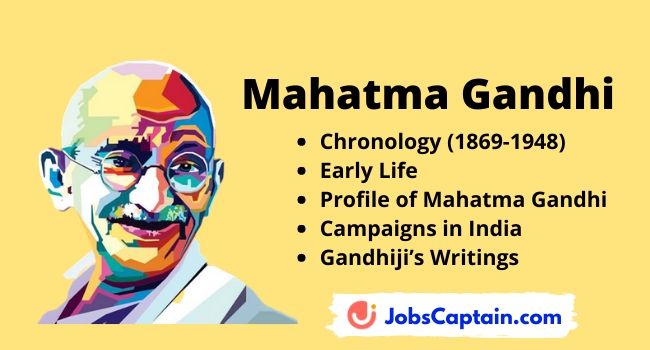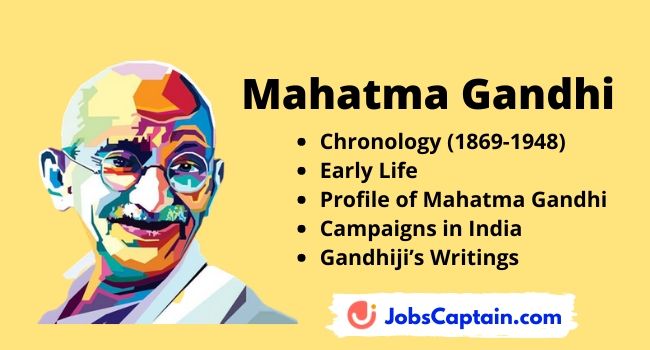 Mohandas Karamchand Gandhi, popularly called Mahatma (Great Soul) Gandhi, was the main architect of the Indian nation and is rightly called the Father of Nation.
Chronology of Mahatma Gandhi  (1869-1948)
The Early Years

2 October, 1869
Born at Porbandar, Kathiawar, India, son of Karamchand and Putlibai Gandhi.
1883
Married Kasturba
1888
Sailed from Bombay for England to study law
1891
Returned to India after being called to the Bar. Began to practise law in Bombay and Rajkot.
April 1893
Sailed for South Africa to become lawyer for an Indian firm
May 1894
Organised the Natal Indian Congress
1899
Organised Indian Ambulance Corps for British in Boer war
1901-02
Travelled extensively in India, attended Indian National Congress meeting in Calcutta and opened law office in Bombay
1902
Returned to South Africa at the request of Indian Community
1903
Established the weekly journal 'Indian Opinion'. Organised Phoenix Farm near Durban.
September 1906
First 'Satyagraha' campaign in protest against proposed Asiatic ordinance directed against Indian immigrants in Transvaal.
June 1907
Organized 'Satyagraha' against compulsory registration of Asiatics (The Black Act)
January 1908
Stood trial for instigating 'Satyagraha' and was sentenced to two months imprisonment in Johannesburg jail (his first imprisonment)
February 1908
Attacked and wounded by Indian extremist for settlement with General Smuts
August 1908
After Smuts broke agreement, second 'Satyagraha' campaign began with bonfire of registration certificates
February 1909
Sentenced to three months imprisonment in Volksrust and Pretoria jails
November 1909
Arrested for third time
December 1909
Released unconditionally in expectation of a compromise
May 1910
Established Tolstoy farm near Johannesburg
September 1913
Third 'Satyagraha' campaign. Led 2,000 Indian miners from New Castle across Transvaal border.
July 1914
Returned to India, leaving South Africa forever
Father of the Nation

May 1915
Established Satyagraha Ashram near Ahmadabad
1917
Moved Ashram to new site on Sabarmati River
February 1918
Led strike on millworkers at Ahmedabad. Millowners agreed to arbitration after his three-day fast (his first fast in India).
March 1918
Led Satyagraha for peasants in Kheda
April 1918
Organized nationwide strike against the Rowlatt Bills. Became Editor of English weekly 'Young India' and Gujarati weekly 'Navajivan'.
April 1920
Elected president of All India Home Rule League
1921
Resolved to wear only a loin cloth to propagate homespun cotton. Mass civil disobedience, thousands went to jail.
1922
Suspended mass disobedience because of violence at Chawri Chawra and undertook five-day fast of penance at Bardoli. Arrested at Sabarmati on charge of sedition for articles in 'Young India'. Sentenced to six years' imprisonment in Yeravada jail.
1924
Released from jail. Spent the next four years spreading khadi and the removal of untouchability.
1929
Arrested for burning foreign cloth in Calcutta
26 January, 1930
Proposed day as National Independence day. Third all-India 'satyagraha' campaign.
12 March 1930
Set out from Sabarmati with 79 volunteers on historic Salt March 385 kms. to sea at Dandi
6 April 1930
Broke Salt Law at Dandi
4 May 1930
Arrested and imprisoned in Yeravada jail without trial
26 January 1931
Released unconditionally with 30 other Congress leaders.
March 1931
Mahatma Gandhi lrwin (Viceroy) Pact signed, which ended civil disobedience.
August 1931
Sailed from Bombay for the Second Round Table Conference in London.
January 1932
Arrested in Bombay with Sardar Patel and detained without trial at Yeravada prison.
20 September 1932
Began 'fast unto death' while in prison in protest of British action giving separate electorate to untouchables.
26 September 1932
Concluded 'fast' in the presence of Rabindranath Tagore after the British accepted 'Yervada Pact'
1933
Began weekly publication of 'Harijan' in place of 'Young India'
July 1933
Disbanded Sabarmati Ashram which then became centre for removal of untouchability
November 1933
Began ten-month tour of India to end untouchability
1934
Three separate attempts made on his life
October 1934
Launched All India Village Industries Association
August 1942
Congress passed 'Quit India' resolution – the final nation-wide "Satyagraha campaign" with Gandhi as the leader
9 August 1942
Arrested with other Congress leaders and Kasturba and imprisoned in Aga Khan Palace, near Poona.
10 February 1943
Began fast at Aga Khan Palace to end deadlock between Viceroy and Indian leaders
22 February 1944
Wife Kasturba died in detention at Aga Khan Palace at the age of 74.
6 May 1944
After decline in health, was released unconditionally from detention. This was his last imprisonment; he had spent 2,338 days in jail during his life-time.
September 1944
Talks with Jinnah of Muslim League in Bombay on Hindu-Muslim amity.
March 1947
Toured Bihar to lessen Hindu-Muslim tensions. Began conferences in New Delhi with Lord Mountbatten and Jinnah.
May 1947
Opposed Congress decision to accept division of country into India and Pakistan.
15 August 1947
Fasted and prayed to combat riots in Calcutta as India was partitioned and granted Independence
September 1947
Visited Delhi and other neighbouring areas to stop rioting and to visit camps of refugees
13 January 1948
Mahatma Gandhiji undertook a fast for 5 days to bring about communal unity
30 January, 1948
Gandhiji was shot dead by a Hindu fanatic Nathuram Godse, while holding a Prayer Meeting at Birla House, Delhi.
Profile of Mahatma Gandhi
Early Life:
Gandhi was born on 2nd October 1869, in Porbandar, India. His family belonged to the Vaishya (merchant) class of Hindus and the young Gandhi received a fairly orthodox, upbringing. At the age of 13 years, Gandhi's marriage was held, his bride, Kasturba, being the same age and chosen by his parents.
Gandhi was soon sent to London to study law and there he quickly became aware of his ineptness in social gatherings. In his autobiography, Gandhi narrates his attempts at getting Westernized, including violin and ball-room dancing lessons.
In 1891 Gandhi returned to India to practice law but was too shy and awkward and thus met with little success.
South Africa and the Beginnings of Satyagraha
In 1893, Mahatma Gandhi went to South Africa, then under British control, for legal work. Racial discrimination was freely practiced and in a incident that would change his life, Gandhi was forcefully evicted from a first class train compartment. This incident in South Africa opened Gandhi's eyes to the rampant racial discrimination and humiliation faced by non-whites.
For 21 years, Gandhi stayed in South Africa, working towards rights for Indians in South Africa. He began the "Tolstoy Farm" in South Africa and edited the newspaper called 'Indian Opinion'. Gandhi began experimenting with non-violent methods of protest, promoting civil disobedience and strikes or "hartals."
Gandhi was arrested several times but his action prompted some reforms. Ironically, for his humanitarian work during the 1899-1902 Boer War and Zulu Rebellion, Gandhi was decorated by the British authorities.
Early Campaigns in India
In 1915 Gandhi returned to India and toured the country extensively, making Sabarmati Ashram in Gujarat, his base.
In July 1917, Gandhi first stepped into the limelight in India, when he headed a protest against the exploitation of the Indigo workers in Champaran (Bihar).
By March 1918 Gandhi led a peaceful strike of Ahmedabad (Gujarat) Mill workers for higher wages and in June 1918, a remission of taxes was granted in the drought hit area of Kheda (Gujarat) after a no-tax campaign led by Gandhi.
Rowlatt Satyagraha:
In protest against the Rowlatt Act imposing war time restrictions on Indians, Gandhi launched the Rowlatt Satyagraha on 6th April 1919.
It was a combination of hartals, fasting and prayer meetings and breaking of some civil laws. But the Rowlatt Satyagraha ended amidst the violence of the Jallianwala Bagh massacre and Gandhi called of his "Himalayan blunder".
But the initial phase of the Rowlatt Movement had proved the potential of Satyagraha and thus both the Indian National Congress and Khilafat leaders supported the Non Co-operation Movement of 1920.
The participation of women, children, all castes and religions made this a truly mass movement and the era of Gandhism entered its greatest phase. But Gandhi called off the movement because of a violent incident at Chaurichaura (United Province).
The Doctrine of Satyagraha
"Satyagraha" means insistance and adherence to truth, in a non-violent manner. Initially the term "passive resistance" was used to describe non-violent protest but Gandhi insisted that Satyagraha was more than that.
Satyagraha was a way of life, an evolving technique to bring change without violence. Non violence or "Ahimsa" to Gandhi was imperative as a search for truth involved fighting injustice. Fighting injustice required one to love fellow beings and this love demanded non violence. Gandhi believed it was necessary to first feel for the oppressed then fight for justice, thus making Satyagraha a "truth" and "justice" seeking force.
Facing any brutality without resorting to violence demanded exceptional self-control and courage. But Gandhi insisted that a Satyagrahi could only oppose an unfair act, never a person. Compassion for the suffering and constructive work were necessary ingredients of satyagraha.
The success of Satyagraha can be explained by the fact, that anyone, truly wishing to, could perform a Satyagraha with/without a leader. A single person could fast in protest, a group could go on strike, women could picket shops selling foreign goods etc. Thus all Gandhi's Satyagrahas were open to everybody, irrespective of caste, creed, sex or age.
While performing Satyagrahas, Gandhi was an expert at symbolism. In 1930, when the Civil Disobedience movement was launched, Gandhi chose to break the salt law. The image of this frail man, holding aloft a handful of salt swept India into a flurry of civil action against the British authorities, simply because the salt issue affected every single Indian. Similarly, popularization of the "Charkha" or spinning wheel was due to its practical use of spinning khadicotton and as a symbol of economic independence.
Especially Methods of Satyagraha included prayers, fasts, penance, strikes, defying certain civil laws, spreading literacy, removal of social inequalities etc.
Last Phase:
During the 1942 Quit India Movement, Gandhi gave a surprisingly agitated speech, exhorting Indians to "Do or Die" employing any measures they saw fit while opposing the British. Many believed that Gandhi himself was frustrated with British inaction and was therefore indicating he would not protest against violence.
But on the eve of Independence and after, Mahatma Gandhi spent much time in fasting, grieving over partition and performing Satyagrahas to quell the sectarian violence that partition brought. On Independence day, Gandhi was in Calcutta praying for peace and indeed the city, which had seen Hindu-Muslim massacres for months, remained calm.
In January 1948 Gandhi once again began a fast to protest against religious violence but assurances from religious leaders led him to break his fast on 18th January 1948. 12 days later, a Hindu fanatic, Naturam Godse, blaming Gandhi for partition and "betraying" Hindus, shot Gandhi at a prayer meeting in Delhi. This was a tragic end for a man dedicated to non-violence.
Mahatma Gandhi – Visions of the Man
In his personal life Gandhi's staunch adherence to his principles was often seen as eccentric. His pre-occupation with diets, meditation and abstinence from sexual relations have been widely written and commented upon.
As a family man, the 'Father of the Nation', often had no time to be a father to his 4 sons. Indeed Gandhi's relationship with his eldest son was deeply troubled and in 1948, Harilal was disallowed from lighting his father's pyre, for once having converted to Islam. Kasturba, was always seen supporting her husband, but whether she was offered any other choice is unlikely. Indeed when Gandhi insisted on not sending their sons to government educational institutions, Kasturba protested. But Gandhi had his way.
Historians have numerous portrayals of Gandhi. Nationalists revere him, Hindu fanatics blamed him for partition, Dalits suspected Gandhi's commitment to their upliftment and British imperialists, like Winston Churchill, hated him. Judith Brown portrays Gandhi as a master of symbolism and cultivator of mass support, while recent authors harp on Gandhi's "eccentricities"
But no one view could possibly represent the man whose philosophy of Satyagraha influenced people as far flung as the Civil rights campaigns of Martin Luther King to Nelson Mandela's anti-apartheid movement. Ultimately Gandhi became synonymous with the Indian Independence movement and R. Tagore expressed the vision of millions when he called Gandhi the "Great Soul"; "the Mahatma".
Gandhiji's Writings
This is Mahatma Gandhi (1869-1948), in his own words.
"…for me, the road to salvation lies through incessant toil in the service of my country and therefore of humanity."
"…If I have to be reborn, I should be born as an untouchable so that I may share their sorrows, sufferings and the affronts levelled at them, in order that I may endeavour to free myself and them from that miserable condition."
---
Gandhi called a meeting of Indians in Johannesburg to protest against the South African government's registration law. He said:
To pledge ourselves…in the name of God or with him as witness is not something to be trifled with…everyone must be true to his pledge, even unto death, no matter what others do. Even if all others go back on the pledge and I am left alone, I will die, but never submit to the law.
---
Mahatma Gandhi suggested the method of non-violent non-co-operation to oppose the British rule. He said:
"Both my continence and non-violence were derived from personal experience and became necessary in response to the calls of public duty. The isolated life I had to lead in South Africa whether as a householder, legal practitioner, social reformer or politician, required, for the due fulfillment of these duties, the strictest regulation of sexual life and a rigid practice of non-violence and truth in human relations, whether with my own countrymen or with Europeans."
"I claim to be no more than an average man with less than average ability. Nor can I claim any special merit for such non-violence or continence as I have been able to reach with laborious research. I have not the shadow of a doubt that any man or woman can achieve what I have, if he or she would make the same effort and cultivate the same hope and faith. Work without faith is like an attempt to reach the bottom of a bottomless pit."
"My contribution to the great problem lies in my presenting for acceptance truth and ahimsa (non-violence) in every walk of life, whether for individuals or nations. I have hugged the hope that in this woman will be the unquestioned leader and, having thus found her place in human evolution, will shed her inferiority complex. …Woman is the incarnation of ahimsa. Ahimsa means infinite love, which again means infinite capacity for suffering. And who but woman, the mother of man, shows this capacity in the largest measure? …Let her translate that love to the whole of humanity …And she will occupy her proud position by the side of man …She can become the leader in satyagraha…
"No violence requires a double faith. Faith in God and also faith in man."
---
On December 31, 1929, Jawaharlal Nehru declared complete Independence as the goal of India. So, on March 2, Gandhiji, after thinking for two months on how to start the battle, wrote to the Viceroy Lord Irwin:
"…The British system seems to be designed to crush the very life out of the peasant. Even the salt he must use to live, is so taxed as to make the burden fall heaviest on him. The British administrative is the most expensive in the world. Take your own salary…It is over Rs 21,000 per month. The British Prime Minister gets Rs 5,400 per month…If India is to live as a nation, the slow death by her starvation of her people is to stop. Some remedy is must be found. If my letter ,takes no appeal to your heart, I shall proceed with such co-workers of the Ashram I can take, to disregard the provisions of the Salt Laws."
And thus began the Dandi March.
---
On August 7, 1942 at the meeting of the All India Congress Committee where the "Quit India" resolution was passed Gandhiji told:
At the time when I am about to launch the biggest fight in my life, there can be no hatred for the British in my heart. In a moment of anger, they might do things which might provoke you. Nevertheless, you should not resort to violence.
---
The message given by Mahatma Gandhi to every non-violent soldier was "DO or DIE".
His other words of wisdom were:
"I lay claim to nothing exclusively divine in me. I do not claim prophet ship. I am but a humble seeker after Truth and bent upon finding it. I count no sacrifice too great for the sake of seeing God face to face. The whole of my activity, whether it may be called social, political, humanitarian or ethical, is directed to that end. And as I know that God is found more often in the lowliest of His creatures than in the high and mighty, I am struggling to reach the status of these. I cannot do so without their service. Hence my passion for the service of the suppressed classes. And as I cannot render this service without entering politics, I find myself in them. Thus I am no master. I am but a struggling, erring, humble servant of India and there through of humanity."
"Man and his deed are two distinct things. Whereas a good deed should call forth approbation and a wicked deed dis-approbation, the doer of the deed, whether good or wicked always deserves respect orpity as the case may be. Hate the sin and not the sinner is a precept which though easy enough to understand is rarely practiced, and that is why the poison of hatred spreads in the world."
"It is quite proper to resist and attack a system, but to resist and attack its author is tantamount to resisting and attacking oneself, for we are all tarred with the same brush, and are children of one and the same Creator, and as such the divine powers within us are infinite. To slight a single human being, is to slight those divine powers and thus to harm not only that Being, but with Him, the whole world."
"Surely conversion is a matter between man and his Maker who alone knows his creature's hearts. A conversion without a clean heart is in my opinion, a denial of God and Religion. Conversion without cleanliness of heart can only be a matter of sorrow, not joy, to a godly person."
"A clean confession, combined with a promise never to commit the sin again, when offered before one who has the right to receive it, is the purest type of repentance."
---
On vegetarianism, he wrote:
"Ethically man's supremacy over the lower animals meant not that the former should prey upon the later, but that the higher should protect the lower and that there should be mutual aid between the two as between man and man. The real seat of taste is not the tongue but the mind."
---
These words were spoken to Dr. Margaret Sanger in 1936 in connection with birth control methods from the book Mahatma, by DG Tendulkar.
"My wife I made the orbit of all women. In her I studied all women. I came in contact with many European women in South Africa, and I knew practically every Indian woman there. I worked with them. I tried to show them they were not slaves either of their husbands or parents, not only in the political field but in the domestic as well. But the trouble was that some could not resist their husbands. The remedy is in the hands of women themselves. The struggle is difficult for them, and I do not blame them. I blame the men. Men have legislated against them. Man has regarded woman as his tool. She has learnt to be his tool and in the end found it easy and pleasurable to be such, because when one drags another in his fall the descent is easy."
"My work will be finished if I succeed in carrying conviction to the human family, they every man or woman, however weak in body, is the guardian of his or her self-respect and liberty, and that his defence prevails, though the world be against the individual resister."
---
An Article written by Mahatma Gandhi
Many facets of Mahatma Gandhi, one of the great personality and leader's ever have been brought out through his very honest writing. It was however strange that Gandhi had faced the greatest criticism from his very own son Harilal. Many long debates and varied opinions have been expressed on whether or not Gandhiji was himself responsible for his sons revolt against him. Though Gandhiji through his writings and speeches could reach across to the massess, at the closest quarter there was somewhere a small thread of communication between him and his eldest son Harilal that was lost.
I have presented a brief introduction to some of the events that had taken place in the life of his son Harilal, to help the reader understand the depth of this article written by Mahatma Gandhi.
Mahatma Gandhiji who himself had travelled across to England in 1888 to pursue his education was not in favour of sending his son Harilal to England for the same. It was an unfulfilled dream of Harilal and also probably the first seed of discontentment against Bapu.
Gandhiji very simply said that he did not have the finances. During Gandhiji's stay in South Africa, a businessman had offered to sponsor any person recommended by Gandhiji to go to U.K. to pursue higher studies. Harilal was hopeful that Bapu would recommend his name. But Gandhiji choose not to do so. Mahatma Gandhi wanted his son to learn through all the experiences he had gained while studying in U.K and later on in South Africa. Gandhiji also felt it would not be right to recommend the name of his own son, as the offer for sponsorship was for any person from the ashram. If Gandhiji did choose to send Harilal, it could be wrongly interpreted as him showing undue favour for his family.
He asked Harilal to take part in the revolutionary movement in South Africa, which was according to him the best education through service. He also wanted Harilal to serve in the Tolstoy farm near Johannesburg in South Africa. Mahatma Gandhi felt there was no need for any further formal education. Harilal wanted Bapu to let him learn through his own errors, experiences and live life to the full. The rigid rules of the ashram, especially of self restraint were not easily acceptable to Harilal.
The stories of the differences grew as communication between the son and father was minimum. Gandhiji was deeply involved in the Satyagragh movement. Gandhi tried in many ways to get Harilal to follow his path but did not succeed.
The ultimate blow came when Harilal chose to take up Islam.
This is an extract from an article written by Mahatma Gandhi published in the Harijan, 6-6-1936 after the incidence.
To my numerous Muslim friends
The newspapers report that about a fortnight ago my eldest son Harilal, now nearing fifty years, accepted Islam and that on Friday last 29th May in the midst of a large congregation in the Juma Musjid at Bombay he was permitted to announce his acceptance amid great acclamation and that after his speech was finished, he was besieged by his admirers who vied with one another to shake hands with him. If his acceptance was from the heart and free from any worldly considerations, I should have no quarrel. For I believe Islam to be as true a religion as my own.
But I have the gravest doubt about this acceptance being from the heart or free from selfish considerations. Every one who knows my son Harilal, knows that he has been for years addicted to the drink evil and has been in the habit of visiting houses of ill-fame. After some years he has been living on the charity of friends who have helped him unstintingly. He is indebted to some Pathan's from whom he had borrowed on heavy interest. Up to only recently he was in dread of his life from his Pathan creditors in Bombay. Now he is the hero of the hour in that city. He had a most devoted wife who always forgave his many sins including his unfaithfulness. Although he has three grown-up children, two daughters and one son, whom he ceased to support long ago.
Not many weeks ago he wrote to the press complaining against Hindus – not Hinduism – and threatening to go over to Christianity or Islam. The language of the letter showed quite clearly that he would go over to the highest bidder. That letter had the desired effect. Through the good offices of a Hindu councillor he got a job in Nagpur municipality. And he came out with another letter to the Press about recalling the first and declaring emphatic adherence to his ancestral faith.
But, as events have proved, his pecuniary ambition was not satisfied and in order to satisfy that ambition, he has embraced Islam. There are other facts which are known to me and which strengthen my inference.
When I was in Nagpur in April last, he had come to see me and his mother and he told me how he was amused by the attentions that were being paid to him by the missionaries of rival faiths. God can work wonders. He has been known to have changed the stoniest hearts and turned sinners into saints, as it were, in a moment. Nothing will please me better than to find that during the Nagpur meeting and the Friday announcement he had repented of the past and had suddenly become a changed man having shed the drink habit and sexual lust.
But the Press reports give no such evidence. He still delights in sensation and in good living. If he had changed, he would have written to me to gladden my heart. All my children have had the greatest freedom of thought and action. They have been taught to regard all religions with the same respect that they paid to their own. Harilal knew that if he had told me that he had found the key to a right life and peace is Islam, I would have put no obstacle in his path. But no one of us, including his son now twenty-four years old and who is with me, knew anything about the event till we saw the announcement in the Press.
My views on Islam are well-known to the Musalman's who are reported to have enthused over my son's profession. A brotherhood of Islam has telegraphed to me this, "Expect like your son you truth-seeker to embrace Islam truest religion of world."
I must confess that all this has hurt me. I sense no religious spirit behind this demonstration. I feel that those who are responsible for Harilal's acceptance of Islam did not take the most ordinary precautions they ought to have in a case of this kind.
Harilal's apostacy is no loss to Hinduism and his admission to Islam a source of weakness to it if, as I apprehend, he remains the same wreck that he was before.
Surely conversion is a matter between man and his Maker who alone knows His creatures' hearts. And conversion without a clean heart is, in my opinion, a denial of God and religion. Conversion without cleanness of heart can only be a matter for sorrow not joy, to a godly person.
(Although this article is published from the book Journalist Gandhi, complied by Sunil Sharma, the introduction to the article is written by Manisha Parikh)
---
Jawaharlal Nehru, the first Prime Minister of India, said of Mahatma Gandhi after his death:
"He was like a powerful current of fresh air that made us stretch ourselves and take deep breaths, like a beam of light that pierced the darkness and removed the scales from our eyes, like a whirlwind that upset many things but most of all the working of people's minds. He did not descend from the top; he seemed to emerge from the millions of India, speaking their language and incessantly drawing attention to them and their appalling condition."
---
Last Day of Mahatma Gandhi
Click Here to read the Assassination of Mahatma Gandhi (Last days of Mahatma Gandhi.)
---
Thank you for reading article on "Mahatma Gandhi". If you have more interesting information on Gandhiji, Please share with us, do comment below.
Stay Connected with JobsCaptain.