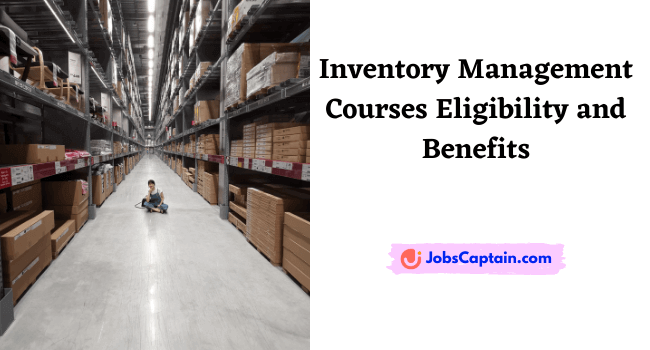 In the language of business and its management, inventory refers to the quantities of goods and materials available in the stock. Therefore inventory management can be defined as the management and control of the flow of goods into and from the stockroom location.
Let's get started the Inventory Management Courses Eligibility, Benefits and Career Scope.
An inventory manager has to track and control the material and side by side he has to work his level best to minimize the stock holding and handling costs. The process may involve things like ABC analysis, lot tracking, cycle counting support etc. in short it concerns mainly about specifying the size and placement of goods in stock.
Eligibility For Inventory Management Courses
Minimum Eligibility criteria for pursuing a course in inventory management is minimum 50% in graduation from a deemed university. Other eligibility criterion remains similar to other post graduate management courses.
A lot of private and Government universities and institutes now offer courses in Inventory management which ranges from short term to long term.
Post Graduate diploma courses are of two years and are highly in demand due to short term period and effective course structure targeting the market requirements as well as full three year degree courses are also available which provide expertise and exposure to students.
Candidates must pass all the exams for the following modules:
Strategic management of resources.
Basics of supply chain management.
Detailed scheduling and planning.
Master planning of resources.
Execution and control of operations.
Benefits of pursuing an inventory management course
Improve efficiency in the control and management of stock in the stock locations.
Contribute in the increased profitability of the company by the optimum use of available stocks and inventory investment of the organization.
One can predict the outcomes more easily when he/she is trained in a proper manner with a detailed knowledge about inventory management.
The level of customer satisfaction can be raised because the company will be able to deliver the products and services at the right time.
Doing a course in inventory management increases your functional knowledge regarding processes of production and stock management.
After attaining specialization in the field of inventory management, the dead stocks lying useless and the slow moving inventory can be eliminated with greater perfection.
Inventory accuracy plays an important part in the inventory management and this can be improved to a great extent after one is professionally trained for the same.
You may also read:  Ways to Successfully Ask For Pay Rise
Conclusion
Inventory management courses have become really popular these days because companies have realized that maintaining the right quantity of the stock in stock locations is very crucial for the successful running of the business. This very reason has increased the role of the inventory manager as very important part of the company.
There are various short term courses, seminars and other events that different institutes conduct from time to time. A student therefore needs to be conscious about these events and gain the maximum benefits of such courses.
Hence, it can be said that Inventory Management plays a key role in the successful running of a business and is much more than just paying attention to what is coming in and what is going out of the stock locations.
Thank you for reading about Inventory Management Courses. If you have still any questions, please ask in comment section, we will back to you soon.