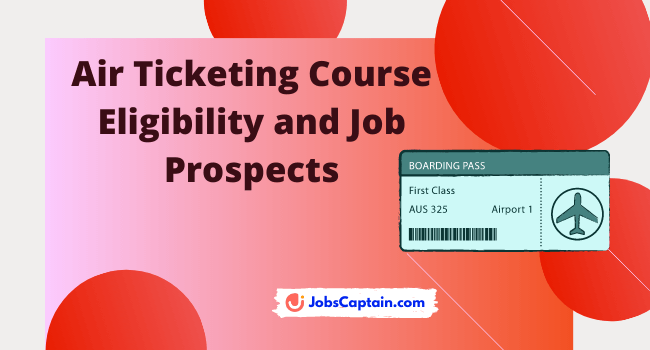 Air ticketing course teaches a student to learn the process of assigning tickets to the customers as well as other reservation procedures like reserving tickets, solving customers query, giving flight details, helping customers and comforting them.
Diploma in Air Ticketing course is also known as Airline Ticketing course. Even though the names are slightly different, but the course content remains same in case of each course!
Lately due to recession airline industry have faced a lot of odds and were going into losses and cost cutting mode which lead to sudden firing of staff and lot of havoc. But now all is well and the industry is recovering fast.
Admission Procedure and Eligibility
Students with 10+2 qualification(Arts, Commerce or Science) are eligible to apply for air ticketing courses. A lot of institutes offer degree, diploma and certificate courses in ticketing ranging from 1 year, six months and three months respectively.
Required Skills for Air Ticketing Course
| | |
| --- | --- |
| Good oral communication skills | Good written communication skills |
| Discipline | Team spirit |
| Commitment | Confidence |
| Customer oriented approach | Ability to multi-task |
| Having an outgoing and pleasant personality | Willingness to work long and odd hours |
| Polite demeanor | Creativity |
| Ability to adjust in a crowd/ different circumstances | Good Listener |
Personal Attributes
Airline industry is a glamorous industry and requires in person communication with the customers hence, qualities like excellent command on language, impressive appearance, common sense, helpful in nature, mannerism, pleasant voice, responsible, good stamina, presence of mind and quick decision making at the time of emergency.
Career Prospects
Air Ticketing Course professionals have diverse job opportunities available in front of them. Some of the prime recruiters are
Airlines
Airports
Travel and Tour Agencies
Read: Air Hostess  Job Profile and Career Prospects
Job Prospects
Airline industry is a vast and filled with competition from own country as well as from international companies. The lifestyle standards of Indians have raised manifolds and also India being the land of heritage and culture; attracts a lot of foreigners around the year.
Therefore airline industry requires the services of well educated and skilled employees. After successful completion of the ticketing course an aspirant can apply for job with various national and international airlines or can also work with various travel and ticketing companies.