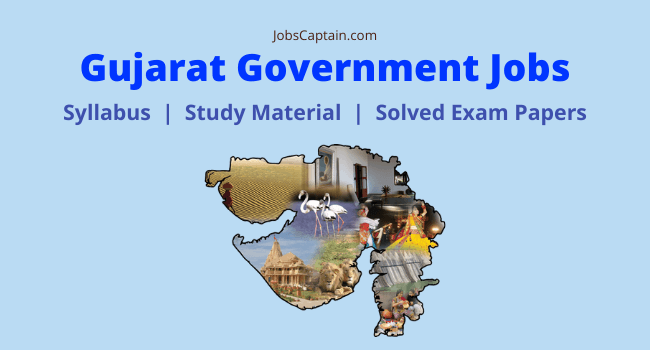 Let's read Gujarat Government Jobs Notification, Syllabus & Exam Papers, PDF Books and Old Exam Papers PDF with Solutions.
Gujarat Police (TRB) PSI (Wireless), Technical Operator & Police Sub Inspector (MT)
GPSC Police Inspector
GPSC Class 1 & 2
GPSC Dy. Section Officer (Sachivalay) Class – 3
GPSC Dy. Section Officer (GPSC) Class – 3
GPSC Dy. Mamlatdar (Revenue Dept.)
GPSC Range Forest Officer, Class-2
GSSSB Supervisor Instructor
GEMI Assistant Environmental Engineer, Senior Scientific Assistant, Deputy Superintendent and Clerk cum Typist
MGVCL Assistant Law Officer & Vidyut Sahayak (Junior Engineer – Civil)
GPSSB Nayab Chitnis, Vistran Adhikari & Taluka Panchayat Adhikar
Gujarat Forest Department Forest Guard (Vanrakshak)
GPSSB Junior Clerk , FHW & MPHW
State Agricultural Universities of Gujarat Junior Clerk
PGVCL Vidyut Sahayak (Junior Engineer)
DGVCL Vidyut Sahayak
UGVCL Vidyut Sahayak
MGVCL Vidyut Sahayak
GSSSB Surveyor
GSSSB Sr. Clerk
GSSSB Police Sub Inspector (PSI) (Unarmed)
GETCO Recruitment for 352 Vidyut Sahayak (Junior Engineer – Electrical / Civil)
GSSSB Assistant Binder, Sub Overseer & Probation Officer
GSSSB Assistant Tribal Development Officer
GSSSB Senior Scientific Assistant
GSSSB Additional Assistant Engineer (Mechanical)
GSSSB Sub Accountant/ Sub Auditor
GSSSB Sanitary Inspector & Wiremen
GSSSB Accountant / Auditor / Sub Treasury Officer (Accountant) / Superintendent
GSSSB Laboratory Technician
GSSSB AAE (Electrical), LA, Mechanic, Economic Investigator & TA
GSSSB Assistant Pharmacist (Ayurveda), Assistant Machine Man & Sub Overseer
GSEB Vidyasahayak Bharti
GPSSB Junior Pharmacist
GPSSB Lab. Tech, Staff Nurse, Ext. Officer, Livestock Inspector, Divisional Accountant, Stat. Asst.
GSRTC Conductor
GSRTC Driver
GSRTC Jr. Accountant, Jr. Assistant, Asst. Traffic Inspector& Various Other Posts