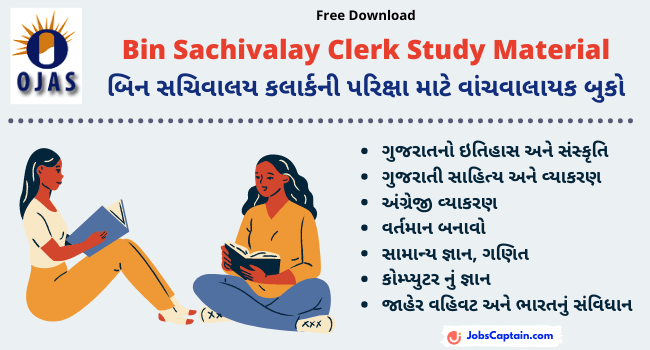 Are you looking for GSSSB Class 3 Bin Sachivalay Clerk Study Material Free PDF books? If yes, then you are at the right place.
Today we are going to share with you Bin Sachivalay exam's subject wise Study Materials for free. Download and read all gsssb office assistant class 3 pdf books free of charge.
In the previous article, we discussed latest 2022 GSSSB Bin Sachivalay Clerk Syllabus and Exam Pattern in detail.
Today you have enough time for exam preparation of the Bin Scahivalay clerk because we think this exam will be conducted on 13th February 2020.
Before going to download study notes for class 3 gsssb bin sachivalay clerk, please check the latest 2022 exam syllabus.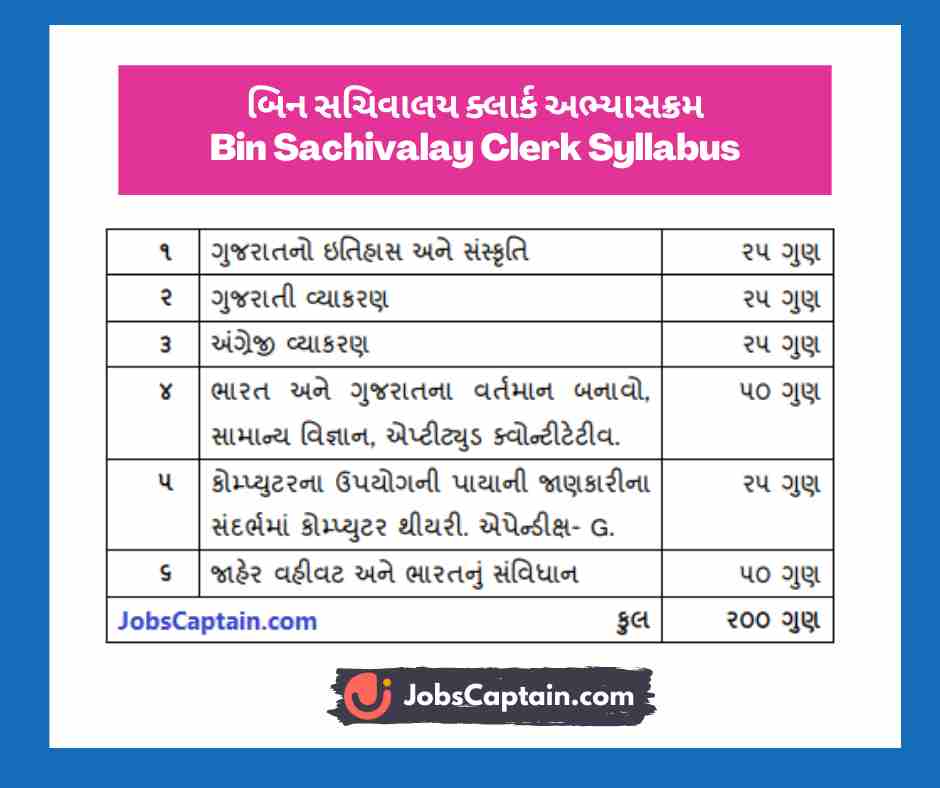 Now we are moving forward to main part of this article. Let's download free study material for gsssb class-3 bin sachivalay clerk examination of the Gujarat region.
You can directly download Sachivalay clerk study material from our site. Our study materials will very helpful for your this competitive exam of Gujarat.
Bin Sachivalay Clerk Study Material PDF Book
---
As we describe above, the total marks of this exam are 200 and there are 200 questions in the examination of Bin Sachivalay Clerk.
As per the official syllabus of GSSSB bin sachivalay clerk 2021, team JobsCaptain provides quality reading study materials, which are very useful for you in exam.
You know Bin Sachivalay Clerk exam syllabus consists of History of Gujarat, Culture of Gujarat, Current Affairs, Gujarati Sahitya and Vyakaran, English Grammar, Computer Knowledge and Basic Mathematics.
Let's download syllabus-wise study material for office assistant class 3 or bin sachivalay clerk exam.
1. Gujarat History and Culture
Itihas and Sanskruti of Gujarat is a very important subject in office assistant bin sachivalay clerk examination. We have given below all study notes and books PDF for this topic.
2. Gujarati Grammar/Vyakaran for Bin Sachivalay Clerk
This topic covers a total of 25 marks in the exam of bin sachivalay clerk. You can refer to below link for Gujarati Vyakaran notes for this GSSSB class 3 examination.
3. Gujarati Sahitya
By the below link you can easily access lots of Gujarati Sahitya books for Sachivalay clerk class 3 test.
4. English Grammar Study Material for Bin Sachivalay Clerk
For Gujarati students, we specially created English grammar in the Gujarati language for easy to understand. We covered all English Grammar topics as per Bin Sachivalay Clerk syllabus 2022.
5. Current Affairs 2022 for GSSSB Class 3 Clerk
In the GSSSB Sachivalay clerk exam, there are almost 10 to 15 marks current affairs was asked. Please refer below link to cover all International, National and State level events in Gujarati.
6. General Knowledge For Bin Sachivalay Clerk 2021
7. Aptitude Quantitative OR Maths for Bin Sachivalay Clerk
This maths study material is very useful for Bin Sachivalay Clerk competitive exam. You can also practise maths for below given PDF books.
8. Computer Knowledge
The computer helps you to score good marks in Bin Sachivalay Clerk Class 3 Exam. We provided below important computer general knowledge study material for free.
9. Bharat nu Bandharan for Bin Sachivalay
Constitution of India or Bharat Nu Bandharan PDF in Gujarati available here for GSSSB office assistant sachivalay clerk exam.
8. Public Administration for GSSSB Clerk
Are you looking for Public Administration or Jaher Vahivat Pdf books in Gujarati for Bin Sachivalay Clerk exams? If yes, then you are at right place.
Team JobsCaptain also provides Old Exams Paper and Model Papers of office assistant bin sachivalay clerk as a part of study materials. However, Team Jobs Captain provides the best material to crack the clerk exam.
Thank You So Much!
We hope above all the study material is helpful during your GSSSB Class 3 Office Assistant Bin Sachivalay Clerk Exam. Further, if you have any questions or problems, then please do comment below, Our team will surely help you.