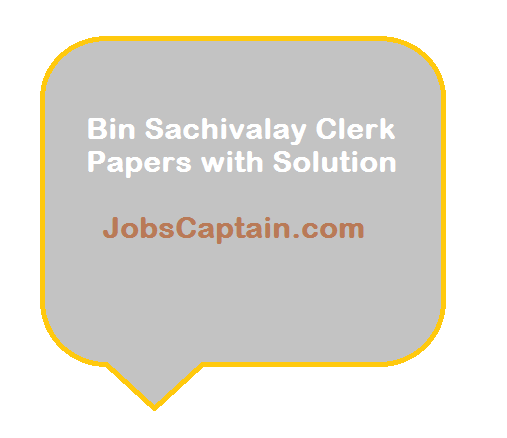 Are you looking for the previous year's exam papers of the Bin Sachivalay Clerk Exam? We are given below the last 7 years GSSSB Bin Sachivalay clerk exam papers PDF books with solution and answer keys.
Previous year exam papers help you to understand the nature of the Class 3 GSSSB examination. It gives you an extra insight than your competitor for this competitive examination.
Let's download GSSSB Bin Sachivalay Clerk Exam Papers with Solution.
Here most important bin sachivalay clerk exam paper pdf with solution which is useful for upcoming Bin sachivalay clerk exam held in February 2022. These all exam papers will help you to prepare yourself for the Bin Sachivalay exam 2022.
Bin Sachivalay Clerk Exam Papers with Solution
Bin Sachivalay Clerk Paper 2019 with Solution
GSSSB conduct the Exam (17-11-2019) for Bin Sachivalay Clerk & Office Assistant posts on 17th November 2019. Here we provide Clerk Question Paper 2019 with an official Answer key. Download Question Paper & Answer Key from the link.
Below article will give you more information about Bin Sachivalay Clerk Exam 2022.
Thank you for visiting our site. Further, if you have any questions regarding Bin Sachivalay Exam Papers then please do comment below.