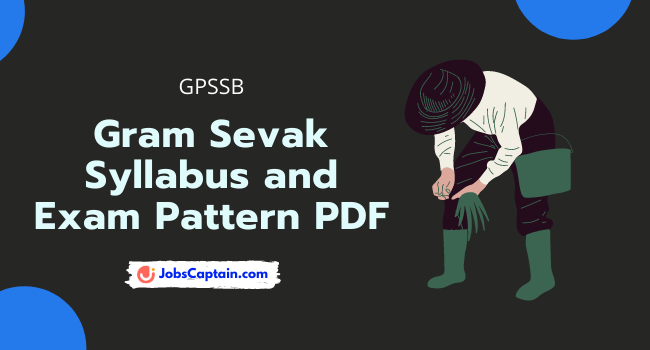 In this post, we are going to share with you official GPSSB Gram Sevak Syllabus 2022 and Exam Pattern. You can also download Gujarat Gram Sevak Syllabus PDF and notification from this post.
Let's read basic information:
Post Name
Gujarat Gram Sevak (Class 3)
Exam Officials
GPSSB (Gujarat Panchayat Service Selection Board)
Education Qualification

Bachelor of Rural Studies (except Bachelor of Rural Studies in Home Science)/B.Sc.(Agriculture) / B.E. (Agriculture)/  B.Sc. (Horticulture) degree
OR
Diploma in Agriculture or Horticulture or Agriculture Engineering or Agro-processing or Polytechnic Diploma in Agriculture Co-operation Banking and Marketing

Job Location
Gujarat
Category
Syllabus and Study Material
GPSSB Gram Sevak Syllabus 2022
With the help of the Gujarat Gram Sevak Exam Pattern and syllabus, you will be able to make perfect reading strategy.
| | | |
| --- | --- | --- |
| No. | Syllabus | Mark |
| 1 | General Awareness and General Knowledge | 20 |
| 2 | Gujarati Language and Grammar | 15 |
| 3 | English Language and Grammar | 15 |
| 4 | Gram Sevak Job Related Questions | 50 |
| | Total Marks | 100 |
Paper Type: Objective or Multiple Choice Questions (MCQs) based
1 Hour (60 Minutes)
Exam help in Gujarati and English Language
0.33 deducted for every wrong answers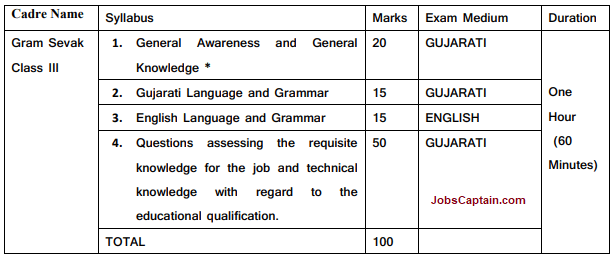 1. General Awareness and General Knowledge
This is the most important subject in GPSSB Gram Sevak Exam. Questions asked from the following topics of Gujarat Gram Sevak Syllabus.
Current affairs of Regional, National and International Importance.
History of India and History of Gujarat
Cultural heritage of India and Gujarat
Geography of India and Geography of Gujarat
Sports
Indian Polity and the Constitution of India
Panchayati Raj
Welfare schemes of Gujarat State and Union Government
Indian Economy and Planning
General Science, Environment and Information & Communication Technology
General Mental Ability and General Intelligence.
2. Gujarati Language and Grammar
For this section in Gram Sevak Gujarat Exam, Questions were asked on the following topics:
Gujarati Sahitya
Naam Upnaam
Karta Ane Kruti
Gujarati Sahitya Na Amar Patro
Sahityakaar Ane Janmasthad
Gujarati Sahitya Ni Panktio
Sahityakar Ane Krutio
Sahityakar Ane Teni Vishesta
Sahityakar Takhallus
Gujarati Vyakaran (Grammar)
Shabd Kram
Nam/Sanghya
Kriyapad
Visheshan
Sarvanam
Jodani
Kriyavisheshan
Sandhi
Samas
Alankar
Chhand
Nipat
Samanarthi
Virudhharthi
Rudhiprayogo
Kahevato, etc.
3. English Language and Grammar
In this Gujarat Gram Sevak exam, questions asked related to English Language & Grammar from the following topics:
Singular – Plural
Articles
Active – Passive Voice
Direct – Indirect Speech
Gender
Idioms
One Word Substitute
Important Spellings
Synonyms
Antonyms
Verb Forms
Tenses
Degrees Of Comparison
Pronouns
Preposition
Word Formation
Question Tags
Participle
Auxiliary Verbs
Causal Verbs etc.
4. Gram Sevak Job Related Questions
For this section, in GPSSB Gram Sevak exam question related to Rural-Agriculture asked.
Download GPSSB Gram Sevak Syllabus PDF:
GPSSB Official Website: Visit Here
Thank you for reading. We hope you will get clear insight into GPSSB Gram Sevak Syllabus. Have the best reading!
Furthermore, if you have any questions regarding GPSSB Gram Sevak recruitment then do comment below.