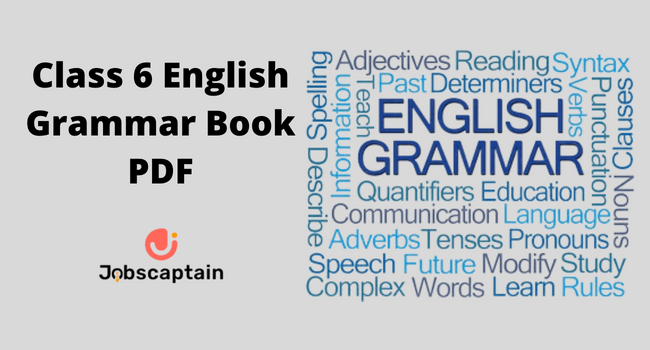 Get the latest edition of class 6 English grammar book pdf for the year 2022. This will help you score better in your English exams.
The topics of Class 6 English NCERT Grammar Textbook are Sentences, Noun, Pronoun, adjectives, Determiners, Verb and their kind, finite and infinite verbs, use of present, past and future tense in verbs, Preposition, Conjunction, Interjection, Notice, Summary, Paragraph Writing, Essay Writing, Story Writing and Letter Writing.
6th Class English Grammar Chapter
Chapter 1: A sentence
Chapter 2: Parts of the Sentence
Chapter 3: Nouns
Chapter 4: The Noun – Numbers
Chapter 5: Noun Genders
Chapter 6: The Noun–Case
Chapter 7: A Pronoun
Chapter 8: The Adjective
Chapter 9: Determiners
Chapter 10: The Verb – Kinds of Verbs
Chapter 11: Verbs and Their Forms
Chapter 12: Verbs Finite, Non-finite Forms
Chapter 13: Special Finite Verbs
Chapter 14: Simple Tenses
Chapter 15: Verbs – Continuous Tenses
Chapter 16: Verbs – Perfect Tense
Chapter 17: Verbs – Perfect Continuous Tense
Chapter 18: Adverb
Chapter 19: The Preposition
Chapter 20: Conjunction
Chapter 21: Interjection
Chapter 22: Punctuation
Chapter 23: Active and Passive Voice
Chapter 24: Direct and Indirect Speech
Chapter 25: Vocabulary and Word Power
Chapter 26: Notice
Chapter 27: Summary Writing
Chapter 28: Comprehension
Chapter 29: Paragraph Writing
Chapter 30: Essay Writing
Chapter 31: Story Writing
Chapter 32: Letter Writing
Let's read the basic information on the topic:
Download Class 6 English Grammar Book PDF 2022
CBSE Class 6 English Grammar Exercise with Answer
Also, read these study notes to practise more on English Grammar:
Soon we will be posting the Class 6 English Grammar Book PDF in Hindi & NCERT English Grammar Book. So stay connected to our Website to get the benefit of all the posts that we give you guys.
Thanks for reading. Furthermore, If you need help with the Class 6 English Grammar or you have any other doubts then let us know in the comment section.