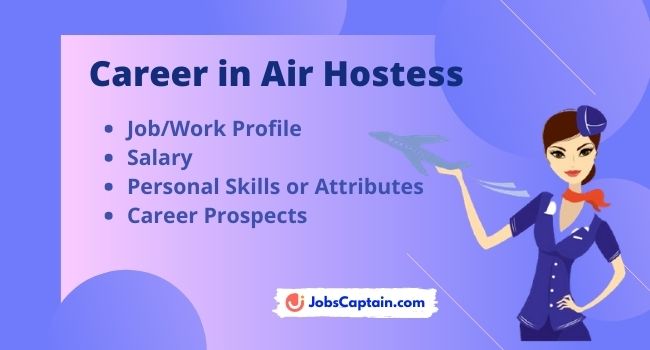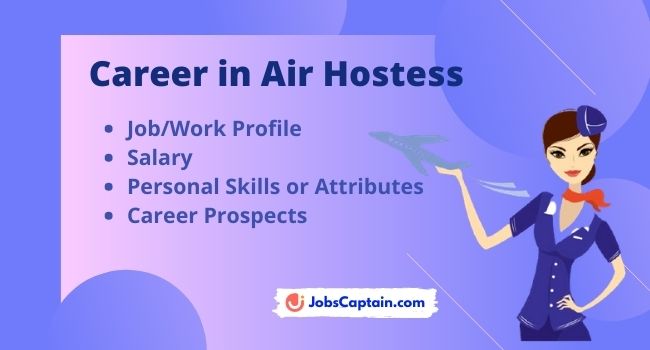 Air Hostess is the face of airlines. Air hostess means playing hostess in the air.
It is a profession that attracts young and smart women with glamour, hard work and lot of traveling. It is the right career to be pursued if a person loves to travel, meet new people and love to work hard.
Air hostess are the key link between the air line management and its passengers. They play a key for passengers continuing to use their service.
In the previous article we are discuss about Career in Beauty Industry.
Here you will get perfect answer of how to become an Air Hostess? Let's start reading about qualification for become air hostess .
Qualification & Eligibility Criteria
---
Education qualification and Eligibility Criteria's for Air Hostess are describe below.
Graduate from a recognized university or class 12th pass or equivalent examination under the 10+2.
Mastery in spoken English and other foreign languages as required.
Three year's diploma in hotel management and catering from a recognized institute.
Age below 26 years and with minimum height of 157.5 cm.
Preferences given to Unmarried Girl with perfect eyesight and good health.
There are a number of private institutes also offering training for students aspiring for future in airline industry.
Let's take look on: Air Hostess Training Detail
Duties and Responsibilities of Air Hostess
---
Duties of an air hostess are aimed at safety, comfort and well being of the passenger. The air hostess welcomes the passenger on board the air craft and ensures that all passengers have boarded the flight before the plane take-off.
They provide health, safety and emergency information to the passengers before take-off.  Air hostess is the face of air line hence they are required to excel in customer service.
The main responsibility of an air hostess is to keep everything running smoothly on each flight. They have to deal with various pleasant and unpleasant situations and handle each situation respectfully to keep the ambiance nice and calm for all passengers.
Personal Attributes
---
Following attributes or skills are essential for an air hostess for a successful career:
Common sense
Sense of responsibility,
Good physique
Initiative
Pleasing Personality
Pleasant Voice
Good appearance
Communication and interactive skills
Friendly outgoing personality
Politeness
Physical stamina and the aptitude to work for long hours on one's feet,
Ability to react quickly in times of emergency and presence of mind,
Proportionate figure with charming carriage.
Career Prospects
---
An air hostess has every chance to be promoted to the post of senior flight attendant and then head attendant.
This career lasts for about 8-10 years.  After an air hostess can also move on to the ground duties including the job of ground hostess, check hostess.
Salary of Air Hostess
---
Remuneration or Salary of Air Hostesses are pretty good. International airlines pay better than domestic ones.
| | |
| --- | --- |
| Air Lines | Salary Per Month (INR) |
| International | 60, 000/- to 1,20,000/- |
| Domestic | 30,000/- to 80,000/- |
Private airlines might pay you Rs. 2 lakh a month.
It is an opportunity for those young aspirants who want to serve people through courtesy.
Thank you for reading Career Advice article on Air Hostess. We hope you will get clear information about qualification & eligibility criteria for air hostess, duties and responsibilities, personal attributes or skills, career or job prospects and salary of Air Hostess.
If you still have any doubt regarding career in air hostess, than please do comment below, our career expert sure will help you.