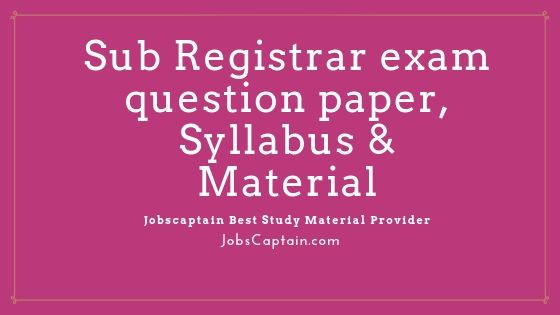 This page is for candidates who are looking for Sub Registrar's Syllabus, Exam Pattern and Material for Sub Registrar's. Candidates can also get notified by following our site All India Jobs for more information about the latest Government Jobs in India.
Aspirants for Government Jobs should keep an open tab for all government Openings as the competition is very high. We also suggest candidates bookmark this page so that contenders won't miss any updates regarding Gujarat Sub Registrar's Exam date and change in syllabus or anything else about sub registrar exam.
Are you looking for SSIGR – Sub Registrar Exam Syllabus and Question Paper?
Sub Registrar Exam Paper Detail
Total Mark – 100
Negative Mark – 0.33 for each wrong answer
Time – 1.30 Hour
Exam Pattern for Sub Registrar Exam
Public Administration & Indian Constitution – 20 Marks
All about Gujarat – 20 Marks
Current Affairs (Gujarat, National, International) – 20 Marks
Language (Gujarati, English) – 20 Marks
Computer, Maths, General Science – 20 Marks
Syllabus topics for Sub Registrar Exam
All About Gujarat (Maha Gujarat Andolan, Politics, Gujarat Kheti – Udyogo)
Indian Constitution
Current Affairs
International News
Panchayatiraj
Sports News
Reasoning Ability
English Language
Computer Knowledge
General Science
Basic Maths
Qualification for Sub Registrar
Age for Sub-Registrar
Selection Procedure
Old Question Paper of Sub Registrar
We have posted illuminated test paper of Gujarat sub-Registrar center test which was taken on 9/6/2013. It is clear that the test paper was simpler than anticipated by numerous individuals of the up-and-comers who stepped through the examination. You can post your remarks with respect to this paper arrangement in the event that you have any questions in regards to any of the appropriate responses.
Sub Registrar Exam Materials
Online Applications are invited for the Sub Registrar's Exam in Gujarat. Candidates who have completed their Graduation and want job as Sub Registrar can apply through the official website Ojas.