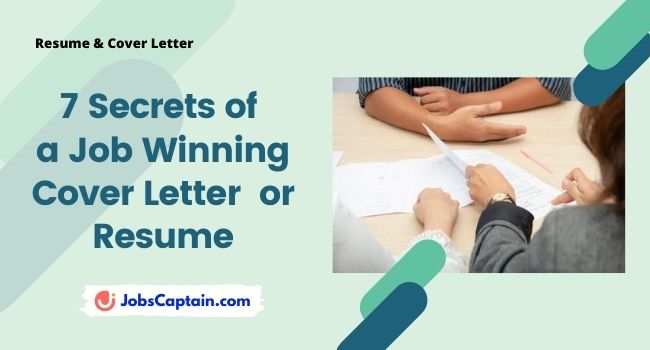 The cover letter is usually sent along with the CV of the candidate in order to let the employer know about some additional information about the potential employee and their work experience.
Other related topics like the field of expertise, main objective of working, any special skill that may help in making the employer's choice easier etc. A cover letter can help in earning a respectable job easier than it could be without it.
The cover letter is your one chance to really "market" yourself to an employer using proven marketing strategies rarely found in the typical cover letter. Job-seekers spend so much time and energy on their resumes and CVs to an extent that the cover letter is almost neglected.
It is the well-written cover letter not the resume that can single-handed land you more interviews and subsequently that much coveted job. Conversely, there's only so much you can do with the traditional Resume or CV. So, I believe the carefully crafted cover letter is more important to your job search success than any other written document, including the resume.
Secrets of Cover Letter
---
As an experienced HR professional consultant, I bring to you my 7 secrets of a highly-effective and Job Winning cover letter:

Always ADDRESS your cover letter to a SPECIFIC PERSON
Take your effort and make a commitment to find out "To Whom" you should address your cover letter.Avoid as much as possible the use of general position addresses such as "Dear Manager", "Dear Director". Such an address is lifeless and does not effectively convey the vibrancy and life your cover letter ought to contain right from the first word to the end.
Remember to OPEN with an attention-grabbing FIRST sentence to really "catch" the reader
This will create the necessary attention before the intended reader who will really want to know more about you. It is sad to note that hundreds of cover letters are never read beyond the first sentence for a simple reason, THEY AIN'T CAPTIVATING AT ALL" thus giving a possible reflection of what employers believe the job seeker could be.
Check out also 3 Main Components of Cover Letter.
REMEMBER less is more
Hello candidate kindly be reminded that that you are supposed to write a cover letter and not a composition. Excellent cover letters have plenty of white space. A Cover letter ought to be short, clear, focused, and sweet. Be sure that such will land you more job interviews.

FOCUS on what you can do for the employer
All employers have these common denominator; PROFITS, PROFITS, and PROFITS. You cover letter should unambiguously state how you will benefit the company in very specific terms. Do a little research and relate this simply and clearly in your letter. Let the letter state whether your role will generate more revenues or cut costs. Be sure to get a phone call inviting you for an interview if your cover letter is clear on this matter.
Ensure you CHOOSE WORDS that show your enthusiasm and passion for the position you seek
This is a very crucial point to consider. The cover letter speaks before you do, then let it speak big and speak right. Let it speak positive and speak commitment. Let it be so loud to the eyes and ears of the recruiting personnel that s/he will want to meet the character portrayed therein in-person.
Then, carry this passion into the interview with you. Use words that will connect you to the job and make the potential employer see you already accomplishing the firms' vision. That's how powerful its supposed to be.
Check out  5 Cover Letter Mistakes You MUST Avoid.
Never forget to REQUEST ONE ACTION you want the employer to take
Like "I would really like the opportunity for a personal interview this week." You only get invited to an interview if you asked for one in the most convincing manner, otherwise you will live to hate the job seeking exercise. (You never know until you ASK.)

Finally END your cover letter with something enthusiastic and telling like
"I look forward to being interviewed at your earliest convenience. "Thank you so much for this opportunity." Sincerely, Prince Kelly Job seeker. (Notice how Prince Kelly assues he'll land the interview? This is clever, smart, and it works like an allure).
Read here about  Lies in CV That May Return to Haunt You.
Remember in this time when thousands of qualified job seekers are embroiled in the job search exercise, you do not want to lose your golden opportunity by messing with the cover letter. Be smart, clever, assertive and land that dream job with you winning cover letter.
Thank you for reading "7 Secrets of Cover Letter". If you want to add something in above article, please do comment below.