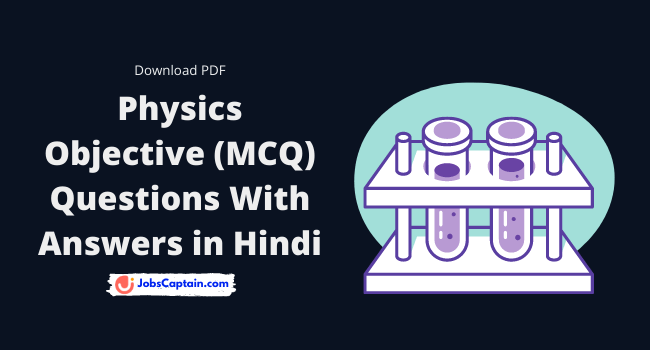 We are sure that these physics questions bank in Hindi PDF will 100% help you in competitive exams such as SSC, RRB and all other states examinations.
In this post, we covered 11th-12th Science and class 9-10 physics objective questions with answers.
Physics Questions with Answers PDF
We also added here some important MCQs of Physics in the Hindi Language.
प्रश्न १ः भारत में परमाणु बम किसने विकसित किया?
(A) डॉ. होमी जे. भाभा
(B) डॉ. विक्रम साराभाई
(C) डॉ. राजा रमन्ना
(D) डॉ. पी.के. आयंगर
प्रश्न २ः  सूक्ष्मसंसाधित्र का महत्वपूर्ण यूनिट है-
(A) ALU
(B) रजिस्टरों का व्युह
(C) नियंत्रण युनिट
(D) उपर्युक्त सभी
प्रश्न ३ः वेग-समय ग्राफ का ढाल निम्नलिखित में से किसको दर्शाता है?
(A) त्वरण
(B) विस्थापन
(C) दूरी
(D) चाल
Thank you for reading Physics Objective Questions in Hindi.
Also Read:
Furthermore, if you need any special study material on Physics then do comment below.